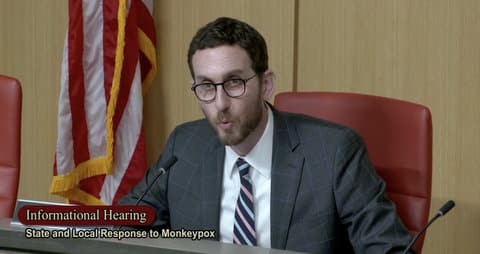 15 Aug

State Senate Committee Calls Monkeypox Preparation a Failure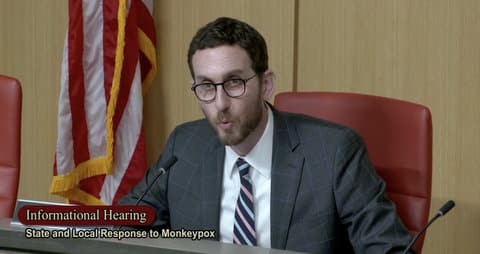 State Sen. Scott Wiener, chair of the California Senate Select Committee on Monkeypox, said the problems in the response to the virus are the result of "some very severe public health failures over a number of years" during a hearing Aug. 9. (Screenshot captured by Julia Métraux / Richmond Pulse)
By Julia Métraux
As monkeypox cases continue to rise across the United States, the California Senate Select Committee on Monkeypox held its first hearing Aug. 9. Gov. Gavin Newsom declared monkeypox a state of emergency on Aug. 1.
Effective vaccines exist to manage monkeypox. The United States had more than 20 million doses in storage but let most of them go to waste, the New York Times reported this month, as the Department of Health and Human Services repeatedly failed to order new doses before the existing supply expired. The agency was also slow to order new doses once the outbreak began.
"Due to some very severe public health failures over a number of years, and three different presidential administrations, that has not happened, and we have shot ourselves in the foot," state Sen. Scott Wiener, the chair of the select committee, said.
Monkeypox is an infectious disease that causes painful rashes, as well as flu-like symptoms. Symptoms from this disease usually start within three weeks of exposure to the virus and can last from two to four weeks, according to the Centers for Disease Control and Prevention.
Dr. Erica Pan, the epidemiologist for the state of California, said that the state received just over 100,000 vaccine doses. According to the California Department of Public Health, just under 2,000 doses have been allocated to Contra Costa County.
"We've been leveraging our infrastructure that's in place for staffing at the local level, some mobile vaccination clinics have already been mobilized for some regional sites," she said.
In Contra Costa County, groups that currently qualify for the monkeypox vaccine are gay, bisexual, and other men or transgender people who have sex with men, if they have had more than one sexual partner in the past two weeks; any sex workers; and people who have either suspected or confirmed exposures to people who have contracted this infectious disease.
The current outbreak of monkeypox has spread largely among LGBTQ+ men in the United States. While it is not a sexually transmitted disease, monkeypox has largely spread through sexual activity, according to the World Health Organization.
Multiple state senators spoke at the meeting about the importance of not stigmatizing LGBTQ+ men for contracting monkeypox, especially with the harm done to LGBTQ+ men in the 1980s and 1990s for contracting HIV, who were blamed for having this infectious disease.
"We're already seeing, unfortunately, some of that," said Wiener, who is a gay man. "We also know that there is no guarantee that this outbreak is going to remain within the LGBTQ community."
>>>Read: Monkeypox Is Not a 'Gay Disease,' Epidemiologist Says
State Sen. Richard Pan, who is also a pediatrician, said that in addition to getting more vaccines against monkeypox, the federal government needs to invest more funding into public health.
"We need to take a multi-layered approach, so it's not about one silver bullet," he said.
Dan Tavares Arriola, a city council member in Tracy, California, described trying to help his partner get a monkeypox vaccine after Tavares Arriola tested positive for monkeypox. Tavares Arriola said he was sent on a wild goose chase, with public health, hospitals and insurance companies all telling Tavares Arriola that he should call another person. Eventually, Tavares Arriola's partner was able to get vaccinated, and Tavares Arriola said his experience working with local governments, as well as being a lawyer, helped him navigate this system.
"I can only imagine how much more challenging it is for those who don't have that experience or who face different barriers, like language barriers," he said.
During public comment, many callers thanked the committee for forming and holding a meeting, and some asked for more oversight into how public health campaigns, including on vaccines, will reach at-risk populations.
"We also would love oversight to ensure that there are targeted and equitable public health campaigns that are reaching those most at risk," said Ande Stone, who works with the San Francisco AIDS Foundation. "It is also absolutely ridiculous that people are suffering weeks before they're able to access treatment."
Monkeypox has been around for 70 years, so the United States had time to prepare for this outbreak, as Wiener said. However, state Sen. Pan said the United States needs to be prepared for an increase of infectious diseases that is likely coming our way.
"Diseases tend to emerge from places around the world from environments that are changing because of the climate crisis," he said. "We need to be more ready, and we need to develop more effective responses."