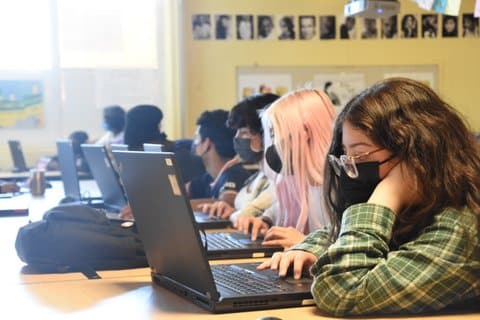 23 Aug

I'm Worried High School Isn't Preparing Me for My Future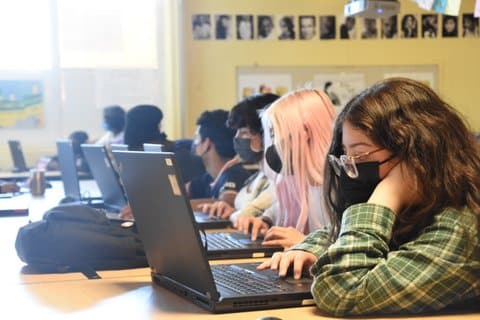 Inside a classroom at Richmond's Kennedy High School, where the author is a junior. (Mitzi Pérez-Caro)
Commentary, Aaliyah Hanvey
My biggest fear is zombies, but my second biggest fear is being unstable when I grow up. I want to be able to not worry about things I shouldn't have to worry about, and I want to make something of myself. The biggest threat to my adult stability right now is my fear that my high school isn't preparing me for the next steps in my life.
Like a lot of students, my sister Sharleese has struggled in her transition from high school to college. At John F. Kennedy High School, she was the top of her class. She graduated as salutatorian and maintained a high GPA, but at UC Berkeley, she has a GPA of 2.9.
Now, as I enter my junior year at Kennedy, I'm worried the same thing will happen with me. I have always been like my big sister, and academically, I am doing the same thing she did at the same school. I have maintained a 4.0 GPA throughout my school years so far, and I plan to keep it that way. I want to go to college, and, overall, I just want to succeed in life. I want to be comfortable. And to be comfortable, I have to be prepared.
My older sisters Sharleese and Alicia both graduated from Kennedy and have gone on to college, and I have learned a lot from their experiences.
Sharleese struggled the most in her first year when she moved away from high school. She dealt with mental health issues like depression and anxiety, and she was trying to balance school and her first job, working for the women's basketball team. I have to think that part of the reason she has struggled is that high school did not adequately prepare her for the demands of an elite school like UC Berkeley.
>>>Read: As Pandemic Worsens Students' Mental Health, WCCUSD Tries to Keep Up
My sister Alicia is a freshman at Carrington College in San Leandro, working on her associate's degree in veterinary technology. She told me that Kennedy helped her in some aspects. It showed her that there are different people out there. There are people who care about your well-being and your education and your career and people who don't. The secret is to seek out the people who care and want to help you and lean on them for support.
Alicia liked her years at Kennedy, but she said when the staff changed and the wrong people started to run things, it slowly started to go downhill. "Pay attention to your staff," she warned me.
Alicia also said that Kennedy has staff members who don't fulfill their duties. They're supposed to keep the school safe, but the students don't feel safe. Last year was full of fights, blown-up trash cans, and a bunch of people coming on to the campus with weapons.
In my opinion, some teachers at Kennedy don't even teach. Some of them will just throw a piece of paper in your face and tell you to figure it out. Some practically do the work for you, and that helps nobody. It actually makes it harder on us if we do go to college. We go in having to relearn these things — or find we were just simply never taught them in the first place. Not all the teachers are like that, but a majority of them are.
Many of my peers at Kennedy agree that we are not being prepared for our futures.
Tamia Robinson, who is entering her senior year, transferred to Kennedy from Pinole High School. One of the reasons she transferred to Kennedy was that she thought it would be easier to raise her grades there.
"Kennedy is known as a school with misbehaved students and easier work," Tamia said.
Her comments made me think about our environment and how Kennedy is lacking and people know about it but nobody tries to change it.
There are students at Kennedy who succeed. The college-bound students who take challenging classes like AP get decent preparation. But that is the exception.
Students want structure, but sometimes Kennedy is unstructured, and that is harmful. Kennedy needs to be better at engaging its students. A lot of students have given up on school, and so teachers, staff and students all need to do more to be engaged and give everybody more of a reason to be here.
Without this kind of meaningful change, it will continue to be really difficult for Kennedy and its students to thrive. And I will still have that deep fear that I am not being prepared to enter college and adulthood.