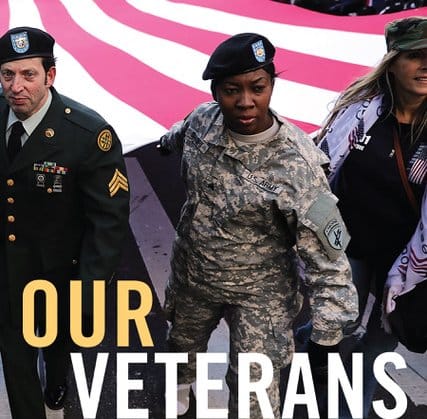 25 Aug

'Our Veterans': A Close Look at New Terrain for Vets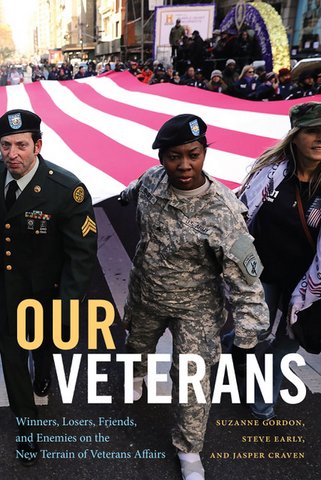 By Michael J. Fitzgerald
"Our Veterans: Winners, Losers, Friends and Enemies," a new book by veteran journalists and authors Suzanne Gordon and Steve Early of Richmond along with journalist Jasper Craven, pulls back the curtain about what veterans face inside and outside of military service.
What's revealed about the issues behind that curtain is artfully written in this complicated, true tale that outlines veterans' issues from recruitment to retirement.
The book provides a solid measure of historical perspective too.
It's about as thorough a compendium of clear explanations of veterans' issues as any I have ever taken a peek at. And given the level of detail on every page, this is no book at which to take a simple peek.
Just a listing of the commonly used abbreviations in "Our Veterans" runs three pages.
The details about the intricate issues highlighted are told skillfully and move the story along smoothly. The authors describe many jaw-dropping dramatic incidents as they dissect the inner workings of a twisted labyrinth of agencies and institutions ostensibly dedicated to ensuring the well-being of veterans.
The labyrinth they write about is huge and not always particularly helpful.
>>>Read: My Father's Life Is the Greatest Lesson I Have Learned
The book also doesn't shy away from the dramatic.
The introduction, titled "Friendly Fire," begins with a stunning quote by Rep. Tony Gonzales (R-Texas).
"Wow, wouldn't this be something. I fight in Iraq and Afghanistan just to be killed in the House of Representatives," said the Navy veteran, who served for 20 years.
Those words came from Gonzales after a pro-Trump mob — including many fellow veterans — stormed Capitol Hill on Jan. 6, 2021.
The introductory section makes it plain the authors will not pull any punches, describing the often-hypocritical stance of politicians at the highest levels from both major national political parties, past and present. There are also plenty of examples and descriptions of the daily dysfunction veterans often face when seeking all manner of help.
Why so many veterans became fans of the former president, voting for him in 2016, is also addressed.
"The Republican ground campaign behind Trump easily out-organized the Democrats about veterans and military families," the authors write. "Pro-Trump mailers were not just mailed out, they were handed out, one by one by volunteers to fellow veterans at American Legion posts, NASCAR races and Blue Angel air shows."
Chapter 2 looks at what happens to vets when they leave military service, highlighting the dichotomy between enlisted personnel and officers. The difference in treatment is stark, particularly when it comes to employment.
In the third chapter, titled "Stolen Valor," a different dichotomy is exposed. Traditionally, some soldiers are put on a pedestal after serving in war-torn areas, but some supposed veterans-help organizations actually hinder access to healthcare, education and solid employment.
And yes, the book names the names of people not working in the best interests of veterans.
"Since 9/11, more than a million men and women who left the military have been able to return to school at taxpayer expense," it reads. "But one problematic feature … is the existence of far more for-profit educational institutions … vacuuming up 40 percent of GI Bill tuition and fee payments in recent years."
Plus, the risk of fraud and waste at for-profit schools has left many vets with worthless degrees and exhausted their benefits.
Veteran services like the American Legion and others get a thorough examination in Chapter 4. The authors explain the reasons for declining membership of these outfits as well as a shrinking in their political clout.
This shift in politics is laid in part at the feet of the Koch Brothers' support of a new veterans' service organization. The following chapter, "The New VSOs," goes into detail about the impact of these new veterans' groups.
The Veterans Health Administration, also known as the VHA, gets a close look in Chapter 6, particularly at moves at the federal level to privatize the huge health provider. A review of privatization steps taken under former President Donald Trump and attempts by current President Joe Biden to reverse some of Trump's inflicted damage are explained skillfully.
 "Our Veterans: Winners, Losers, Friends and Enemies" should be required reading for anyone involved in creating or implementing public policy that touches the lives of millions of U.S. veterans. Each carefully documented chapter contains enough material and background to almost be standalone a book itself.
And it's not all dismal.
Many ideas for improvements and mentions of people working hard to improve the lot of military veterans get plenty of ink too, making "Our Veterans" a solid read for anyone who wants the real story about U.S. military veterans.
"Our Veterans: Winners, Losers, Friends and Enemies" was published this year by Duke University Press.
Book Party + Richmond Pulse Fundraiser
Meet authors Steve Early and Suzanne Gordon.
When: Aug. 31, 6-8 p.m.
Where: Kaleidoscope Coffee, 109 Park Place in Point Richmond, on the back patio