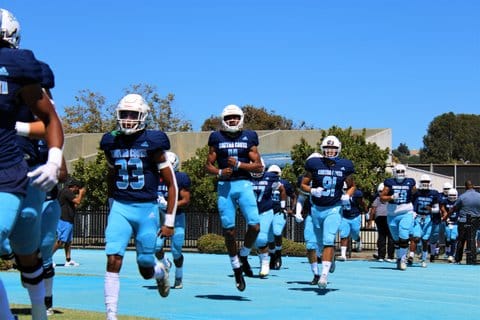 07 Sep

Comets Football Team Suffers Tough Defeat to Start Season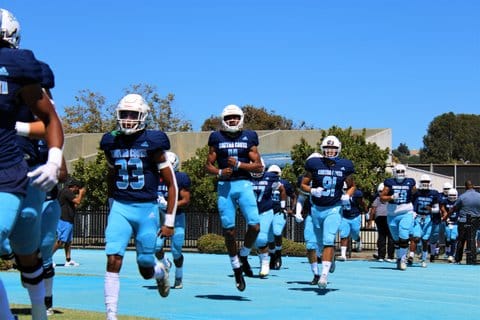 The Comets run out of the locker room and onto the field for their first game of the season in San Pablo on Saturday.
Story and photos by Joseph Porrello
Contra Costa College had not lost a football game on their home field for almost three years before the San Joaquin Delta College Mustangs rode into San Pablo and bested them 16-13 on Saturday afternoon. 
Over the course of the game, the Mustangs defense seemed determined, not allowing the Comets offense any sort of breathing room. The San Joaquin Delta College offense also did its part by putting points on the scoreboard first, making an emotional statement. For over eleven months, victory had eluded the Mustangs, whose players and fans were noticeably ecstatic on the field and in the stands both during and after the game.
Despite an undesirable outcome, the Comet players were still happy to get the season underway.
"It's football. It just always feels great to be out there if you love it, win or lose," said Comets' guard James Wilson.
In a largely defensive battle, Simeon Mitchell led the Comets with thirteen tackles. Chipping in two tackles and an interception returned for 27 yards was Comets' defensive back Jamani Murphy, while E.J. Thomas had the teams' only fumble recovery and tallied one and a half sacks to go with nine tackles.
Comets' defensive back Jamani Murphy dons the team's "turnover" chain after intercepting a pass from Mustangs' quarterback Cruz Herrera in San Pablo on Saturday.
The most tackles any single San Joaquin Delta College player had was five, and the Comets had six sacks to the Mustangs' two. 
"Our defense actually played very well," said Comets' head coach Otis Yelverton.
Following the game, Mitchell stood up as the team kneeled in a huddle and gave a passionate impromptu speech to fire up his teammates after Yelverton finished speaking. "We're not last year's team; we're this year's team…I don't want to see anyone hanging their heads," he said. 
There were a lot of changes on the Comets roster this off season after finishing last season with three straight victories and an overall record consisting of 10 wins and a one-point loss at Feather River.
Comets' head coach Otis Yelverton tries to guide his relatively young offense during a timeout in San Pablo on Saturday.
"Last year's team was a very mature, older, seasoned team. Right now we're mostly freshmen," said Yelverton. "We'll be fine. We just need to cut down on mental mistakes and penalties."
Throughout the game, any bit of momentum the Comets could muster was quickly defused by numerous flags on both the offensive and defensive sides of the ball. 
When asked about the amount of flags on his team and possible missed calls, Yelverton said, "It was all on us; I never blame the officials."
Comets' tight end Mikey Mainer was targeted on back to back passes in the end zone late in the game that would have given them the lead, but he was unable to haul in either throw. Fans in the Comets' cheering section were more vocal than they had been all game, yelling at the referees in displeasure at what they thought were two consecutive missed pass interference calls. 
"At the end of the day that's just football," Wilson said. "You're either going to get it out of the mud or stay in the mud."
As the only second-year player on the offensive line, Wilson said he plans to try to lead by example for his position group.
Comets' quarterback Will Mitchell rears back to let a pass go before the Mustangs' defender can get to him. Mitchell was one of three men to play quarterback for the Comets on Saturday.
The Comets also lack experience at the quarterback position. Three different players took snaps for the Contra Costa College team on Saturday. 
Jack Quigley started the game for the Comets and went five for 12 with 60 yards and one touchdown through the air, while Will Mitchell followed with 57 yards on four of 13 passing and one touchdown himself. Dreyan Paul also saw some time behind center for the Contra Costa squad in the second half. 
Yelverton said none of the three quarterbacks proved anything Saturday to earn them a cemented starter role, but he will keep evaluating.
Comets' running back Mike Franklin tries to beat the Mustangs' defense and sneak the ball over the pylon for a touchdown on Saturday in San Pablo.
Second-year Comets' running back and team captain Mike Franklin holds his starting job firmly — he fought for 64 yards on 16 attempts and snagged a fourth quarter receiving touchdown that got his team back into the game.
Comets' running back Mike Franklin attempts to fight through contact for extra yardage against the Mustangs' defense on Saturday in San Pablo.
With two minutes remaining, Comets' kicker Diego Nunez-Smith was unsuccessful in getting the ball through the uprights for the second time in the game. One successful field goal attempt would have given the Comets a tie, while two would have yielded a victory. 
"We fought until the end but we fell short. There's still a lot we need to work on," said Comets defensive tackle D.J. Thomas. Specifically, "focus, our focus will take us a long way. And conditioning, you can never have enough conditioning." 
Comets' receiver Randy Ramanan fights for the ball with a Mustangs' defensive back and scores a touchdown in San Pablo on Saturday.
The Comets will also look to improve on their third down conversions, as they had only two on 15 attempts, while the Mustangs converted eight of 18 attempts. 
"We need to work on everything because we just didn't execute," Wilson said. "We only scored 13 points."
The San Joaquin Delta College team also possessed the ball for nearly 10 minutes longer than the Comets, mostly due to their 46 rushing attempts. Though, the Contra Costa College defense held the Mustangs to an average of only 1.6 yards per carry. 
"Not to take anything away from them, because I think they're a great team, but I know we're a better team," said Thomas.
As a whole, the outcome of Saturday's game illustrates how much can change in a year when considering the two teams' statistics last year. Both teams already matched their respective win and loss totals from 2021, as the Comets had only one loss and the Mustangs had only one win.
Mustangs' quarterback Cruz Herrera completes a pass in the flat to his receiver on Saturday in San Pablo.
Furthermore, the Comets averaged 37 points per game last season (more than triple their total on Saturday) and the Mustangs' opponents last season averaged 44 points per game (more than four times what they gave up against the Contra Costa College team). 
"At the end of the day it doesn't matter who you play," Thomas said. "You just have to line up and do your job."
On the flip side, the Comets' defense nearly matched their opponents' points per game total from last year of 16.1, and the Mustangs offense seemed on par with that of the 2021 squad that averaged 17.6 points per game.
Aside from the common adversities the Comets were already facing, like the many relied upon players who transferred, and those missings Saturday's game due to failing to meet the GPA requirement, the team had a new challenge. Yelverton and his team had no game film of the Mustangs because the San Joaquin Delta College coaching staff decided not to give it to them, which he said has never happened to him in all his years of coaching. 
"We didn't have anything to go off of," said Yelverton.
The Mustangs coaching staff also attended the Comets' scrimmage against De Anza College on Aug. 12 and moved the time of their own scrimmage at the last minute, according to Yelverton. 
The Contra Costa College team will look to rebound after the first of a rare two bye weeks. 
The Comets were originally scheduled to have only one bye week and head to the College of the Siskiyous to take on the Eagles on Sept. 10. But due to the Mill Fire, the game has been moved to Nov. 19, which will be the Comets' final regular season game.
 If the Contra Costa College team earns a spot in a bowl game, they will no longer have the customary week off beforehand.
The Comets' next game will now be Sept. 19, as the team looks to change things up and defend their home turf when the Santa Rosa College team visits San Pablo. 
"We're going to go back and fix it up, do some things differently, and play some different people…some feelings might be hurt, but that's what losing does," said Yelverton.