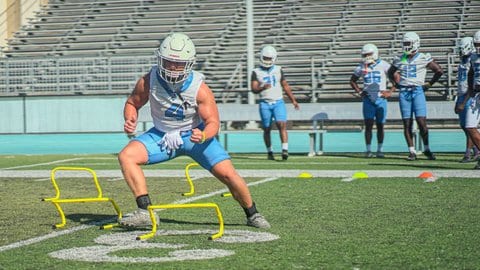 01 Sep

Contra Costa College Football Ready to Step Up in New Conference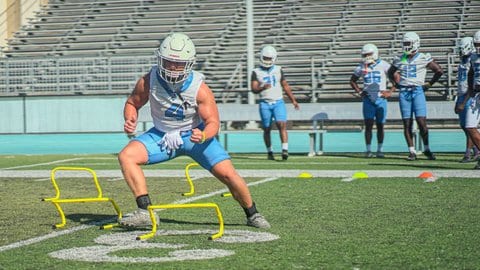 Contra Costa College football players practiced Monday at Comet Stadium in preparation for their season and home opener, 1 p.m. Saturday against San Joaquin Delta College.
Story and photos by Denis Perez-Bravo
A challenge awaits the Contra Costa College football team as they prepare for the start of their season and their first game in the Valley conference of the California Community College Athletic Association.
CCC will face San Joaquin Delta College on Saturday at Comet Stadium in San Pablo at 1 p.m.
"This season is very important to us," Contra Costa linebacker Noah McNeal-Franklin said during practice Monday.
Jack Quigley, who is competing for the starting quarterback job, is most likely to take the lead Saturday in the season opener, said head coach Otis Yelverton.
Last year, in the American Pacific conference, CCC had a winning season of 10-1. This year, the Comets will put themselves to the test against historically higher-ranked teams like Fresno City College, Modesto College and Reedley College. Those teams ranked seventh, eighth and 12th at the end of the 2021 season, respectively.
CCC finished the 2021 season ranked 23rd.
"I'm tired of people saying we are at a lower level," Contra Costa head coach Otis Yelverton said. "Us, the coaches, and the kids think we can compete."
This will be the third year Yelverton is at CCC but only his second full season of coaching due to the pandemic limiting play in his first year.
CCC's players and their hard work have gotten recognition from junior college recruiting news site JCGridiron.
Mike Franklin was recognized as preseason All-American 1st team running back by JCGridiron. He has also received offers from the University of Washington, Liberty University and San Jose State University.
Running back Mike Franklin was recognized as a preseason All-American and has offers from three universities. But he said he tries to not think about anything but his team and the upcoming season opener.
Mikey Mainer was named preseason All-American 2nd team tight end, Tavarius Pitt was named preseason All-American 2nd team weakside end, and McNeal-Franklin was named preseason All-American 4th team outside linebacker.
McNeal-Franklin is committed to San Jose State.
With a higher level of competition on their schedule, Yelverton and his staff have continuously pushed their team to rise to new heights.
Sometimes, literally — like at Point Richmond's Zulu Point, where the team would run uphill during the offseason. And by CCC's campus, a long staircase leading up to Fairmead Park has also been used as a training site during preseason to push the team's conditioning.
Last season, the Contra Costa College Comets won the inaugural Chris Pappas Bowl, capping off a 10-1 season. They practiced Monday as the continue to get ready for a new season in a new conference.
"Coach is trying to instill mental toughness inside us," Franklin said, referring to Yelverton.
He said that one day, Yelverton made each player carry a 45-pound weight as they went around the CCC campus four times.
Yelverton has encouraged his athletes to take that mental toughness beyond football, into their academics and civil duty.
Last year, 30 players made the Dean's List, and this year they hope to do the same, he said.
Also, at the end of last year, the program saw 19 sophomores transfer to four-year universities, some to Division I football programs. That list includes quarterback Jake Jensen who received a full-ride scholarship to USC, the first Power 5 Scholarship the CCC program has had since 2015.
And in the community, Yelverton has conducted service events such as feeding the homeless in RIchmond, going to elementary schools to interact with young kids, and hosting a 7-on-7 high school football tournament.
>>>Read: De Anza Begins HS Football Season With Statement Win
"We give guys a process," Yelverton said.
That process — filled with conditioning, film watching, weightlifting and play analysis —has intrigued local and non-local talent to "buy in" to the CCC football program, he said.
Linebacker Noah McNeal-Franklin, listening to a coach during practice Monday, is confident his team can meet the challenge of playing in a more competitive conference.
McNeal-Franklin, one of the two returning linebackers, is all in and is using his experience from last year to develop the linebackers in their first year.
And he, like many others, expects this last week of practice before their first game to be a time for the team to lock in and perfect their game.
"There are a lot of teams coming for us," McNeal-Franklin said. "But I think we are one of the best teams out here."