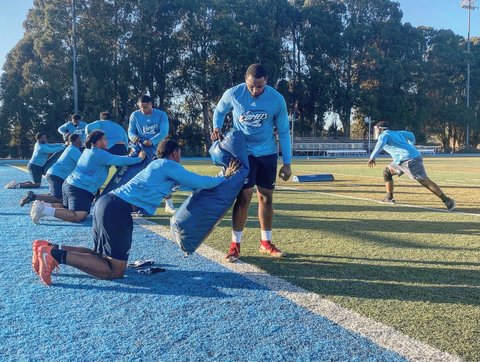 20 Nov

Contra Costa College Football Enters New Era Under Yelverton, Coronavirus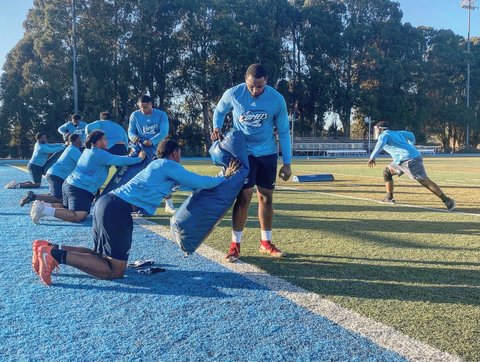 With games pushed back because of the coronavirus, the Contra Costa College football team can only practice until February. (Denis Perez-Bravo / Richmond Pulse)
By Denis Perez-Bravo
Sweat, hard work and football practice have returned to Comet Stadium as Otis Yelverton enters his first year as head coach of the Contra Costa College football program.
This is Yelverton's first time as a head coach at any level in college. With over 29 years of coaching experience, Yelverton hopes to cultivate a familiar CCC mentality — winning.
"We are going to learn how to win," Yelverton said.
CCC is looking to come back from the 2019-20 season that ended 2-8, an improvement over the previous two seasons.
With the program at a low point, the first thing to do is regain the victorious mindset that was alive in the program the last time Yelverton was around.
Yelverton was CCC's defensive coordinator under coach Alonzo Carter in 2012 and 2013, when the team won back to back division titles. During that time, he elevated the defensive team's performance to be among the top of their division in the California Community College Athletic Association.
Yelverton moved on to become the defensive coordinator for Copiah-Lincoln Community College in Mississippi. He later became the assistant director of player personnel at the University of Florida's football program.
In April 2019, Yelverton was arrested on suspicion of aggravated stalking after allegedly harassing his ex-girlfriend online and leaving threatening voice messages. In June 2019, the Alachua State Attorney's Office declined to press charges on Yelverton, according to local news outlets.
"I deeply regret using hurtful language and am committed to being more mindful of things I say and the context in which I say them," Yelverton said in 2019 following the state attorney's decision.
From those dark days, Yelverton had nothing to do but to learn and build. And when he received a call from CCC Athletic Director John Wade about a coaching position, Yelverton couldn't believe he was going to get a second chance.
"I feel truly blessed to be coaching at Contra Costa," Yelverton said.
With Carter's legacy on his mind, it is Yelverton's turn to take charge, and he starts with talented local athletes and out-of-state prospects that he and his coaching staff recruited during the summer.
>>>Read: CCC Women's Soccer Recruitment Rebounds Despite the Coronavirus
Although, because of limitations on in-person activity, the recruits have not kept up with their conditioning. This was the first challenge the team had seen since the start of practices in early October.
"Coming back was sluggish at first, but we are challenging ourselves everyday," tight end Ronald Jenkins said.
Jenkins is one of the returning offensive lineman from last year. Yelverton sets the bar high and demands progress everyday, he said.
"We lacked discipline last year, but we are going to turn it up this year," Jenkins said.
And this year, turning it up means going extra hard during practice because for more than three months, practice is all CCC will have. Games aren't scheduled until February.
Wide receiver Gabriel Sable, although he is still getting back in top shape, has exerted his strength and shown he is fast-paced and well-conditioned in the first weeks of practice.
"Our biggest strength right now is to put in extra effort to keep progressing," Sable said.
To gain an edge against other teams, the Comets need to push themselves to their limit in practice. That is what Sable is trying to do. He said that is how he hopes to gain more attributes to contribute to the team.
The defensive and offensive team practice different days to minimize the risk of spreading the coronavirus. The whole field is used during practice to spread the players apart as they do different drills. During huddles to end practice, a large circle is formed to maintain physical distancing.
The usual after-practice huddle has become a lot more spread out because of the coronavirus. (Denis Perez-Bravo / Richmond Pulse)
So far, Yelverton has seen the defensive team push themselves more and bring high energy to practices.
Defensive end Kyree Stroughter said this will be a winning season as long as the team is prepared — not only in practice but off the field as well. Apart from eating healthy and staying in shape, the team has to hold each other accountable to guard against the coronavirus, he said.
"If I don't have to go outside, I'll stay in," he said.
That is hard to do all the time. And with so many people on the team, constant communication is necessary to make sure no one is putting themselves at unnecessary risk of being exposed to the virus, Stroughter said.
And with remote classes, the team must also help each other stay focused on their academics. Most of the players have classes together, and even though they aren't physically together in the class, they communicate through group chats and Zoom, Stroughter said.
There is no denying this football season will be different, Stroughter said, but the goal is the same: win a championship. But with games on hold until 2021, the team prepares for what seems to be a far, far away season opener.
"That first game is going to be amazing, but right now, I am excited just to be back in the field," Stroughter said.