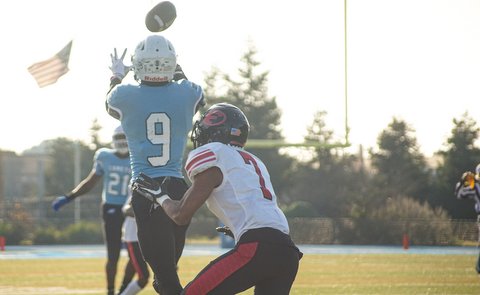 07 Dec

Contra Costa Finishes Strong, Beats Foothill for Inaugural Chris Pappas Bowl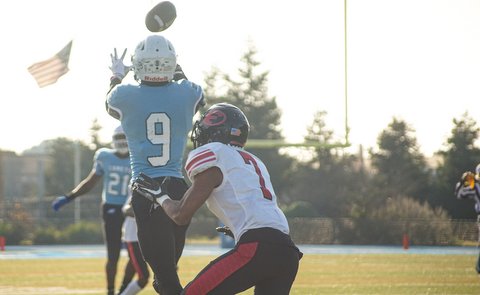 Story and photos by Denis Perez-Bravo
The yearlong efforts of the Contra Costa College men's football team delivered them the inaugural Chris Pappas Bowl championship after they defeated Foothill College 28-19 at Comet Stadium on Saturday.
Pappas, whom the California Community College Athletic Association named the Pacific 7 bowl game in honor of, was a longtime Monterey Peninsula College coach and athletic director. He died in July 2020 at the age of 89.
Contra Costa's final match, a cleat check on their talent-stacked squad, earned the San Pablo team a 10-1 overall record and marked a strong finish to the program's first winning season since 2015.
"I am excited about Contra Costa and where it is at," head coach Otis Yelverton said.
With a bowl game title under their belts, the coaches and students have a foundation for the coming year, he said.
And in the process, created a rival out of Foothill.
"If it's a rival game, our rival now is Foothill," Yelverton said.
The intense game brought out mistakes, fouls and scrappy plays from both teams. At some points, Contra Costa and Foothill players got in each other's faces as hostility grew.
Contra Costa wide receiver U'kari Baker, right, pulls tight end Justin Duff away from a confrontation with Foothill defensive back Tre'Sean Bishop after a play in the second quarter during the inaugural Chris Pappas Bowl championship at Comet Stadium on Saturday.
After a three-week break, Contra Costa was not able to find its rhythm. And the added frustration caused by friction between the teams kept Contra Costa from focusing on its gameplay.
A sluggish first half marred Contra Costa's fighting spirit when Foothill quarterback Antonio Gonzalez threw his team up the field with a series of third down completions. With 6:18 left in the first quarter, Gonzalez threw a 9-yard touchdown pass on another third down to Foothill tight end Jordan Spalding.
The kick was no good.
The Foothill lead would stick until the third quarter.
"I was nervous at first because we didn't have the momentum that I expected us to have coming out," Contra Costa wide receiver U'kari Baker said.
As they trailed 0-6, disbelief grew among the Contra Costa players on the sideline.
They made comments like, "They haven't done anything different," referring to the last game they played against Foothill on Oct. 10 in which they dominated after the first quarter and won 43-13.
So coming into this game against Foothill, Contra Costa was sure it could very well dominate again.
"Everything we did wrong, we knew how to change it," wide receiver Demari Davis said.
The team said the only reason they would lose the game was if they allowed themselves to be broken by self-doubt.
At halftime, as they sat in the locker room, Davis said, "We picked each other's spirits up."
A back-to-back touchdown battle ensued in the third and fourth quarters. Contra Costa's late response finally came when quarterback Jake Jensen got away from a Foothill defender that tried for the sack. Jensen threw a 14-yard pass to Davis inside the end zone. A good field kick followed.
After Contra Costa scored and returned the ball, Foothill drove up to the 45-yard line on second down. There, Gonzalez threw a 37-yard pass to wide receiver Wuda Ardoin who received it at the 24-yard line.
To push back, early in the fourth quarter, Jensen connected with Baker on a 15-yard pass to score. Minutes later, following a 35-yard rush by Mike Franklin to the Foothill 20-yard line, Jensen once again found Baker, this time unguarded and yards away from the end zone. Contra Costa led 21 to 13.
Contra Costa running back Mike Franklin rushes the ball during the inaugural Chris Pappas Bowl championship at Comet Stadium on Saturday. Franklin was unanimously named the running back of the year in the Pacific 7 conference by the California Community College Athletic Association.
"[Jensen] knew that we had a connection. We practiced those plays all week and maintained it in the game," Baker said.
Foothill responded later in the quarter and could have tied the game with a two-point conversion, but defensive back Trey Baker deflected the ball before it got into enemy hands inside the end zone.
Contra Costa defensive back Trey Baker deflects a ball during a possible Foothill College touchdown play during the inaugural Chris Pappas Bowl championship at Comet Stadium on Saturday. Baker had multiple deflections throughout the game, including a fourth quarter Foothill two-point conversion play that would have tied the game 21-21.
As the final stretch of the game loomed, Davis rushed the game-winning touchdown with 2:54 left after receiving a 34-yard pass from Jensen. After a goal kick was made, the Contra Costa lead was extended to the decisive 28-19 score.
Contra Costa Comets wide receiver Demari Davis scores the final touchdown of the inaugural Chris Pappas Bowl championship during their 28-19 win against Foothill College at Comet Stadium on Saturday.
As Davis entered the end zone, he looked up. He then kissed his index finger and lifted it to the sky in celebration of his close friend and former teammate, the late Tyler Dickson.
"My boy Tyler, he used to play with us," Davis said.
His sudden death before the season devastated the team but also gave them a purpose: to give their all this season — not for titles, championship, pride or scholarships but in the name of love for their beloved friend.
"We put everything we did this season for him," Davis said.