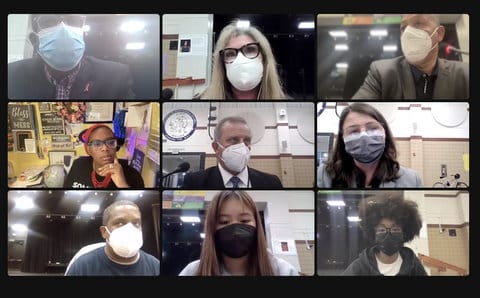 12 Oct

'Kennedy Is Still Stuck': School Board Addresses Equity Issues at Richmond High Schools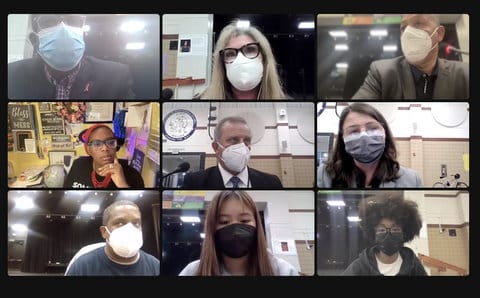 West Contra Costa school board trustee Mister Phillips said at a special meeting Tuesday the inadequate facilities at Kennedy and Richmond high schools were a matter "of racism and inequity." (Screenshot captured by Julia Métraux / Richmond Pulse)
By Julia Métraux
Two years ago, West Contra Costa Unified School District voters passed Measure R, which issues $575 million in bonds to address potential modifications and rebuilding of the most at-need school sites. The measure only barely passed, with just 58.73% approval, versus the required 55%.
So far, the only funding used from Measure R was $6.6 million for fields, bleachers and a press box at John F. Kennedy High School. West Contra Costa school board trustees heard a presentation in a special meeting Tuesday from Ellen Mejia Hooper, WCCUSD's facilities planning and construction director, about how remaining funds could be spent.
Options laid out for the trustees to consider were to use most of the money for projects at Kennedy or Richmond high schools or split most of the funding between the two high schools, as well as using some throughout different parts of the district for heating, ventilation and air conditioning.
"If we're looking at two smaller projects, then we probably could do them simultaneously," Mejia Hooper said. "If we're looking at one large project, we wouldn't have enough cash flow to be able to commit to a contractor."
Trustee Mister Phillips said he was disappointed that the two high schools out of three in Richmond have been left behind in terms of their buildings, among other issues, in comparison with the rest of the district. According to U.S. News, Richmond High School's "total minority enrollment is 98%, and 86% of students are economically disadvantaged," and Kennedy High School's "total minority enrollment is 98%, and 81% of students are economically disadvantaged."
"What is the plan to confront this blatant act of racism and inequity?" Phillips asked.
According to the presentation, the construction cost estimates for Kennedy High School range from $397 million to $488 million, and the construction cost estimates for Richmond High School range from $363 million to around $438 million.
"Our current reality doesn't allow us to do that, which is why we are here having a conversation to present an option or options to the board and then get some direction," Superintendent Kenneth "Chris" Hurst said, responding to Phillips' question.
During public comment which preceded the presentation, teachers at both Kennedy and Richmond High expressed frustration with the lack of building updates.
"Kennedy is still stuck where it's been stuck as far as the building goes," said Miesha Harris Gash, who works with students with disabilities. "How do you think that we feel about walking in the building?"
Trustee Leslie Reckler, who said her "name was on the ballot argument to pass" Measure R, encouraged the district to look into energy services agreements, which may bring down some of the costs.
>>>Read: POINT-COUNTERPOINT: What Students Think of Measure R
"I will give you some information on these energy services agreements, which runs on the solar-type of thing," Reckler said. "It should get looked into, and we may be able to do it."
Trustee Jameela Smith-Folds said that it is important that the facilities team continues to engage with both Kennedy and Richmond communities to not continue both feeling like they are left out.
"The historical decisions that boards have made before us have current impacts and future impacts based on what we do now," Smith-Folds said.
Hurst also confirmed at the end of the meeting that the purpose of this special meeting was to get feedback from the trustees, not that any final decisions would be made.
"The whole purpose then was to come back to the board and get some feedback and then reengage family and stakeholders at the school sites based on recommendations that we were getting from the board," he said.
Going back to his question earlier in the meeting, Phillips said facility issues at Kennedy and Richmond High School are equity issues.
"It's a travesty and a tragedy because they are our most diverse high schools," Phillips said.