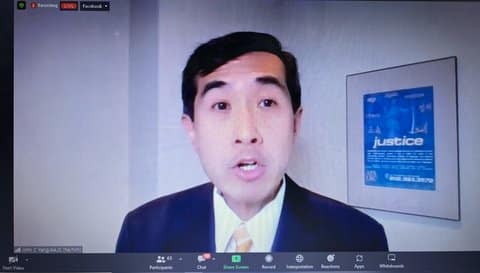 26 Oct

Supreme Court Could End Affirmative Action in College Admissions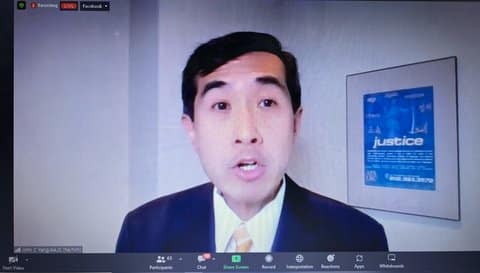 By Joseph Porrello
Affirmative action remains an important part of the college admissions process, and taking it away would adversely affect racial minorities.
That was the main takeaway of Ethnic Media Services' national news briefing Oct. 15 to analyze the future of affirmative action in regards to two ongoing court cases.
On Oct. 31, the U.S. Supreme Court will hear oral arguments on two cases concerning affirmative action with respect to college admissions: Students for Fair Admissions v. Harvard University and SFFA v. University of North Carolina.
"Obviously, we are very concerned based on the court's [conservative-leaning] makeup," said John C. Yang, president and CEO of Asian Americans Advancing Justice.
Both cases were filed on the same day in 2014 and spearheaded by SFFA leader Edward Blum. And in each case, the SFFA is asking the Supreme Court to eliminate race-conscious admissions completely.
"In this case, we were seeing that Edward Blum is no ally to students of color," said Sally Chen, Harvard graduate and student representative in the Harvard case.
Yang said the plaintiffs are acting on the notion Asian Americans are overachievers who would fare better with supposedly merit-based admissions, despite studies disproving the theory. Suggesting Asian Americans would be better off without affirmative action dilutes the facts and divides their community. About one-third of Asian Americans support affirmative action while the other two-thirds do not, according to studies referenced by Yang.
"Race-conscious policies have created superior learning environments for all students," said Yang. "Student body diversity promotes cross-racial understanding, reduces racial isolation and hostility, and better prepares students to become leaders in our multicultural society."
David Hinojosa will present an argument at the Supreme Court in the UNC case, representing students and alumni with the Lawyers Committee for Civil Rights Under the Law and the North Carolina Justice Center.
Hinojosa noted that in the UNC case, particularly, the plaintiffs claim that race is being used as more than a "plus-factor" and that the university did not consider racially neutral alternatives. As for Harvard, the SFFA claims admissions officers took part in "racial balancing" to hit quotas of sorts.
Michaele Turnage-Yong of the Legal Defense Fund said that alternatives, like class- or income-based affirmative action, would not address the adverse effects on students of color stemming from systemic and interpersonal racism.
"Even students from financially secure households still experience implicit and explicit biases at school and elsewhere that detrimentally affect their educational opportunities," said Turnage-Yong.
>>>Read: Student Debt Fuels Racial Wealth Gap, Advocates Say
Turnage-Yong serves as senior counsel at the Legal Defense Fund, representing 25 Harvard student and alumni organizations that consist of roughly 18,000 people in total.
Both Yang and Turnage-Yong agree that the effects of eliminating race from admissions consideration would not be positive for racial minorities.
The percentage of African American students at Harvard would be more than chopped in half (14% to 6%), while the Latinx student makeup would also fall significantly (14% to 9%), noted Yang.
Turnage-Yong said that experts found the number of minority students as a whole at Harvard would be reduced by nearly 50%, or nearly 1,000 students, over the course of four years.
"People are betting against affirmative action, but history is on our side, the Constitution is on our side, the law is on our side, and so are the facts," said Hinojosa. "If [the Supreme Court] weighs the facts as they have in other cases through decades, then affirmative action should stay put."
When both cases were heard in district courts, each judge found all students admitted were well-qualified and that admissions officers were not looking at applicants differently based on race.
"Ultimately, you can't address racism by being race-blind," said Chen. "We need policies that recognize and remedy ongoing racial disparities."
According to Hinojosa, the SFFA wants to believe the Constitution is colorblind and ignore the history of racism in the U.S.
"They want to completely whitewash history and reinstate all the privileges of yesteryear," said Hinojosa.
Turnage-Yong said her clients are concerned that it would be impossible for applicants of color to present their true selves in their college applications if race is removed from the admissions process.
"[SFFA] is seeking permanent injunction requiring Harvard to conduct all admissions in a manner that does not permit those engaged in the decision-making process to become aware of the ethnicity of any applicant for admission," said Turnage-Yong.
As noted by Chen, applicants from diverse backgrounds like herself can use their experiences and stories to stand out to admissions officers instead of being just another number on a page. After being advised by her high school counselor not to include her story of being an Asian immigrant, she did anyway, and it led to her acceptance into Harvard.
"That really underlined for me how [personal] stories are so important," said Chen.
Chen also noted how college admissions is just the beginning of schools valuing racially diverse backgrounds in their student bodies. "We really want to open up to supporting students of color on campus toward successful careers and their pathways beyond," she said.
From the perspective of the speakers at the Oct. 15 briefing, society as a whole would be failed by the exclusion of affirmative action in the decision-making process of colleges.
"Talent is everywhere; opportunity is not," said Turnage-Yong. "Our selective universities end up populating our important institutions."
Well-qualified students would be passed over and have their opportunities diminished significantly if the Supreme Court sides with the SFFA.
"We really want all advocates to take this as a call to action," said Chen. "There's so much more to fight for. We certainly can't give up."