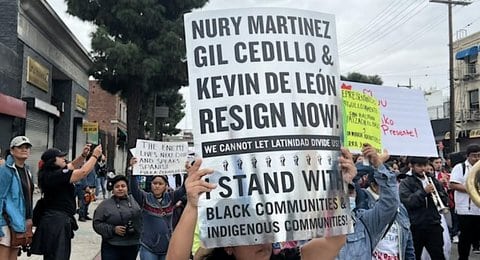 29 Oct

'Sadness, Disappointment, Anger' — Indigenous Oaxacans Fight for Identity, Representation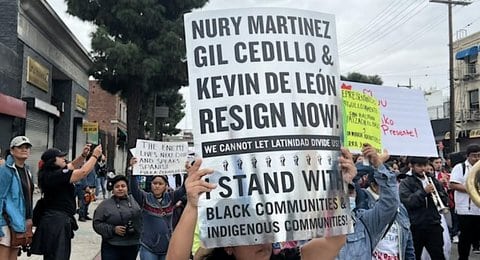 (Photo courtesy of Ethnic Media Services)
By Peter Schurmann, Ethnic Media Services
A recent article in the Spanish-language newspaper La Opinión drew the ire of Mixtec and other Indigenous Oaxacans in and around Los Angeles. Coming amid the ongoing firestorm over racist remarks by the city's most prominent Latino leaders — remarks disparaging both Indigenous and African American residents — the article described the backlash against City Council Member Kevin de León, one of the leaders heard on the leaked audio, as a political "lynching." That's a problematic term for both the Indigenous and African American communities, says Arcenio López, director of the Mixteco/Indigena Community Organizing Project in Ventura County. López has spent two decades working to promote civic engagement among Indigenous Oaxacans and says the remarks were a blow to that effort.
What was your response when the leaked audio was released?
At first, I thought it was a joke… like the memes on social media that people post to gain followers. I wanted to believe that was the case, but then I reached out to Indigenous leaders in Los Angeles, and they confirmed it was real. From that point there were all kinds of emotions: sadness, disappointment, anger. It felt like we'd just been sent backwards, after all the work we've done to move ahead, one, two or three steps. With this, we went back miles. That is how it felt for me.
The incident has since become national news. Do you feel Indigenous voices are being reflected in the coverage?
I think not too much… there needs to be more. People are hearing the word Oaxacan and Indigenous, sometimes for the first time, without any background about who these people are. That is what is missing. We're not given the opportunity or the space to express who we really are. We didn't just arrive here… we've been on this continent for thousands of years and this is probably the first time some have heard of us. And so, people may be confused about why this issue is so critical and delicate within what is called the Latino/Hispanic community.
>>>Read: Why I Am Letting Go of 'Latino' as Part of My Self-Identification
What is your relationship to the term "Latino?" Do you identify as a Latino?
No, I don't identify as Latino or Hispanic. I've been forced to identify as Latino when it comes to legal forms or government documents but now, I mark the "other" box and write in Mixtec. It's taken 20 years of personal work and reflection for me to get to this point where I can embrace my Indigenous identity, to feel proud and not to feel scared or embarrassed that I am an Indigenous person. If you knew me 20 years ago, I would never say that I am Indigenous. I would say that I am Mexican. But now I embrace my Indigenous identity because I know how important that is.
It's taken 20 years of personal work and reflection for me to get to this point where I can embrace my Indigenous identity, to feel proud and not to feel scared or embarrassed that I am an Indigenous person," said Arcenio López, , director of the Mixteco/Indigena Community Organizing Project.
Do today's generation of Mixtec and other Indigenous groups face that same struggle?
There is a large percentage of our population who still mark Latino on official forms for many reasons. Some do it because it is easier to navigate the system. We do a lot of work with the local school districts around issues like language access. Many Mixtec parents don't speak Spanish or English… and yet it took years for the districts to modify their intake forms to include Mixtec or Zapotec. When they finally did, we began to educate the community, encouraging them to check the "Mixtec" box. But parents told us it takes so much time to access services when they mark Mixtec because they have to schedule interpreters that many just mark Latino to make the process move more quickly.
Spanish-language media has come out in recent days to defend de León and to argue for more — not less — Latino representation in Los Angeles. What is your response?
We disagreed with the article published in La Opinión, because it felt like it was all about protecting his reputation, about giving him a pass. The victim's voice was not included… it was more the voice of the perpetrator. The headline also used the term "lynching," which has a problematic history with Indigenous people and African Americans.
The other day de Leon was on Telemundo and Univision, insisting he won't resign. It's as if these other outlets are now joining the campaign to defend him. A lot of this has to do with Spanish-language media in general, which excludes Indigenous people… You don't see people that look like me in these media, and when you do, often the stories are patronizing.
But what about the question of representation? Where do Indigenous communities like the Mixtec fit in that discussion?
I can't speak about Los Angeles because I don't live there, but as an Indigenous person in California, I can say that this whole scandal has reaffirmed the one thing we feared, which is that candidates who run campaigns saying they represent us… they are not representing us. They are just mouthing the words that they care about us. But they don't care about our issues, and they are not willing to defend us.
I think it's clear there is more work that we need to do to foster the political power of Indigenous communities. And I am confident there are individuals from within the Indigenous and African American communities who can fill these seats on the City Council. That would be a key piece in the healing process. But I wonder if other Latinos would allow an Indigenous person to run for office or if they would support that person.
What are the platforms or channels that Mixtec and other Indigenous communities use to make their voice heard?
That is something we need to work toward. Social media, Facebook and YouTube, they're popular. But our system is still largely word of mouth, by community and network. Each of our towns has its own committee, like hometown associations, which is how we organize. At MICOP we do a lot of civic engagement, encouraging people who are citizens to vote and educating them on the election process, for example. With this scandal, I worry about the damage it's done to that effort. I worry it will discourage Indigenous people from wanting to be more engaged and have their voice heard. With the current political climate, it just makes the effort to motivate people that much more difficult.
How do you see the community moving forward from here?
It takes time and time is our best friend, but it has to be intentional. The more we embrace our identity, the more we keep fighting and passing our language to new generations… this is powerful. The key is that each culture learns to be proud, and is then willing to share, and to receive. When we mobilize people and communities around these values it makes our world stronger. What happened in Los Angeles is exactly the opposite.