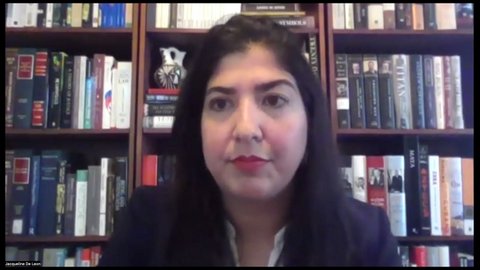 03 Nov

Native American Vote Has to Overcome Many Barriers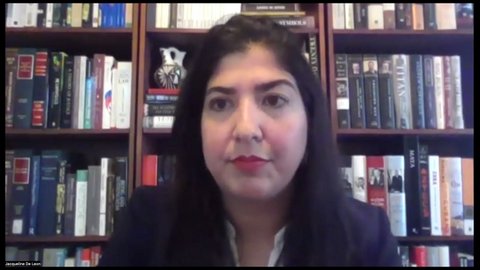 "The Native American vote has the power to swing a host of elections this coming year," said Jacqueline De León of the Native American Rights Fund and Isleta Pueblo tribe during an Oct. 13 Ethnic Media Services briefing. (Screenshot captured by Samantha Kennedy / Richmond Pulse)
By Samantha Kennedy
Far away polling places and restrictive voter registration are just some of the barriers that contribute to the difficulties Native Americans face when voting. But this isn't an accident.
At an Oct. 13 Ethnic Media Services online media briefing titled "Impact of Redistricting and Voter Suppression on Indian Country / Native American Voters," the power of the Native American vote exceeding the systemic barriers against it was discussed.
Jacqueline De León, staff attorney for the Native American Rights Fund and enrolled member of the Isleta Pueblo, said that voting barriers are often compounded with other challenges unique to Native Americans. Challenges, De León said, that intentionally seek to exclude Native Americans from politics.
>>>Read: Obstacles Exclude Disadvantaged Voters from Democratic Process
"The Native American vote has the power to swing a host of elections this coming year," De León said at the briefing. "Fear is animating increased voting barriers for Native Americans."
With NARF, De León helped write "Obstacles at Every Turn: Barriers to Political Participation in Native American Voters," a 2020 report detailing "how Native Americans are systemically and culturally kept from exercising their franchise."
NARF reports that geographic isolation, lack of traditional mailing addresses and voter purges act as some of the barriers facing Native Americans when voting. Voter purges happen when people are removed from registration lists. They are sometimes necessary as people move, die or become ineligible to vote for some other reason, but sometimes, eligible voters are mistakenly taken off the rolls.
But when Native Americans are adequately represented in elections, their votes have proven to make a difference.
The 2020 presidential election is one instance where the Native American vote changed things, according to De León. Nearly 20,000 more votes were cast by voters on the Navajo and Hopi reservations in the 2020 election in comparison with the 2016 election. Results from the state show that President Biden won Arizona by approximately 10,500 votes.
Native American voters have also been a deciding factor in elections in Alaska and North Dakota, helping elect Republican Sen. Lisa Murkowski and Democratic Sen. Heidi Heitkamp, respectively.
In attempts to lessen the power of the Native American vote, redistricting involving Indian Country has been riddled with gerrymandering, the act of manipulating electoral districts to create unfair advantages or disadvantages.
Derek Beetso, a Navajo Nation citizen and director of the Indian gaming and tribal self-governance programs at the Arizona State University's Sandra Day O'Connor College of Law, said that redrawn district lines in Arizona's second congressional district make it uncertain whether Rep. Tom O'Halleran, who is considered an advocate for the Native American community, will be able to continue representing them.
>>>Read: Voting Districts Are About to Be Redrawn. Here's Why It Matters
"He really understands the community," Beetso said. "The maps excluded some portions of a community that included 25% of the Hispanic community here in Arizona, and instead replaced them with another community called Yavapai County, which has historically been a community that has not been friendly to Indian tribes."
Beetso said the responsibility that comes with redistricting is to ensure every vote counts no matter the voter demographics.
"The case here in Arizona is not such a case." Beetso said. "You'll see the same grandmas live in the same house, the same grandpas live in the same house . . . Yet the maps were redrawn, and the only conclusion we're led to believe is that it was done so for political purposes."
Panel moderator Mark Trahant, editor at Indian Country Today, said he wonders if heavy reliance on census numbers will affect the Native American vote in Arizona's upcoming election.
"They took the census as if it was the real number," Trahant said.
De León noted the "radical" undercount in the census of Native American communities. Redistricting based on inaccurate census data prevents the proper amount of distributed resources.
"The census is another place where the structural barriers really stack up against Native American communities," De León said.
When confronted with these barriers, Native Americans jump at the chance to overcome them. Attempts to gerrymander and increase restrictions disproportionately impacting Native Americans don't go unnoticed in communities.
>>>Read: Attacks on Voting Rights Evoke Jim Crow Era
With the American Civil Liberties Union, NARF obtained an injunction in 2022 to block a state law that banned same-day voter registration in Montana.
In Alaska, an attempt to gerrymander was ruled a violation of the equal protection clause of the Alaska State Constitution by the Alaska Supreme Court.
Nicole Borromeo, executive vice president of the Alaska Federation of Natives and member of the Alaska Redistricting Board, said this is the first case in the country that holds that partisan gerrymandering is unconstitutional.
To further combat underrepresentation, young Native Americans are readying themselves to participate politically.
"One of the strongest things we have on our side is a really vibrant young Indigenous community that is really engaged," Beetso said.
Nicole Donaghy, executive director of North Dakota Native Vote, said young people are eager to participate but often voice concerns regarding the impact of their vote and how the process works.
"It really is an ongoing education process," Donaghy said. Donaghy says North Dakota Native Vote always visits high schools to encourage residents nearing voting age to register.
Similar efforts to increase turnout among young voters take place in Contra Costa County as Election Day nears.
The Contra Costa County Clerk's office coordinates with local colleges and high schools to help with the voter registration process. The county hosts an annual event for National Voter Registration Day, which seeks to maximize voter education and outreach and allows schools to have their students pre-register and register on campus. County residents who are 16 or 17 and meet eligibility requirements can pre-register to vote; their registration automatically becomes active when they turn 18.
The deadline to register to vote for the midterm election was Oct. 24, but Contra Costa residents still have the option of conditional voter registration, which lets people register and vote in person up through Election Day. You can find more information online at Register to Vote – Contra Costa County.