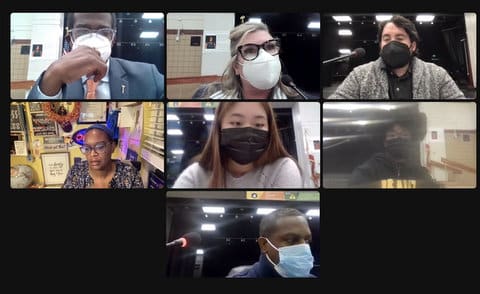 17 Nov

Teachers' Union Demands Fair Contract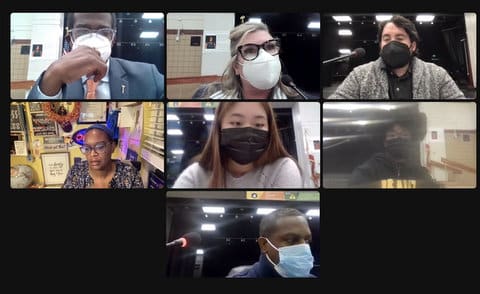 Nearly all members of the United Teachers of Richmond have voted to take action if West Contra Costa educators are not offered a fair contract, the union president told the school board Wednesday. (Screenshot captured by Julia Métraux / Richmond Pulse)
By Julia Métraux
The United Teachers of Richmond, the labor union representing educators in the district, gave the West Contra Costa Board of Education an ultimatum Wednesday during public comment: Give union members a fair contract, or they will take action.
"As a result of this lack of progress in our negotiations, I will be directing the members of UTR towards a series of collective actions including involve withholding voluntary labor, extra labor until this contract has settled," said UTR President John Zabala.
Teachers have been offered a 6% increase this year and a 4% increase the following year by the district's labor negotiators, according to Zabala. Other union members said the offer was not high enough to make sure teachers stay in the district. Zabala also said 92% of UTR members voted to take action if they were not offered a contract deemed to be fair.
"We also learned this week that the average teacher salary in the district just decreased over $1,200 last year," Zabala said.
During the closed session, the school board reportedly spoke with the labor negotiator Conrad Tanasychuk, who works on behalf of the district. Tanasychuk is negotiating with UTR, Adult School Teachers United, School Supervisors Association, Teamsters Local 856 and West Contra Costa Administors Association. No update about this conversation was given when the open session commenced.
Several teachers, including Verde Elementary School teacher Gabrielle Micheletti, who is also the elementary director with UTR, spoke about how understaffing affects the district's ability to give the support needed to students.
"Last year, I had a student with a profound speech impediment that was impeding his ability to sound words out and advance in reading," Micheletti said. "He went two-thirds of the school year with no speech therapist."
The school board, per its own bylaws, does not in most cases provide direct comment during public comment. Interim Associate Superintendent of Human Resources Sylvia Greenwood said the district is working on hiring more teachers for the special education department from the Philippines. They will arrive in the United States in late December and will be onboarded and placed in classrooms in mid-to late January.
>>>Read: School Year Begins With Teacher Shortage
An additional issue rising from understaffing is how classes at the elementary school level are taught to make sure they have a certified teacher in front of them. Shannon Elementary School teacher Jeffrey Bean in Pinole said his class has a combination of fourth and fifth graders.
"That cannot be sound educational practice," Bean said. "What will happen to my students next year?"
UTR Executive Director Mark Mitchell asked WCCUSD to use funds they received from the state of California to support educators.
"Resources that UTR and CTA [California Teachers Association] have secured with our state government and Governor Newsom to provide this district with unprecedented funding never seen before in my professional lifetime" Mitchell said. "And it's…not being distributed to classrooms to support students and educators."
In the midst of teachers asking for better pay, one middle school student also stepped up to the microphone. Nathania Cruz, who attends Hercules Middle School, asked the district to give her teachers fair pay.
"They have to deal with kids that don't pay attention, sometimes disrespectful comments," she said. "Please, let's be fair to our underpaid teachers. Is there any way to solve these problems?"
The next regular West Contra Costa Board of Education meeting is scheduled for Wednesday, Dec. 7.