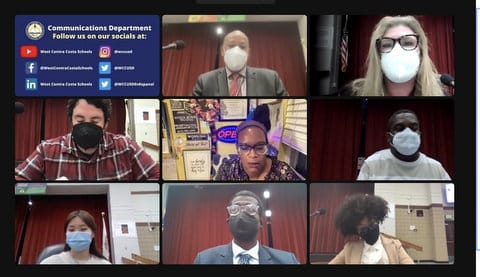 25 Aug

School Year Begins With Teacher Shortage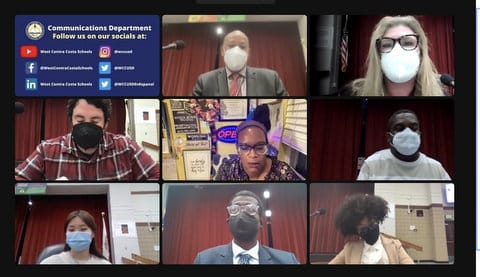 The West Contra Costa Unified School District needs to fill 93 teacher positions, a staff member said Wednesday at the school board meeting. (Screenshot captured by Julia Métraux / Richmond Pulse)
By Julia Métraux
As students start their school year at West Contra Costa Unified School District, some of them are missing very important faces: teachers.
Sylvia Greenwood, who was appointed as the interim associate superintendent of human resources during the closed session, said during Wednesday's Board of Education meeting the district still needs to fill 39 elementary school teacher positions, 27 secondary school teacher positions, and 27 special education teacher positions.
>>>Read: 'We … Put Ourselves Last': Former WCCUSD Teachers on Why They Left the Classroom
"We're using central office staff to support vacancies," said Greenwood, who was previously the director of human resources of certified employees. "We are processing and processing credentials as fast as we possibly humanly can, and we're also contacting retirees to turn back to work."
WCCUSD is not an anomaly in facing a teacher shortage right now, as many teachers are burned out from working during COVID-19. Even before the ongoing pandemic, research from the Guardian found that in the 2017-18 school year, 80% of districts in California had a shortage of qualified teachers. Long COVID may also contribute to teachers' decisions to take a break or leave this profession, and research from Education Week suggests that one in five educators have experienced long COVID.
>>>Read: Teaching During COVID Has Me More 'Stressed, Exhausted and Drained' Than Ever
When asked by clerk Demetrio Gonzalez-Hoy about which sites are experiencing significant staffing challenges, Greenwood said John F. Kennedy High School in Richmond and Hercules Middle School and High School were at the secondary level.
During public comment, Cristina Huerta, who teaches Spanish at Kennedy, said the district needs to recruit more teachers who speak Spanish.
Huerta shared the experience of a student, an English language learner, who went to start her senior year but, due to an error, was not enrolled in classes. Because no one explained in Spanish that she could stay at school while the issue was fixed, she had gone home.
"Days later, her mom got a call saying, 'Oh, we fixed it, your daughter can come back to school,' but her mom decided that her daughter was not going to return to Kennedy," Huerta said. "This is unacceptable."
>>>Read: I'm Worried High School Isn't Preparing Me for My Future
The need for Spanish-speaking teachers and support staff was not addressed.
While WCCUSD is looking for non-temporary teachers and staff to fill open positions, the district is also searching for more substitute teachers.
"We're posting for substitutes in various areas…wherever we can post to get substitutes," Greenwood said.
The trustees also passed a consent calendar item that would expand the universities that WCCUSD schools accepts student teachers and student interns from. The universities approved last night were Sonoma State University, Samuel Merritt University, Holy Names University and New York University.
During closed session, the trustees also approved Jawan Eldridge as the interim director of human resources at WCCUSD. Both Greenwood and Eldridge will both work to fill staffing shortages in their respective positions.
Welcoming New Student Trustees
The West Contra Costa Board of Education welcomed two new student trustees Wednesday who will serve for the fall semester, CJ Miles and Evalyn Soungpanya.
Miles is a senior at De Anza High School in Richmond. Superintendent Kenneth "Chris" Hurst said that Miles wants to represent students at the board and "has a desire to be a criminal justice juvenile defense attorney."
The second student trustee, Soungpanya, attends Middle College High School in San Pablo. Hurst said that Soungpanya wants "to make a change within her community" and also "to be a role model" to other students in the district. 
The next regular West Contra Costa school board meeting is scheduled for Sept. 7.