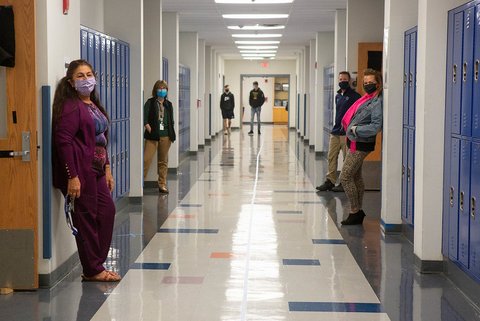 25 Jan

Teaching During COVID Has Me More 'Stressed, Exhausted and Drained' Than Ever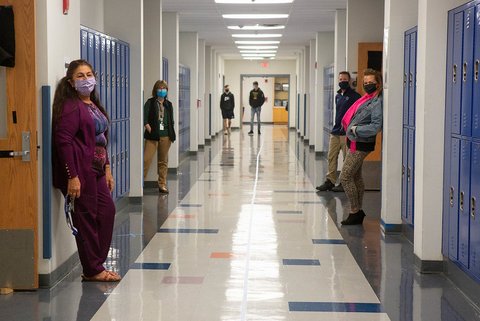 ("Teachers in masks in hallway" by Allison Shelley for EDUImages, provided by Alliance for Excellent Education under CC BY-NC 2.0 license)
Commentary, Mitzi Pérez-Caro
COVID has impacted teaching and learning greatly. As a fifth-year teacher at Kennedy High School, I have never felt as stressed, exhausted and drained as I do this school year. Going into the third year of teaching during a pandemic, you would assume that our protocols are strong at this point, but they are not.
Fall of 2021 was nerve-wracking, but I was so excited to come back into the classroom and be a bigger part of the learning experience, like I once was. Students were mainly shy and quiet, especially in the first few weeks back. Schools not only provide a space to educate students but also social skills, safe spaces, stress management and much more. The lack of these things during distance learning was deeply felt.
>>>Read: As Pandemic Worsens' Students Mental Health, WCCUSD Tries to Keep Up
My students really needed those resources while attending school online. Most felt so overwhelmed and stressed with schoolwork that they didn't ever feel like they could catch up online and often gave up. We saw some of these resources restored for students as we came back in person. You could see how excited students were to be around their peers and mentors again.
>>>Read: Finally Back at School, Teens Have Mixed Emotions
There were, obviously, positive COVID cases since the start of school and scares along the way. Students don't always wear their masks properly. I have to remind the same students that they need to have it above their nose.
What is even more worrisome is that some students want to be in areas they shouldn't. During a pandemic, it really puts students and teachers at risk of contracting the virus with no form of contract tracing.
Things took a sharper turn during winter break. The omicron variant took a stronghold on our communities after families returned from vacationing. Cases definitely went up, and the energy felt just as it did in March of 2020.
The district distributed nearly 30,000 at-home tests on the 2nd of January to avoid outbreaks when schools returned from winter break the following day.
That Monday, we had nearly 6,400 students absent in West Contra Costa. In the haste of the surges at elementary schools, the superintendent canceled school on the 7th and the 10th.
The 11th was a nightmare for our school. Our students completed their finals in the morning, as usual. However, more than eight classrooms had to be closed because there were 30 positive cases that day. The rest of the day was overruled by COVID testing with no news given to teachers as it happened, meaning that school was canceled after the third period. We were all in the dark.
The incubation period of COVID is three to five days. Students who are asymptomatic came to school, and omicron took over.
The following day, we proceeded with finals as if nothing happened. No students were tested that day because we only test students, who are willing, on the first day of the week. Students were not taking any of their finals seriously the rest of the week.
Coming back to school after a surge in cases felt like we moved back to square one. Our school has had a record high of 37 positive cases since we returned from winter break. And yet, the district is urging teachers not to advocate — no sickouts, no actions.
[Editor's note: Thirty-two Richmond High teachers engaged in a sickout Jan. 19, staying home to urge the district "to temporarily close schools during this COVID-19 surge, provide more PPE and ventilation," journalism teacher Lorenzo Morotti said on Twitter.]
We were previously told that three students in an event, meaning in a classroom or other shared space, would mean a breakout. That would close a classroom down, at least. You are telling me that with 37 cases on campus, those 37 students did not cross paths in an event? Why isn't testing mandated as vaccines are?
Meanwhile, in Brooklyn, N.Y., students are advocating for themselves through walkouts. They are urging their schools to provide KN95 masks for students and implement stronger COVID protocols. More locally, Oakland students and teachers have planned sickouts this month.
Students and teachers alike at our school have said temporary distance learning could help us all get through this variant wave. Why are the superintendent and the county not seeing this as an option?
>>>Read: Students and Teachers Express Concern Over District's Handling of Omicron Surge
Why are these important decisions being made by people who have not been inside of a classroom for such a long time? This surge is going to continue. Where does that put students, teachers, meal distributors, aids, librarians, psychologists, custodial staff? The decision to stay healthy should be our decision to make. Let educators have a say.