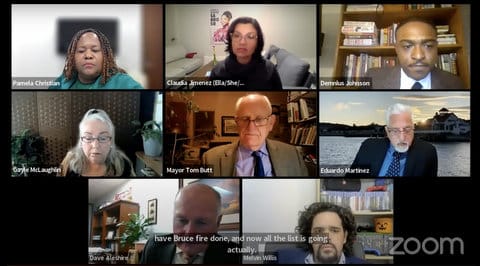 23 Nov

Soon-to-Be Former Richmond Representative Mark DeSaulnier Addresses City Council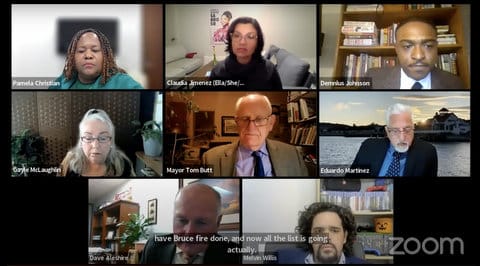 The Richmond City Council on Tuesday considered the issue of catalytic converter thefts. (Screenshot captured by Julia Métraux / Richmond Pulse)
By Julia Métraux
Richmond will soon get a new representative in Congress.
After representing a part of Richmond since 2015, Rep. Mark DeSaulnier reflected on his time serving Richmond at Tuesday's City Council meeting. DeSaulnier will remain in Congress, but due to redistricting, he will no longer officially represent Richmond residents. He won about 79% of the vote in the 10th District, according to unofficial results from Contra Costa County as of Nov. 18.
"It's been a pleasure," he said. "We had some good things we were able to accomplish."
In his comments toward City Council members, DeSaulnier acknowledged that passing certain types of legislation, including those affecting climate change, may be more of a challenge now that the House of Representatives has a Republican majority. DeSaulnier, a member of the House Committee on Transportation & Infrastructure, said he and some other members of the committee, including Rep. Jared Huffman, D-San Rafael, support Richmond looking into electric vehicles.
"We'd all like to work with you to facilitate any kind of interest you have on those grants to get that money," he said.
After DeSaulnier's initial remarks, council member Nathaniel Bates asked if Congress had plans to address the "tremendous increase in crime" both in Richmond and across the United States.
DeSaulnier said that both Connecticut and California have some of "the best gun violence policy," while acknowledging that does not decrease all issues with crime. For example, according to the Public Policy Institute of California, property crime did increase in 2021.
"We are working with the Department of Justice and Congress and with state attorneys general to figure out what are the best practices to make it harder for people to be able to liquidate property crime," DeSaulnier continued.
Council member Gayle McLaughlin also asked for his support of a national infrastructure bank that would bring "trillions more … in funding." DeSaulnier said he believes he has been a sponsor of this measure but would need to double-check.
"I'll double check if … there has been some miscommunication, which almost never happens in government," he said with a hint of sarcasm in his voice.
All council members who spoke thanked DeSaulnier for his service to Richmond. Bates said DeSaulnier had a lot to live up to when he replaced former Rep. George Miller.
"I got to tell you, you've done a great job, and you fall right in the same category," he said.
Rep. John Garamendi, who previously served the 3rd Congressional District in California, will represent Richmond after he secured California's 8th District seat earlier this month. He won about 80% of the vote, according to the unofficial county election results. Garamendi is a longtime politician who has served in multiple state and federal positions, including lieutenant governor of California and deputy secretary of the Interior under President Clinton.
Theft of Catalytic Converters 
During Richmond Police Chief Bisa French's monthly report, the City Council discussed the theft of catalytic converters, which convert pollutants into compounds like nitrogen, oxygen, carbon dioxide and water. People steal catalytic converters to sell the metals they are made of: rhodium, palladium and platinum. This is both a problem in California and nationally.
Some people stealing these catalytic converters may bring them to recycling centers to get money through buyback programs. Council member Melvin Willis asked if there was a way to create an agreement with these centers to not "take in those kinds of catalytic converters for recycling just to kind of disincentivize people from wanting to do that to begin with."
"I'm not familiar with that particular agreement or if that can be done," French said. "The issue that we have is this is so prevalent across not only the Bay Area."
Willis said if Richmond were to create some sort of agreements, he would hope that other cities would follow. "Right now, you hear a bunch of seniors are waking up in the morning to their catalytic converters being stolen," he said.
The next regular City Council meeting is scheduled for Tuesday, Dec. 6.