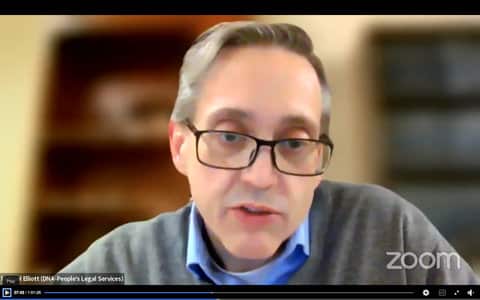 14 Dec

Fraudsters Prey on Vulnerabilities to Scam Native Americans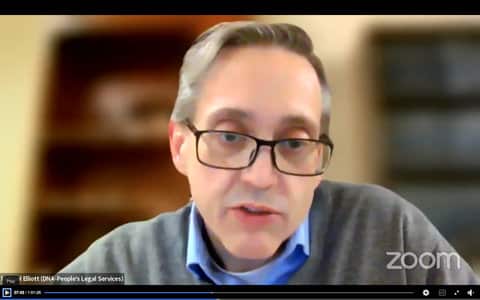 "They're in a circumstance where they don't have a lot of choices," said Michael Elliot, attorney at DNA People's Legal Services, referring to people on the Navajo Nation who may be vulnerable to fraud. (Screenshot captured by Danielle Parenteau-Decker / Richmond Pulse)
By Samantha Kennedy
After a car trade-in, Sherrie, a Navajo Nation citizen, was looking forward to taking on the muddy dirt roads with her new SUV. Instead, she was faced with $10,000 in bills. 
At a Nov. 10 Ethnic Media Services online media briefing titled "Spotting and Avoiding Scams in Indian Country," the Federal Trade Commission discussed consumer fraud targeting Native Americans. The FTC used Sherrie's experience with fraud to highlight how Native Americans can spot scams. 
Sherrie, who requested that her last name not be used, traded her car in at a dealership in Winslow, Arizona, but had only heard of it from a flyer that same day. She said the Navajo Nation road conditions require a bigger car ideal for unpaved roads. 
Michael Elliot, a staff attorney from DNA People's Legal Services, said that Navajo Nation citizens are especially susceptible to consumer fraud surrounding financing and buying automobiles because of the poor road conditions in the community. Long travel to family and goods is often required on these roads. Elliot estimates that 80% of these roads are unpaved. 
"They're in a circumstance where they don't have a lot of choices," Elliot said at the briefing. He said that merchants in border towns — towns that border the Navajo Nation and those outside it — prey on this vulnerability. 
>>>Read: FTC Warns of Fraudsters Who Prey on People of Color
But for Sherrie and other Native Americans, especially Navajo Nation citizens, lack of choices isn't the only vulnerability merchants abuse.  
Elliot said Navajo is not traditionally a written language, so speakers and their families put more importance on spoken words rather than written ones. 
"What people say is what is important and what they're held accountable for," Elliot said.  "When a salesperson makes a lot of promises verbally, those are generally going to be trusted." 
Sherrie trusted what the salesman at the dealership said to her, but the contract did not reflect his verbal agreements. The salesman kept Sherrie waiting for over three hours and only brought a written contract out just before closing. 
"He was in a hurry, and I didn't really want to wait for a long time," Sherrie said. "So I just went ahead and signed those papers."
>>>Read: Buying a Car? Take Time to Read the Fine Print 
After signing, Sherrie received calls telling her to continue payment on the car she traded in, but the dealership told her to ignore them. Her car was not actually traded in by the dealership and ended up accumulating over $10,000 in overdue payments and storage fees that Sherrie was responsible for.
The FTC said consumer fraud like this can begin to be prevented by increasing outreach in Indian Country.
Joannie Wei, the assistant director of the FTC's Midwest region, said that her office recently partnered with the Minnesota Indian Affairs Council, which facilitates communication between the state and its 11 tribes. Wei said the FTC plans on attending future meetings to help tribal citizens understand what they do and can help with. 
>>>Read: Native American Vote Has to Overcome Many Barriers
But partnerships with the FTC are not made without trust. Addressing Native Americans' distrust in the government is something the agency constantly works on to improve its efforts.
"Start conversations, start sharing," Wei said. "The only way we can get past the distrust is to open lines of communication and just show up."
For Sherrie, communication over the radio gave her the chance to resolve her situation. She reached out to the Attorney General in Flagstaff and filed a consumer fraud complaint against the dealer, who ended up paying for all of Sherrie's bills.
The FTC warns consumers to be on the lookout for fake sweepstakes and scammers posing as merchants. Scammers may look like a reputable business, such as in Sherrie's case, or may be more obvious. Wei said one way to tell if something is a scam is if they're asking for goods to be paid for in gift cards. 
Small businesses should also be cautious to avoid scammers. Small businesses have reported to the FTC that their personal information and data have been held hostage through cyberattacks until the business pays the attacker, a practice known as ransomware.
Wei said that everyday events consumers ignore like robocalls and spam emails have the potential to steal information and are some of the most common ways it is stolen. 
Consumers can report fraud via the FTC's Report Fraud tool in English or in Spanish at ReporteFraude.ftc.gov.