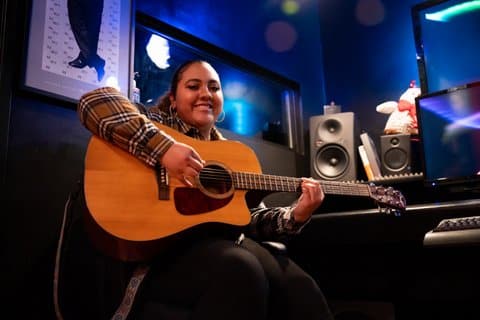 22 Dec

Wanda Gonzalez's Musical Journey Began in Richmond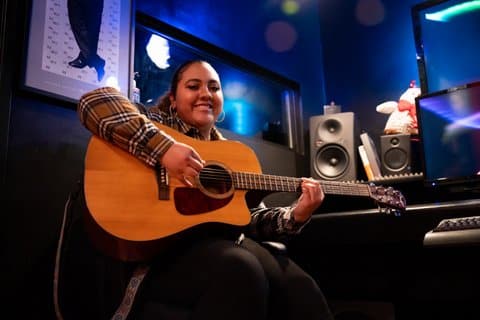 Wanda Gonzalez got her start as a singer after being drawn to the sound of girls making music in a Richmond church when she was 6. (Jonathan Hale / Richmond Pulse)
By Maria Fernanda Bernal
When Richmond resident Wanda Gonzalez was 6 years old, she grabbed her jacket and ran across the street to Iglesia Cristiana Manantiales church, alone. The sounds coming from inside drew her to a group of girls making music. As she walked past the rows of pews, a woman told her she needed to be on stage.
The woman had confused her for another curly-haired look-alike. But Gonzalez decided to stay and listen.
Not long after that day, Gonzalez grew really interested in music. She started to get to services an hour early to hear the girls rehearse. One day they invited her to sing with them during rehearsals, and when the leader heard she had potential, she was added to the group.
She also started singing with her mother, playing the drums and singing while her mom played guitar and sang. Eventually the duo began writing original material and even released their own EP, "Herencias."
Now 22, Gonzalez has approximately 18,500 listeners on Spotify and 12,600 followers on Instagram. She has even sung the national anthem at Oracle Arena before a Warriors game.
"I went and I think it was like 20,000 people. I was a little 17-year-old with this dream," said Gonzalez. "I would have never thought but from there, there was Oracle."
She said she did not feel nervous singing in front of so many people. She also sang the national anthem at the Warriors' new home arena before a University of San Francisco basketball doubleheader this month. She said she got that gig because of her involvement with the Bay Worship Collective.
"Oracle Arena and then fast forward to Dec. 4 [of this year], and it's at the Chase Center," she said. "So it was really cool."
Gonzalez also performed recently at the Christmas tree-lighting event at the Richmond Auditorium, singing her original song "Very Merry Christmas." It was her first time performing the song, though she released it a year ago.
Gonzalez grew up in Richmond, attending King Elementary, DeJean Middle  and Kennedy High School.
When she is not working on her music career, she interns at RichmondWORKS, teaches guitar classes to kids at Richmond Police Activities League and frequently performs at community events, most recently the Richmond Promise scholarship event, and the Spirit & Soul Festival. She's also worked with Richmond barbershop owner and musician Eric White, who invited her to perform at an event with his band. Her ties to the community inspire her to give back to the spaces she loves.
Gonzalez did not get any formal training until she took music theory, choir and voice classes at Contra Costa College, where she studied journalism. But she says she has always played everything by ear and learned better listening to her mom sing. She says her love for playing instruments came from her father.
"When I was little, also, he bought me all the instruments so I started playing the drums, guitar, piano," Gonzalez said. "He bought all the instruments for me, and he supported me in that way."
She writes the music and lyrics for her songs and works with Bay Area producers. She is an independent artist that likes R&B, though Gonzalez, who was born in Nicaragua, says her background draws her to Latin music too.
"I listen to a lot of different music in Spanish," Gonzalez said, "salsa, merengue … Cuban music. I love it."
Gonzalez's music is bright and soulful. She enjoys writing mostly either love or breakup songs. She says she is often compared to singer-songwriter Tori Kelly and although she is flattered to be compared to Kelly she wants to be her own artist.
"I know that I want to be a good person. I want to leave a good impact on other people's lives, and I want to be a staple in music, maybe R&B music. I don't know if I'm going to branch out to other genres. But I just want to make an impact on the world."
Gonzalez said she plans to keep writing and performing to make a name for herself locally before trying to move up in the music world.
She says she is inspired by and hopes to work with fellow Bay Area artists who have made it big such as H.E.R., who is from Vallejo, and Oakland's Kehlani. She would like to open for women singers like them and, yes, Kelly one day.
"My ultimate goal as a singer/musician is to inspire others to follow their dreams and not give up even if it may seem unattainable, at first," said Gonzalez.
"With hard work and dedication, networking, building your connections and relationships, it's possible to break into the music industry and make an impact. You just need to surround yourself by the right people, find your support system."
Wanda Gonzalez's first solo EP is planned to be released in late January. People can find her music on Spotify, Apple Music and YouTube as well as her website, wandagonzalezmusic.com. She will perform Dec. 29 with the Bay Worship Collective and Jazelle at the Brick and Mortar Music Hall in San Francisco.
Listen to the Richmond Pulse remix of Tell Me Why by Wanda Gonzalez