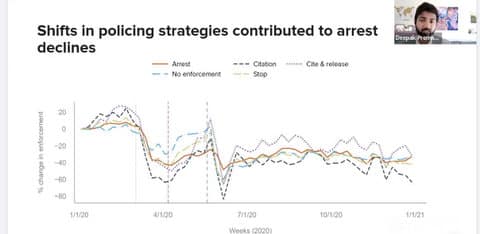 12 Feb

Pandemic Pushed Arrests Down, Report Shows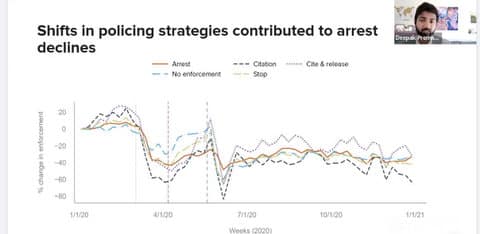 The Public Policy Institute of California held a webinar Feb. 9 on arrest rates in the first year and a half of the pandemic in the state. (Screenshot captured by Julia Métraux / Richmond Pulse)
By Julia Métraux
COVID-19 has changed many aspects of the United States, and that includes the criminal justice system.
Misdemeanor arrests significantly decreased, and felony arrests slightly decreased in arrests in California from the beginning of 2020 to mid-2021, according to a new report from the Public Policy Institute of California. Research fellow Deepak Premkumar, who co-wrote "Assessing the Impact of COVID-19 on Arrests in California," discussed its findings in a Feb. 9 webinar. He said some possible factors in the decrease may have been shelter-in-place policies, law enforcement directives, zero-bail orders and protests that followed the murder of George Floyd.
The report is based on data from the California Department of Justice, Apple Maps (showing that people were out less), local and state zero-bail orders, and the state Racial and Identity Profiling Act, which requires law enforcement agencies to record certain demographics of people stopped by police. Officers are supposed to report the person's perceived age, race/ethnicity and gender, if they believed the person to be LGBTQ or disabled, and if the person spoke little or no English.
In February 2020, even before the state of California and other areas put COVID-19 safety measures in place, Californians started to stay home more. This made it more difficult to commit certain crimes like burglaries in homes and assaults in public or to have traffic violations.
"There are fewer opportunities to commit certain crimes because there are less victims in public and fewer opportunities to interact with the police in which…[an] interaction may lead to an arrest," Premkumar said.
Given the fact that COVID-19 is a highly contagious respiratory illness, some law enforcement agencies told their officers to try and limit unnecessary interactions with people, which could have contributed to a decrease in arrests.
"Law enforcement directed their officers to limit interactions with community members to reduce exposure risk, both for officers and the public, in general," Premkumar said.
When asked by PPIC policy director Magnus Lofstrom about what surprised him the least from his research, Premkumar pointed to the decrease in arrests for misdemeanor crimes, especially drug and driving offenses.
"These are also less serious offenses," he said. "So law enforcement, when they chose to decrease their exposure risk, likely prioritize these to be the ones that they reduce."
In a speech at a town hall hosted by U.S. Rep. Mark DeSaulnier in June 2022, which has been published on PPIC's site, Lofstrom said violent and property crime in Contra Costa County in 2020 were at their lowest in 35 years.
"And while retail theft has received significant attention in the media, the crime data does not show evidence of a broad increase; the reported number of shoplifting and commercial burglary incidents in 2020 in Contra Costa, as well as statewide, were the lowest since 1985" Lofstrom said at the town hall.
There was also a significant decrease in the numbers of arrests and citations, as well as people stopped by the police, following the May 2020 murder of George Floyd across different ethnic groups. However, these actions from law enforcement started to increase again by July 2020.
Another shift in California's criminal justice system was the addition of a policy in which bail is not required for certain crimes — largely nonviolent ­— from April to June 2020 around the time when COVID-19 was in its first wave. Many California counties continued zero-bail policies, which help low-income people, after it was lifted statewide.
"By December 2021, 26 counties still had zero bail ongoing, which comprise over 78% of the California population," Premkumar said.
Despite some pushback from law enforcement that zero-bail policies would increase crime, PPIC's report did not find this to be true.
"We find evidence that rearrests trends remained generally stable during this time period," Premkumar said.
People can watch the full recording of this talk on Public Policy Institute of California's Facebook page.