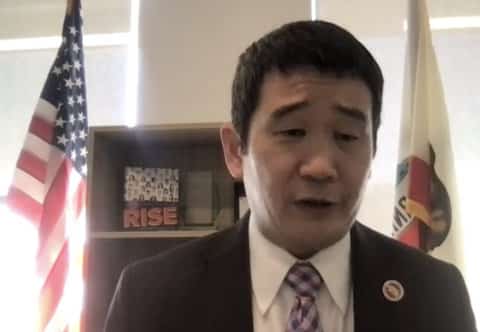 24 Feb

Lawmaker Introduces Effort to Make Public Transit Safer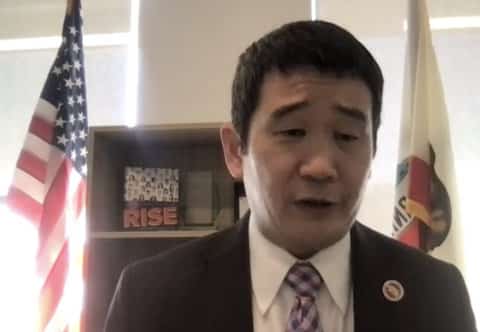 State Sen. David Min, D-Irvine, introduced legislation this month that seeks to determine how safe people feel on public transit and make it safer. (Screenshot captured by Julia Métraux / Richmond Pulse)
By Julia Métraux
California state Sen. David Min, D-Irvine, introduced a bill Feb. 13 in the state Legislature that would survey how safe people feel on public transit and provide recommendations to improve transit safety.
"We take steps to make sure that our public spaces, particularly those that are under the jurisdiction of the government, like public transit, that they are safe for riders, safe for vulnerable populations," Min said at an Ethnic Media Services briefing Feb. 17, emphasizing increased attacks on Asian Americans.
According to Stop AAPI Hate, nearly one in 10 anti-Asian verbal harassment and assaults have taken place on public transportation between March 2020 and March 2022. Other people of color, LGBTQ+ people, women and disabled people are also targets of hate- and gender-based attacks on public transit, according to Min. This bill would require agencies to track and report incidents that make people feel unsafe on public transit.
Min said collecting data on people's experiences is important to plan what steps to take to increase safety on public transit.
"There's a saying in academia that the plural of anecdote is not data," Min said, "and so we need hard data at this point if we want to develop solutions."
Due to California having a budget deficit this year, Min said he focused on creating a plan that would be as cost-effective as possible to still possibly pass.
"It's really an investment because if we can make public transit safer, we know this will have a tremendous return on investment," Min said.
Locally, Janice Li, the Bay Area Rapid Transit Board president, said that one of her focuses is to increase the staffing of uniformed BART employees at all stations.
"They're able to communicate directly with our BART police officers for serious emergency situations," Li said. "There is someone sitting in the elevator to ensure that it is a safe space for seniors, people with disabilities, parents with strollers and others to use."
BART also now has a crisis intervention team, where people with social work backgrounds try to assist people who are having behavioral health issues and/or may be struggling with substance abuse.
"These folks are able to connect folks to actual resources," Li said.
While Li recognized that some riders may feel "unsafe" with unhoused people using BART stations for shelter, the agency does not want to participate in the criminalizing of unhoused people.
>>>Read: BART Officials Lay Out Strategy to Address Homelessness in Coming Years
"We feel this homeless crisis very acutely in San Francisco, but being homeless is not a crime," she said.
People who are homeless also are at higher risk of being targets of violent crime, according to a blog from the UCSF Benioff Homelessness and Housing Initiative.
While new policies may be needed to decrease assaults and verbal harassment on public transit, some people are trying to create community-based solutions in their own communities. For instance, after several women were attacked in the Bushwick neighborhood of Brooklyn, Peter Kerre founded SafeWalks NYC.
"We soon had several residents from around New York City volunteering to be a presence for those who felt unsafe," Kerre said.
As a protest leader for the Black Lives Matter movement, Kerre recognizes that people in his area may not want to contact the New York City Police Department if there is a safety issue, as "the trust isn't fully there." In addition, he wanted to make the mission of SafeWalks NYC as simple and straightforward as possible: They are members of the same community who want to help keep each other safe.
"We made it clear, and we always make it clear, we are not a vigilante," Kerre said. "We are your neighbors who are simply offering a presence to you."