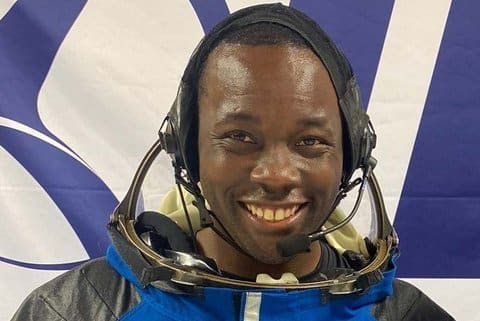 26 Feb

Astronaut-in-Training Infuses Space Science into West Contra Costa Unified Middle School Classes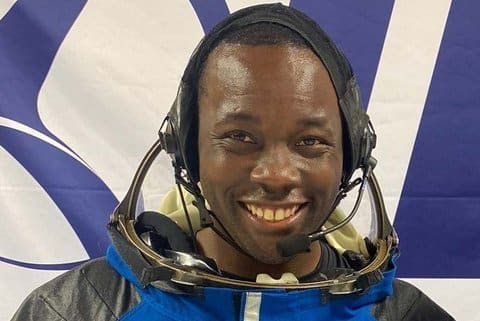 Vista Virtual Academy science teacher Olaoluwalotobi "Tobi" Thomas is training to become an astronaut. (Courtesy of Tobi Thomas)
By Ali Tadayon, EdSource
West Contra Costa Unified science teacher Olaoluwalotobi "Tobi" Thomas is pursuing his lifelong dream of going to space, and in a way, he's taking his students with him.
For the past six years, the 34-year-old has been traveling the world to attend training sessions and conferences to become an astronaut. He's been able to mix his love of teaching and his goal of going to space someday by incorporating space research into his lessons at the district's fully online school, Vista Virtual Academy. By doing so, he hopes to grow his students' curiosity not just about space, but science in general.
"I just try to show my passion for space science and hope that it resonates with them," Thomas said. "I really do try to foster that in my students because that's what helped me to really start chasing my dreams, when I found intrinsic motivation."
Thomas has worked for the district for about 10 years, having his own classroom since 2015. Prior to the pandemic, he worked at several schools throughout the district, teaching science and other subjects. Last year, he became the middle school science teacher for Vista Virtual Academy, and he will teach guest lessons for all grades.
>>>Read: 'We Can Reimagine How We Teach': How Four WCCUSD Teachers Adapted to Distance Learning
Going to space was a childhood dream for Thomas — a mix of wonder about space's infinite uncharted territory and a love of "Star Trek" and other science fiction, he said. But as he got older, that dream slowly started to fade. In his 20s, however, an interaction he had with a student at West Contra Costa Unified brought the dream back.
The student was very smart, he said, but was being made fun of by classmates. He wanted to find a book to inspire the student and turned to one written by one of his all-time favorite astronauts: Dr. Mae Jemison. Jemison was the first Black woman to travel to space and has written several books about her life and explorations.
Thomas read the book himself before giving it to the student, and he ended up getting inspired himself.
"It reignited my passion to go to space," Thomas said. "I was really like, 'This is something I used to want to do, and I really still want to do it, so let me just put my eggs in one basket and just run with it.' "
In 2017, Thomas started researching how astronauts train to go to space, then took it upon himself to start the process. First, he learned how to scuba dive and got his scuba diving certification, then he started to meet people in space science circles who gave him more information on how to train. That led him to "more established astronaut training programs."
"Before I knew it, I'm in Poland doing an analog astronaut program," Thomas said.
In the analog astronaut mission, Thomas and others were put in a location where conditions in space were simulated to see how their bodies would react to adversity, he said. He's also trained in Florida where he was put in different states of gravity as well as undergone suborbital training on a simulated mission to the mesosphere.
Thomas said he's considered a "scientist-astronaut candidate," and has been in talks with private and government-funded space programs in the U.S. and abroad.
"I would say I'm on some type of radar where, if a mission pops up, my name could just be pulled," Thomas said. "It's within grasp now where I'm constantly in contact with different programs."
Thomas updates his students throughout the journey, sharing pictures from his training, as well as articles and new information on current space research that he comes across.
Thomas said he's currently interviewing for a doctoral research program with Arizona State University on growing food on Mars, and sprinkled some of his research into a lesson for students where they grew seeds of their own and observed the conditions that allowed that to happen.
Thomas structures his lessons to teach the grade-level science standards that the curriculum is required to cover, but also allow opportunities for him to throw students curveballs and discuss space topics.
"At the end of the day, I'll ask questions like, 'OK, how would you do this in zero gravity?' " Thomas said. "It just opens the doors of curiosity and thinking."
Thomas finds that the more open-ended the questions are, and the more he talks about space in his lessons, the more students are engaged.
"My barometer for when I can tell the students are engaged is how much of a tangent we go off on with them still being curious and asking questions," Thomas said.
Thomas' students last year got somewhat of a crash course on space shuttle landing with the launch of a weather balloon from Hercules into the second layer of the atmosphere. Some students who had never previously expressed interest in anything that had to do with mechanics perked their ears when they learned that when the balloon pops, they wouldn't know where it would land, he said.
>>>Read: His Lessons About Mass Incarceration Changed My Life
"The conversation turned to how we're going to retrieve it from somebody by knocking on their door saying, 'Hey, uh, my spaceship landed in your backyard,'" Thomas said. "Certain goofy things like that would draw the students in, and then they start to get curious about different things in that nature."
But the balloon didn't end up in the neighborhood. It went all the way to Utah.
"My calculations were all the way off, and students really got to see that science is not perfect," Thomas said.
The story of the wayward balloon made local news in Utah, where it was retrieved. Thomas and his students learned from their mistakes, and launched another ballon that landed in someone's backyard in California.
Thomas said he hopes these memories will stick with his students later on in life. More than grades, he focuses on growing relationships with students and fostering an affinity for academics that will carry on with them their entire lives.
"It's so easy to get bogged down with all of these standardized tests, all of these benchmarks that we have to meet with the students, and then lose the essence of what we're even here in school for: to inspire these students to figure out what they want to do in life and give them the tools to chase that," Thomas said.