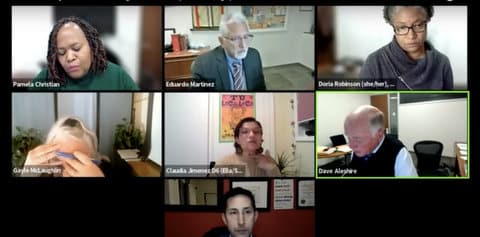 01 Mar

Richmond Considers Effects of Ending Pandemic State of Emergency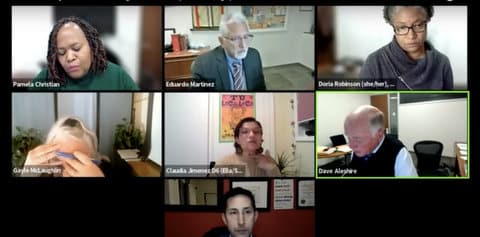 Richmond is considering ending its state of emergency over COVID-19, which could put an end to eviction moratoriums and virtual meetings. (Screenshot captured by Julia Métraux / Richmond Pulse)
By Julia Métraux
California's COVID-19 state of emergency ended Tuesday, as had been announced in October. Later that evening, the Richmond City Council looked at ending the city's own local state of emergency.
Originally part of the consent calendar, council member Doria Robinson pulled the item to discuss how ending the local emergency would affect the city of Richmond, including the ending of freezing evictions and moving city meetings back in person. Robinson said she wanted to make sure that the city "actually put some thought into how we transition back and not just kind of stop and then have everything kind of crash."
The Brown Act of California requires members of a council, board or commission to meet in person and be available to the public unless discussing specific issues in closed session. Certain aspects of the Brown Act were suspended due to COVID-19, which is still an ongoing pandemic.
"Part of the reason for suspending the Brown Act was recognizing that you couldn't require everybody to be there," said City Attorney Dave Aleshire.
The Brown Act, however, does not require members of the public to be in person to participate in meetings. City staff clarified that the Richmond City Council would allow hybrid participation from the public. It may take longer to ensure that all boards and commissions in the city of Richmond to be hybrid due to staffing shortages and also the technology needed for hybrid meetings.
"We thought it was important that you be mindful and want to be able to quantify the costs associated with additional budget allocation to support expanded training equipment and hiring," City Manager Shasa Curl said.
Aleshire said the city could look into ways that people who cannot participate in person, such as due to health issues, but still want to continue to serve on boards and commissions that they joined while they were fully online.
Some rent protections that arose at the beginning of the pandemic in California have since gone away in 2022, according to Richmond Confidential. Council member Claudia Jiménez asked city staff to look into how ending the local state of emergency would affect renters in Richmond.
"We don't know what are the consequences [for] many other renters, and we want to avoid more people getting homeless," Jiménez said.
Council member Cesar Zepeda encouraged city staff to look at how other cities are approaching ending their local state of emergencies, including rent monitoriums.
"It was brought to my attention that Oakland recently did the same resolution or a similar resolution," Zepeda said, "and it looks like they're also going through court actions because of their moratorium."
The Richmond City Council unanimously passed a resolution directing city staff to create a report on how different departments and programs in the city would be affected by ending the local state of emergency. Council member Melvin Willis was absent.
"There will be a report back to the council on those steps, and then beyond that, we're going to look at what's gone on in some other cities that are ending this," Aleshire said. "What the Brown Act provisions would permit…would be a separate report back to you as a follow-up to this agenda item."
The next regular City Council meeting is scheduled for March 7.