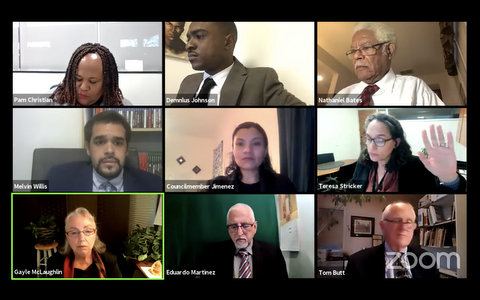 24 Mar

City Council Establishes Eviction Moratorium for Tenants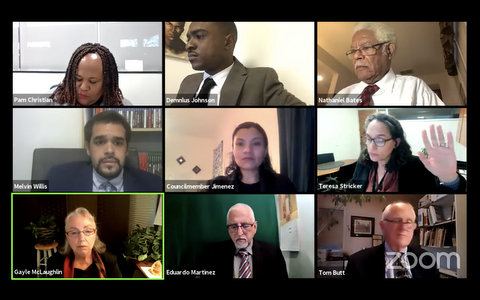 The Richmond City Council approved a moratorium Tuesday that will strengthen eviction protections for tenants. (Screenshot by Mathew Miranda / Richmond Pulse)
By Mathew Miranda
The Richmond City Council voted 5-2 Tuesday to prohibit certain evictions for the duration of the local COVID-19 emergency. Mayor Tom Butt and Council member Nat Bates voted against.
Landlords may not evict tenants financially affected by the pandemic, require them to vacate a residential unit or suggest they are required by law to move out. Unlike the ordinance passed last May, this moratorium does not apply to rent payment. This measure also will not apply in the case of an imminent health or safety threat unrelated to COVID-19, according to a staff report. However, it may serve as an affirmative defense in any court proceeding related to evictions.
Richmond had not had a local moratorium in place since earlier eviction protections expired last September. Richmond evictions rates, however, are among the highest in the Bay Area.
According to the staff report, from March 19 to Dec. 31, 2020, Richmond reportedly had 28 times as many evictions as Oakland. Also in that span, KQED reported, Contra Costa County had roughly 17 times the number of evictions Alameda County did.
Most of the council agreed with the moratorium. Some expressed disappointment in Richmond's eviction rates compared with other cities.
"It is extremely embarrassing for the city of Richmond to be the leading city in evictions during a pandemic," said Council member Demnlus Johnson. "Our brand as a city is at stake."
"Our community is suffering, and this is one thing we can do to support," Council member Claudia Jimenez added.
Butt questioned the rates in the staff report and said the true number of evictions was unclear. He said, according to the Contra Costa County Sheriff's Office, Richmond reported 23 evictions in 10 months. The mayor also argued that Richmond tenants are already given enough support.
"I have a hard time believing that's a crisis that requires an emergency ordinance," Butt said.
Richmond Rent Board staff attorney Charles Oshinuga clarified Butt's point. He said the mayor was referring to writs of possessions, which are orders issued by the court to the sheriff's office and assist landlords with evictions.
According to the county, Oshinuga said, landlords filed 149 unlawful detainer claims, in which a tenant is accused of refusing to leave a property after the lease has expired, from March to December 2020. He added that it is unclear how many of these resulted in evictions, as the county does not keep track of that.
McLaughlin raised issue with notices of termination. From April 2020 through January 2021, Richmond tenants received 249 notices for nonpayment of rent, 39 based on breach of lease, 36 based on nuisance and eight for owner move-ins, according to the staff report. It is also unclear how many notices resulted in evictions.
"A lot of people self-evict when they get that type of notice," McLaughlin said. "That fear of getting their stuff thrown out in the lawn leads them to start taking action."
Bates questioned adopting the moratorium when state and county protections for renters are in place. SB 91, the California bill that calls for the distribution of $2.6 billion for rental assistance, extended the state's eviction moratorium until June 30. The bill also prohibits cities from passing moratoriums related to rent payment but does allow for further eviction moratoriums.
McLaughlin said the state and county measures do not reach the level of protection needed for Richmond tenants. She said other cities such as Berkeley, San Francisco and Oakland had passed stronger moratoriums.
"Unlike our cities who did pass a strong moratorium, we're now realizing that we have some discrepancy and suffering more evictions," McLaughlin said.
In other news, Butt appointed himself, McLaughlin and Jimenez to an emergency ad hoc committee to address homelessness in Richmond. The committee intends to work with the county to develop a long-term plan to help unhoused residents.