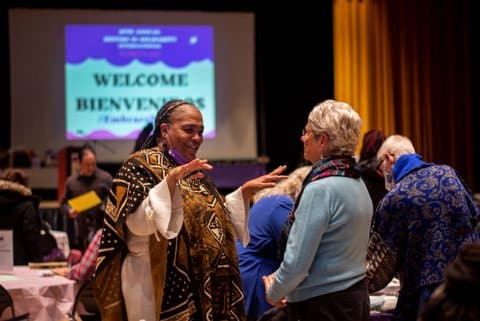 13 Mar

For International Women's Day, Richmond 'Embraces Equity'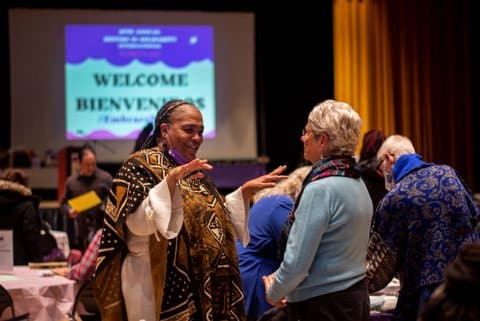 The theme of International Women's Day 2023 — celebrated in Richmond with the 16th annual Sisters in Solidarity event — was "Embrace Equity."
Story and photos by Mitzi Pérez-Caro
Richmond celebrated International Women's Day on March 11 with the 16th annual Sisters in Solidarity event, placing an emphasis on equity and community service.
The event, held at Richmond Memorial Auditorium, gave many women and allies an opportunity to network and support each other. It also championed the fight for gender equality, living up to the theme, "Embrace Equity."
The 22 sponsors provided prizes that were raffled off.
The keynote speakers were City Manager Shasa Curl and Deputy City Managers LaShonda White and Nickie Mastay. All spoke on the topic of equity.
The Sisters in Solidarity keynote speakers were, seated from left, Richmond City Manager Shasa Curl and Deputy City Managers LaShonda White and Nickie Mastay.
"The person that might be able to create space for you professionally might not look like you, and we really should be open to that," Curl said. "When we get [into] these roles, what we should try to do is create space for other people that are traditionally underrepresented."
The theme of the event was modeled after the International Women's Day theme, according to Trina Jackson-Lincoln. For Jackson-Lincoln and the planning committee of Sisters in Solidarity, embracing equity means imagining a gender-equal world.
White said that, when seeking opportunities, "men will go without knowing everything and will apply and will move. Women sometimes will wait until they have everything lined up. You don't. You really have everything you need from being women, from being mothers, from being wives."
Most of the 250 people in attendance were women, but men were there too. Allies like them are equally responsible for supporting and advancing the lives of women in Richmond.
In a poem, former Richmond poet laureate David Flores said women are "more than mothers and wives, carriers of knives that rip through walls and glass ceilings. Healing mind, body and soul. Warriors for truth. Seeking, speaking and naming what we need to grow from tiny seed out of darkness to light that she lives in."
Deborah Burkes, founder of the North and Greater Richmond Blues Foundation, said it was her first time attending Sisters in Solidarity, and she was excited to see how it honors women.
"Some of the things that I heard Jovanka Beckles speak about the rich history of African Americans in Richmond, we focus on that, on the music side," Burkes said, referring to the former City Council member.
The planning committee focused on recognizing public safety and community service. The committee recognized 25 women in public safety, both police and firefighting officials.
Police Chief Bisa French, standing at microphone, and other women from the Richmond police and fire departments accept an award for public safety.
They also recognized five women for community service in achievement, advocacy/leadership, innovator and mentorship/service. Three of the honorees were in attendance: Naomi Williams, Myrtle Braxton and Jenny Baslile. They had friends and family cheering them on.
Myrtle Braxton, left, and Naomi Williams for honored for lifetime achievement in community service; Jenny Baslile, for mentorship/service.
The planning committee consisted of community leaders Yenny Garcia, Tiffany Harris, Nava Mizrahhi, Lea Murray, Jill Rodby, Queen Graham, Linda Whitmore, and Beckles. It was chaired by Jackson-Lincoln.
"We started planning in November," Jackson-Lincoln said. "As we got closer, we started meeting more. Initially it was once a month, then twice a month, then every week. This time we wanted to pull more of the community in, so that's why we had the community services award."
Jackson-Lincoln also said she invites the community to be a part of the Sisters in Solidarity planning committee.