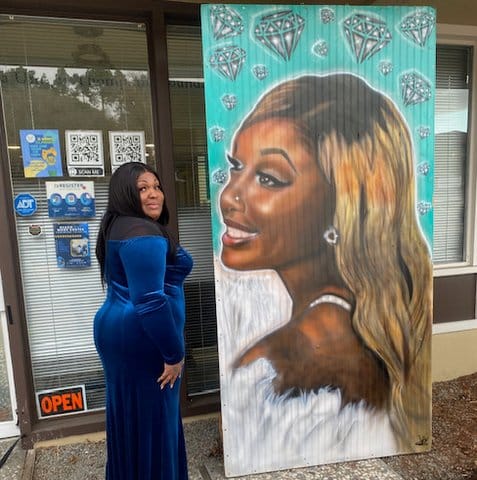 14 Mar

Mother of Slain Teen Runs Nonprofit in Daughter's Honor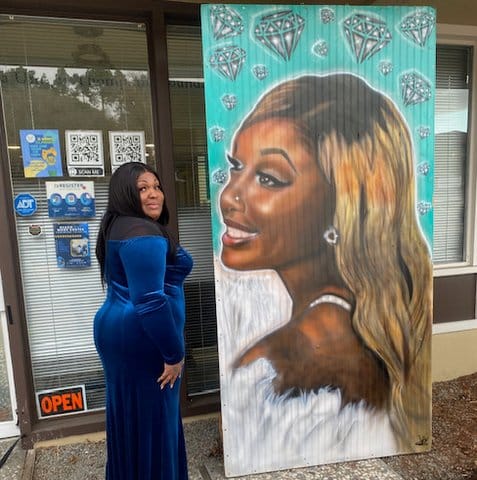 Sparkle Davis started a charity in honor of her late daughter, Oshiana Thompkins, who is depicted in the painting. (Courtesy of Sparkle Davis)
By Selen Ozturk
Sparkle Davis lost her only child when her daughter was killed in a mass shooting at a 2019 Halloween party held in an Orinda Airbnb. Nineteen-year-old Oshiana Thompkins was airlifted to a local hospital but died in the early hours of the next day.
In the aftermath of that tragedy, Davis discovered notes Thompkins had left indicating that she had wanted to start a youth recreation center. And so in her honor Davis created a nonprofit in 2021: the Oshiana Unique Thompkins Foundation. Since April 16, 2022, Davis has operated it in a community space under the name Reach O.U.T. Mode Center, at 435 Valley View Road in El Sobrante.
"What should have been a night of innocent fun turned into one of terror and tragedy," Davis said. "I needed to turn my pain into purpose. From that pain, I have been blessed with the strength to continue my daughter's legacy by going after the very goals she wished to achieve."
>>>Read: 'Magic Drive' for Homeless Held in Memory of Slain Richmond Teen
Thompkins was deeply involved in community service, doing charity work throughout Richmond with the Neighborhood Housing Community Outreach Center, the Green Team Agriculture Garden Program, and as a youth leader at Shields-Reid Park.
At the time of the shooting, Thompkins was attending cosmetology school in Laney College in Oakland. Several witnesses to the crime — which left Thompkins and four men in their 20s dead and four others injured — said they saw Thompkins helping others to safety before she was shot.
Oshiana Thompkins died Nov. 1, 2019, after being shot at a Halloween party in Orinda while reportedly trying to help others to safety. (Courtesy of Sparkle Davis)
"I thank God that she held on until I came to the hospital and said goodbye," Davis said. "She fought through it to the end. She was in critical condition. But when she heard me saying that her mama was here, her hands started moving."
Davis learned only after her daughter died that she had signed up when she was 16 to be an organ donor. Davis signed up to be a donor too in mid-2021.
"Even after Oshi passed, she had something to give," Davis said. Thompkins provided over 620 tissue grafts and enabled seven life-saving organ donations for individuals ages 2 to 32. One of the recipients was a 12-year-old girl who was diagnosed with lupus. She endured kidney failure for two years and was told she would not live to adulthood. A post the following year on the Reach O.U.T. Mode website said the girl was then "a happy thriving 13-year-old girl who" had been given "a chance to grow up."
"Dealing with loss never gets easy," Davis said. "You just learn to do your best to keep living for yourself as well as your loved one. Oshi was part of the Boys & Girls Club of El Sobrante, and I want the ROM Center to be the same safe haven for youth that the club was for her."
As the president of the foundation, Davis runs the center with the help of her cousin Brisha Young. Young directs human resources and operation strategy. Davis' goddaughter Darielle Simons directs marketing and communications. Her sister Ashley Davis directs activities and programs.
When the ROM Center first opened last April, the O.U.T. Foundation partnered with Donor Network West, an organ donation nonprofit with headquarters in Northern California and Nevada. That July, DNW selected Davis and Reach O.U.T. Mode to participate in the 2023 Donate Life Rose Parade float. The float in the annual Tournament of Roses Parade in Pasadena honors the millions of people in the U.S. who have donated organs and tissue.
Reach O.U.T. Mode was chosen to be part of the 2023 Rose Parade float for Donate Life, which honors the millions of people in the U.S. who have donated organs and tissue. (Courtesy of Sparkle Davis)
"It was a bittersweet event," Davis said. "But it was gratifying to meet the families of other donor recipients. As long as I know I can save lives in honor of my child, I know I'll be honoring her."
Although Thompkins' organ recipients were anonymous, a few wrote letters thanking Davis months after they received transplants. They were prevented from meeting in person by the COVID pandemic in 2020. But Davis hopes now to reach out again and use their stories to inspire others to become organ donors.
Today, the ROM Center offers a safe space for Contra Costa County youth ages 12 to 21 to enjoy various resources including video game design, coding, cooking and dance classes. It also offers after-school, entrepreneurship and homework tutoring programs along with art, gaming and other activities like life coaching. There is also free clothing and meals. Davis makes it a point never to turn away any unhoused community members who come to ask for something to eat.
Its current volunteer partner organizations are Guardian Krav Maga school and Elite24 Fitness gym, which both host fitness classes at the ROM Center; the team behind the Oakland-based muralist Splashgang Original, which hosts graphic marketing and art classes; and industrial psychologist and former NFL player Dr. Robert Watts, who hosts a youth business boot camp by the name of "Oshimode Entrepreneur Club."
Davis works two jobs to maintain the ROM Center, which she funds completely. "As a nonprofit, we're always in need of donations in the form of money or afterschool snacks, and nothing is too small," she said. In the future, she hopes to raise enough money to purchase a van to transport youth to and from the center.
"Last spring," she said, "very few people knew about Reach O.U.T. Mode. Now, I know we'll make more of a difference every year. Knowing that I'm helping my community the way that my daughter dreamed of keeps me going, one day at a time."