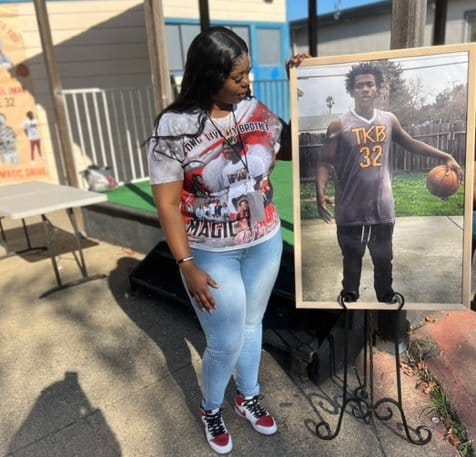 05 Dec

'Magic Drive' for Homeless Held in Memory of Slain Richmond Teen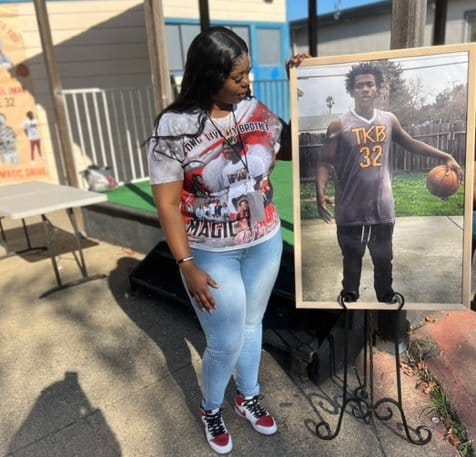 Jazmine Perkins stands with a picture of Jamarrea "JMac" Frazier, her brother who was killed at 17, a charity event held Nov. 26 in his memory.
By Selen Ozturk | Photos courtesy of Jazmine Perkins
Exactly three years after Richmond teen Jamarrea "JMac" Frazier was shot and killed, his family marked the day with a donation drive Nov. 26 in his honor.
Frazier was walking toward Rancho Market on Market Avenue in North Richmond on the morning of Nov. 26, 2019, when he was shot multiple times. He later died in a hospital. He was 17 years old.
His family decided to honor his memory by helping the community.
"It's all about keeping his name alive, and you can only do that as a community effort," said Jazmine Perkins, Frazier's older sister. "We're trying to make the community better here. I think that he would've really appreciated it."
This year, they collected clothing, blankets and hygiene supplies for unhoused people.
"The holidays will never be the same for my family, so why not bless other families during this season?" Perkins said.
Perkins' friend Dajanee Lee, who was helping her oversee the drive, added, "It's about keeping the community tight-knit, and that comes from the little things."
The drive was held at the Men and Women of Valor Resource Center at 1350 Kelsey St. Friends and members of Frazier's family provided snacks and drinks while accepting donations of clothing, blankets and personal care products.
Bags full of donations included dental care products, soap and feminine hygiene products as well as coats donated by the local Macedonia Baptist Church, where Jamarrea and Jazmine's mother, Jackie Frazier, regularly attends. Perkins — who sported a shirt emblazoned with her brother's name, face and red-and-white basketball team colors — said her family would cook chili, rice and cornbread to distribute to local homeless camps the next day, along with the donated clothing and hygiene products.
On the walls of the resource center hung a memorial poster nearly as tall as the building itself, sporting pictures of Frazier and his family and the message "in honor of our angel Jmac / 1st annual magic drive."
Jackie Frazier, left, and daughter Jazmine Perkins at the "Magic Drive" on Nov. 26. The family has marked each anniversary of the killing of Jamarrea Frazier by giving back to the community.
Frazier was a senior at De Anza High School when he died. He had played basketball there and at Richmond High. He hoped to earn a college basketball scholarship and, ultimately, to move his mother out of Richmond. Multiple schools — including Pasadena City College, Cal State East Bay, Texas State University, Chabot College and San Francisco State — had expressed interest in granting him such a scholarship.
The teenager also played basketball for the East Bay Soldiers throughout California, Nevada and even China. His friends often called him "Magic," after former Lakers superstar Earvin "Magic" Johnson, because of JMac's passion for the sport. He wore a jersey numbered "32" — the same as the hall of famer. Frazier also had dreams of becoming an artist. He and other community members had painted a mural at Rancho Market on Earth Day in 2018.
During the donation drive, Frazier's family released balloons bearing his jersey number, accompanied by doves, in tribute. While the drive was the first event of its kind, his family has honored him in other ways: with a similar "JMacGiving" event at the Resource Center in 2021 and a "Ballin' Like JMac Balloon Release" at the Shields-Reid Community Center one block north in 2020.
"JMac was such a special person," Perkins said. "Keeping his memory bright is all about the people who keep it bright, keeping the community together. I know he would have loved what we're doing."
Frazier's family was affected by gun violence multiple times in a short span even before his death. Weeks before he was killed, his 19-year-old cousin Oshiana Thompkins died in a shooting in Orinda. Frazier was a pallbearer at her funeral. Another cousin, Rodney Frazier Jr., was shot to death in North Richmond on Nov. 7, 2014. He was 16.
The shooter who killed Jamarrea Frazier remains unfound. Anyone with details of the crime is urged to call the Contra Costa Sheriff's Office at (925) 313-2648.