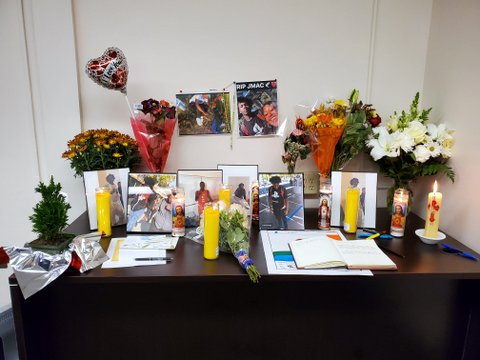 15 Dec

Jamarrea Frazier Remembered as 'Large, Happy Presence'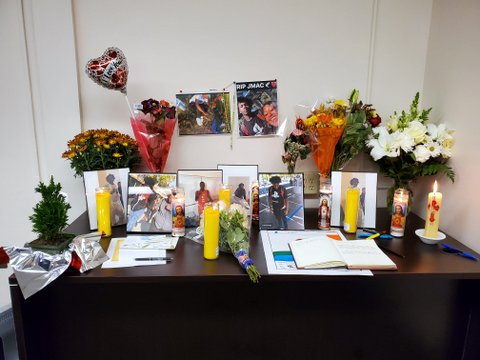 By Denis Perez- Bravo
Friends and loved ones of Jamarrea Frazier say his smile and energetic, playful, and happy spirit will continue to live on in their hearts and minds.
Frazier, 17, was tragically shot to death Nov. 26 in North Richmond, just a few blocks from where his cousin Rodney was shot and killed in 2014.
Frazier was shot multiple times while walking to Rancho Market on Market Avenue. He was rushed to the hospital, where he was pronounced dead, according to the Mercury News.
Nearly three weeks after his death, authorities have yet to name a suspect in the investigation.
Frazier had a strong connection to the Rancho Market: the novice artist helped paint a mural there on Earth Day last year.
Frazier — also known by many as "JMac" — attended Richmond High School where he played junior varsity basketball in 2016 and varsity from 2017 to 2018. He enrolled in Contra Costa College's Gateway to College program his senior year.
Long-time friend Jalijah Lankford knew Frazier first from Helms Middle School. They attended Richmond High and Gateway to College together.
Lankford says she'll remember Frazier for putting his all into his singing, namely the song "Emotional Ways of Thinking" by Quando Rondo, which she says keeps replaying in her head. It's those happy moments they experienced together that she'll hold onto and relive in his memory.
"I still think he is going to walk through the door," she said.
Gateway to College administrator Kerry Sciacqua interviewed Frazier when he applied for the program. She says he showed up on time, completed his work, and encouraged everyone.
"He was a large, happy presence," Sciacqua said. "He just wanted to do well."
At the Gateway to College program, Frazier impressed his peers with his hopeful demeanor and cheerful attitude. That's where he met Amari Jackson. The two clicked, and she said Frazier made his friendly presence be known everyday he saw her, even if he was going through something hard.
"You would walk into a room and hear his laugh," she said.
Jackson says one day Frazier randomly called her because he was by her house. They met up and walked to a nearby park and just talked. There was a pickup basketball game he wanted to join, but he didn't because he was making time for his friend.
"He would listen," Jackson said.
And even those who didn't know him personally feel the loss of Frazier, she said, as his death has only created more trauma in the community.
"My friend could have been here today. His presence is being missed all the time," Jackson said. "This was a senseless killing."