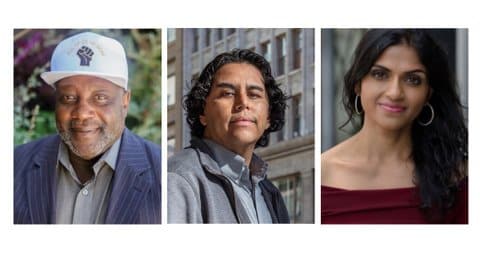 11 Apr

Community Leaders Honored for Making Change Happen at the Grassroots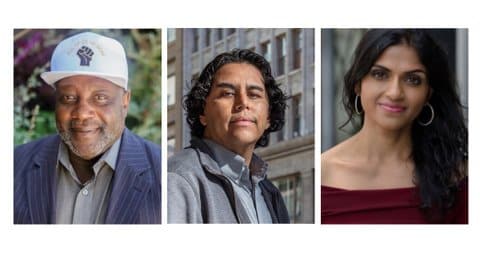 All of Us or None co-founder Dorsey Nunn, left, Brilliant Corners Chief Program Officer Chris Contreras, and One Fair Wage President Saru Jayaraman are among six winners of the James Irvine Foundation 2023 Leadership Awards.
By Peter White, Ethnic Media Services
They imagined a world that didn't exist yet and went about building it.
That was the common theme from three community organizers whose work proves that change really can happen through grassroots efforts, despite gridlocked legislatures, polarized politics and economic uncertainty.
The three organizers, among six who recently received the James Irvine Foundation 2023 Leadership Awards, spoke on Ethnic Media Services' weekly national news briefing last week.
Criminal justice reform
Dorsey Nunn runs Legal Services for Prisoners with Children and co-founded a parallel non-profit, All of Us or None. A criminal justice reformer who set up a small nonprofit for people — like himself — who are or were formerly incarcerated to fight for prisoner rights, Nunn operates a staff of 29 people, including four attorneys, as well as a network of chapters across the U.S.
His organization spearheaded the "Ban the Box" campaign that has stopped questions about conviction history from public employment applications in 50 cities in 35 states.
"We are building a powerful political movement to win full restoration of our human and civil rights," Nunn said.
Honest conversations about discrimination need to be about why it doesn't stop once someone leaves prison. "When is my penalty up?" Nunn asked.
"People can only see us as a liability; they have yet to see us as an asset. At what point can we actually demonstrate that you can't lock up 2 million people without locking up brilliance, without throwing away a lot of people?"
Nunn added that the transformation in perception has to occur among people who are themselves incarcerated.
"The greatest victory for me is when formerly incarcerated people show up and recognize that they got something to actually do to change not only their life, but to change how society functions.
"I'm a father, a grandfather and a great grandfather. At this point none of my kids have been to prison, and I interrupted that process because I was at home to take care of them," he said.
Improving conditions for service workers
Saru Jayaraman is the president of One Fair Wage and director of the Food Labor Research Center at University of California, Berkeley. She started a national movement of restaurant workers, employers, and consumers after 9-11.
Jayaraman was a young lawyer in 2001 when she started organizing workers who lost their jobs and the families of the victims from Windows on the World, the restaurant at the top of the World Trade Center Tower.
"On that morning, 73 workers died, and 250 workers lost their jobs," she said.
Since 9-11, Jayaraman has been fighting to raise wages and improve working conditions in the restaurant industry. She says a majority of restaurant workers in the U.S. are immigrants. Seventy percent are women of color.
"We grew into a national organization with 300,000 workers in all 50 states and our fight expanded beyond restaurant workers to include all service workers."
That includes anybody who is tipped like nail salon employees, car washers, hair stylists, or people who push wheelchairs in airports.
"All of those folks are tipped workers receiving a sub-minimum wage," she said.
Many gig workers are impacted by these issues as well. She said gig companies like DoorDash and Instacart cut wages by the amount customers tip — in effect, stealing workers tips.
"We are seeing a really historic moment of worker revolt, in which low-wage workers across the economy, and particularly in the restaurant industry, are for the first time refusing to work for these poverty wages," Jayaraman said.
She says the restaurant industry has been one of the largest and fastest growing private sector employers in California and the United States for decades.
"But it's been the absolute, lowest paying employer for generations dating back to emancipation when the sub-minimum wage for tipped workers was created," she said.
Recently, ballot measures and bills to raise the minimum wage to $15/hr. have moved through legislatures in 15 states. "Even red states like Arizona, Idaho and Ohio are having this on the ballot next year."
Tackling homelessness in LA
Chris Contreras is working miracles in the incredibly shrinking world of affordable housing in one of the nation's largest epicenters of homelessness. He is the development director of Brilliant Corners, a housing services non-profit based in Los Angeles.
"California accounts for about one-third of the entire U.S. homeless population. At last count, over 170,000 Californians are unhoused with at least 60,000 living in Los Angeles County on any given night," Contreras said.
"We operate the Los Angeles Flexible Housing Subsidy Pool, or Flex for short, which is a nationally recognized supportive housing model that helps thousands of people exit homelessness each year," Contreras said. The program launched in 2014 as a public-private partnership with rental subsidies and case management services.
The L.A. housing crisis disproportionately affects communities of color. Black Angelenos make up 8% of L.A.'s population but account for more than 30% of its homeless individuals, Contreras says.
"We also have seen a 26% rise in Latino homelessness, meaning that Latinos now make up 44% of L.A. County homeless."
The solution to chronic homelessness lies in coordinating resources from a number of stakeholders: owners, builders, the criminal justice system, and healthcare systems, as well as rental subsidies, either from federal or local funding, Contreras said.  With that support, his program taps dedicated professionals who build relationships with landlords and developers to secure existing and new units, as well as dedicated housing services and case management services to support an individual's transition to long term stability in their new home.
Brilliant Corners creates a pool of housing units that can be matched quickly to any client experiencing homelessness. It saves landlords the trouble of advertising a vacancy by paying them two months' rent in advance. To date, the Flex has sponsored relationships with more than 1,100 of these so-called scattered-site landlords.