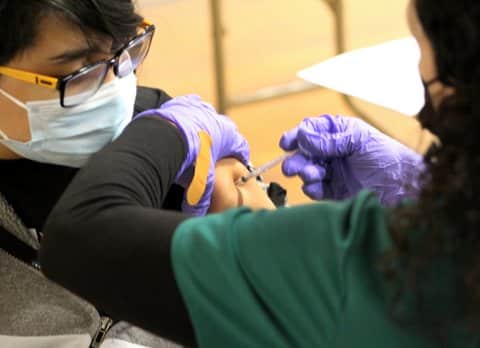 18 Apr

All COVID Vaccinations to Be Bivalent Vaccine to 'Simplify' Recommendations, FDA Says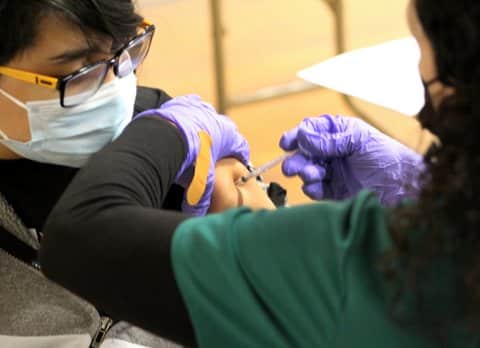 Costa Health Services nurse Jessica Lipscomb administering a Pfizer COVID-19 vaccine to Miguel Castro, 13, at a vaccination clinic in the gymnasium of Antioch Middle School on May 19, 2021. (Eli Walsh / Bay City News)
By Eli Walsh
Bay City News
The COVID-19 vaccine targeting the original strain of the virus as well as two substrains of the omicron variant will now be used for all vaccinations in the U.S., federal regulators said Tuesday.
The bivalent vaccine has, until Tuesday's changes to the emergency use authorizations for the Moderna and Pfizer-BioNTech vaccines, only been approved for use as a booster vaccine.
With Tuesday's changes, U.S. Food and Drug Administration officials said they intend to simplify the recommended COVID vaccine schedules for most people.
Previously, the original COVID vaccine was approved as the first two doses for everyone ages 6 months and up, while the bivalent vaccine was used as a booster or as the third dose of a three-vaccine series for younger children.
As of Tuesday, the original COVID vaccine is no longer approved for use in the U.S. Unvaccinated people will only need to receive one dose of the bivalent vaccine to be considered vaccinated.
"At this stage of the pandemic, data support simplifying the use of the authorized mRNA bivalent COVID-19 vaccines and the agency believes that this approach will help encourage future vaccination," said Dr. Peter Marks, the director of the FDA's Center for Biologics Evaluation and Research.
Marks noted that nearly every U.S. resident age 5 and up now has COVID antibodies either from previous infection or from vaccination.
The FDA also approved a new booster dose for adults ages 65 and up, provided it has been at least four months since their previous vaccine dose, and those who have weakened immune systems if it has been at least two months since their last vaccine dose.
Most other U.S. residents who have received the bivalent booster are not currently eligible for another vaccine dose, but FDA officials intend to consider the necessity of further booster shots later this year.
COVID vaccines are available at primary care providers, retail pharmacies and some facilities operated by local health departments.
Copyright © 2023 Bay City News, Inc. All rights reserved. Republication, rebroadcast or redistribution without the express written consent of Bay City News, Inc. is prohibited. Bay City News is a 24/7 news service covering the greater Bay Area.