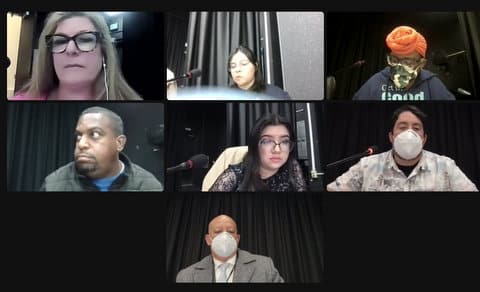 04 May

WCCUSD School Board Honors LGBTQ+ Community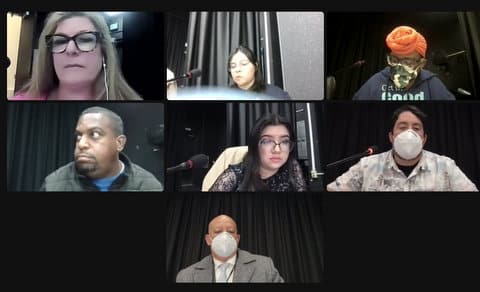 The West Contra Costa school board on Tuesday voted unanimously, with one trustee absent, to recognize Pride Month, Harvey Milk Day and National Coming Out Day. (Screenshot captured by Julia Métraux / Richmond Pulse)
By Julia Métraux
As anti-LGBTQ+ legislation and rhetoric spread across the United States, West Contra Costa Unified School District received a request to take down a rainbow flag celebrating the LGBTQ+ community last week.
West Contra Costa Board President Demetrio Gonzalez-Hoy posted Tuesday on Facebook that "due to our old policies in WCCUSD we had to take it down as the pride flag is not an approved flag." The flag was being flown at a district school, he said in his post.
This led Gonzalez-Hoy and Clerk Jamela Smith-Folds to direct staff to create a resolution celebrating Pride Month in June, Harvey Milk Day on May 22 and National Coming Out Day on Oct. 11. As part of recognizing Pride Month and these days, the Progress Pride Flag was going to be displayed. According to a blog post from Northwestern University's Office of Civil Rights and Title IX compliance, the Progress Pride Flag's "black and brown stripes represent marginalized LBGT communities of color, community members lost to HIV/AIDS, and those currently living with AIDS."
"Just in the last few days since we published the agenda, people have been reaching out to me and staff thanking us for the recognition," Gonzalez-Hoy said at Wednesday's school board meeting.
While California is generally seen as progressive, the American Civil Liberties Union has identified one piece of legislation that attacks LGBTQ+ rights in the state: AB 1314, which was referred back to committee in March, would require schools to share information about a student's gender identity with their parents. Forced outings of transgender youth, according to the Movement Advancement Project, "might put the child at risk of harm." Transgender youth are also around 10 times more likely to experience homelessness than cisgender youth.
Smith-Folds said that voting on the resolution, titled "Honoring LGBTQ+ Pride Month," is an important step in inclusion.
"Love is action. Inclusion is action," she said. "So I appreciate the board moving this forward."
Part of the resolution involves teaching awareness about and history of the LGBTQ+ community and the oppression they have faced, which is currently not allowed in the state of Florida. In April, Florida Gov. Ron DeSantis expanded his "Don't Say Gay" legislation, which largely bans teaching on sexual orientation and gender identity, from K-3 to K-12.
Students in California public schools are already required to be taught about LGBTQ+ people as part of social science instruction. On Dec.1, 2011, the Education Code was amended to require the inclusion of "lesbian, gay, bisexual, and transgender Americans," as well as people from other marginalized groups, in the social science curriculum. School boards are also not allowed to adopt any resolutions that would be discriminatory against LGBTQ+ people.
Gonzalez-Hoy also said he believes the district is "doing this resolution" for the first time which is important due to "everything that the LGBTQ+ community continues to endure day by day, not just in our system, but nationally and internationally."
While June is generally celebrated as Pride Month around the world due to the anniversary of the Stonewall uprising, the last day of school for WCCUSD this year is on June 9. The nearby San Francisco Unified School District has dealt with this by celebrating Pride Month in its district in April.
"In June we also have our summer school so we wanted to start right away. Next year we can absolutely consider another month," Gonzalez-Hoy wrote on Facebook in response to a comment asking the board to consider celebrating Pride Month during the school year.
>>>Read: Kids Continue to Suffer in Mental Health 'Shadow Pandemic'
LGBTQ+ acceptance can be life-saving for queer youth. The Trevor Project's 2022 National Survey on LGBTQ+ Youth Mental Health found that 45% of queer youth had seriously considered suicide in the past year. But the survey did find that "LGBTQ youth who felt high social support from their family reported attempting suicide at less than half the rate of those who felt low or moderate social support."
The board voted 6-0 to approve the Pride Month resolution, with Trustee Mister Phillips being absent.
The next West Contra Costa School Board meeting is scheduled for May 17.