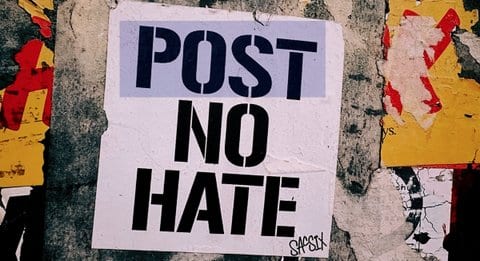 22 May

To Stop Hate, Step Out of the Silo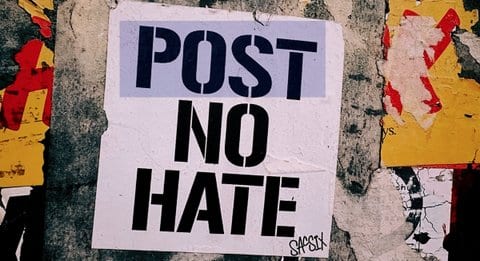 By Danielle Parenteau-Decker
As discrimination divides us, people and groups need to work together to counteract hate, says a panel of experts.
The Act Against Hate Alliance on May 17 hosted a virtual discussion titled "The Importance of Organizational Collaboration in Combating Hate Crimes" with perspectives from the U.S. and Europe on what is being done and what needs to be done to prevent hate and support victims.
"Hate crimes can create an environment of fear and intimidation, which can create social divisions," said AAHA executive director and discussion host Mei Mei Huff. "Collaboration can send the message, 'Hate crimes will not be tolerated.'"
As addressed in an Ethnic Media Services news briefing last August, hate is on the rise. In March, the FBI released statistics showing that more hate crimes were reported in 2021 than 2020, reaching "the highest level since the government began tracking the crimes in the early 1990s," Vox reported.
Stopping the hate, or even bringing the crime level down, will take a multifaceted approach.
Collaboration key to stopping hate
"No one thing can solve this," said attorney Laura E. Ellsworth, who helps lead the Global Community Service Initiatives for the law firm Jones Day. "But it is solvable."
Collaboration, in particular, will be key to finding a solution.
Dennis Santiago, chief operating officer of the National Diversity Coalition, said the traditional isolated response in which groups help and advocate for only the people they work with, albeit well-meaning, can have unintended consequences because the groups can end up at cross purposes.
Instead, he called for a more collaborative response to find what works for everyone.
California State Treasurer Fiona Ma encouraged people to recognize both what they have in common and the strength in their differences.
"I try to get everyone to think about our commonalities," she said, adding that California has one the world's biggest economies "because of our great diversity."
She acknowledged the role of politics in the rise of hate.
"As elected officials, we need to stay away from partisanship," Ma said. Otherwise, "people listening to start becoming negative."
She also addressed the importance of people looking out for each other.
"When we know … someone is being attacked … we can notify each other," Ma said. But when we aren't aware or we don't warn others, that makes it easier for perpetrators to continue committing hate crimes.
She said movements like Black Lives Matter and Stop AAPI Hate showed how "in California, when one of us is impacted, we do stand up."
The impact of Black Lives Matter has been felt across the world.
Tracking hate in Europe
It "really affected us" in Europe, said Maria Daniella Marouda, chair of the European Commission Against Racism and Intolerance. The murder of George Floyd started discussions about post-colonialism, racial profiling, and systemic racism on the continent.
The commission monitors racism and intolerance in Council of Europe member states.
Finding problems is not an issue. Doing something about them can be another matter.
Marouda said it is "so easy to find racist messages but so hard to counter."
She said that "recognizing hate speech" while, at the same time, "protecting freedom of expression" could be a "difficult balancing act." But, she noted, hate speech goes "beyond anything that can be defended" by free speech protections.
If hate speech isn't stopped, it can have serious consequences.
"Hate speech doesn't always lead to hate crimes," said Tamás Berecz, general manager of the International Network Against Cyber Hate in the Netherlands. But "hate crimes are almost always preceded by hate speech."
Ellsworth put it more bluntly: "Hate speech is the seeds of genocide."
To try to find solutions, Marouda said the commission "looks beyond legislation."
For one, it looks for "promising practices" in some countries that can be used as an example for others.
Marouda said it also looks for places "where victims can go and complain" but acknowledged that even if they technically have somewhere to go, they may not feel comfortable doing so.
"Minorities … don't feel safe," she said. "They don't trust institutions such as the police." Therefore, it is necessary to build trust to make people more likely to report incidents.
More education, more communication
Both Marouda and Berecz addressed the importance of education in effecting change.
"Inclusive education … we consider very important," she said.
He called for education from an early age on hate speech and discrimination, in general, as well as digital media literacy.
Santiago says he "would like to see a cultural shift in terms of public policy," one that is built on more communication among different groups and that does not continue the wrongs of the past into the future.
In his closing remarks, Bob Huff, who co-founded the Act Against Hate Alliance with wife Mei Mei, referenced the common saying, "If you see something, say something." (Huff, a Republican, was minority leader of the California state Senate in 2012-15.)
"We all see something," he said, "so we all need to say something."
This story was originally published by Ethnic Media Services and has been republished with permission.