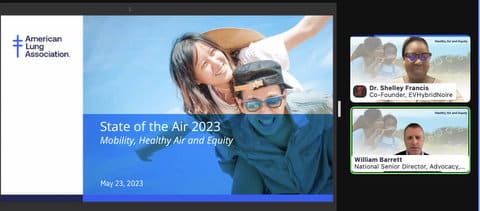 24 May

Clean Transportation Could Reduce Disproportionate Harms of Air Pollution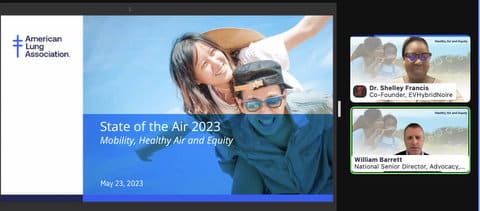 (Screenshot captured by Julia Métraux / Richmond Pulse)
By Julia Métraux
Minimizing air pollution is a public health issue, and clean transportation could play a role in addressing this problem.
The American Lung Association and electric mobility organization EV Noire gave a joint presentation Tuesday on the importance of clean air and mobility, led by ALA national senior director of advocacy and clean air Will Barrett and EVNoire co-founder Dr. Shelley Francis. ALA recently published its 24th annual State of the Air report.
"We still have a long way to go until every person in the United States can breathe clean, healthy air," Barrett said.
In the United States, people of color and low-income communities are disproportionately affected by air pollution. Exposure to air pollution can increase the chances of developing cancers, cardiovascular diseases and respiratory diseases, according to the National Institute of Environmental Health Sciences. Transportation contributes a significant amount of greenhouse gas emissions.
For its State of the Air report, Barrett says people at ALA "grade and rank every county across the country for the levels of ozone pollution and particle pollution." Defining two types of pollution, Barrett described particle pollution as "this mixture of tiny microscopic bits of soot, as, smoke, diesel exhaust, tiny, tiny particles that can get deep into our lungs, bypass the body's defenses and actually cross into the bloodstream;" while ozone pollution is "this odorless, colorless corrosive gas that forms in the atmosphere from emissions, from tailpipes and other sources that mix in the atmosphere, especially on hot sunny days."
On the ALA's lists of the top 25 "most polluted cities" in the United States, the San Jose-San-Francisco-Oakland metropolitan area — which includes Contra Costa County — ranked sixth-worst in both ozone levels, and short-term particle pollution as well as seventh in year-round particle pollution. Additionally, the ALA gave Contra Costa County an "F" for its ozone and particle pollution level. Air pollution can play a role in developing health conditions and making existing health conditions worse. For example, in Contra Costa County, there are nearly 13,000 cases of pediatric asthma and over 80,000 cases of adult asthma.
These results for Contra Costa County are perhaps not surprising due to the impacts of environmental racism in the United States.
"A person of color in the United States is 64% more likely to live in a community with at least one failing grade than a white person," Barrett said. "We know that traffic pollution is a major source of harm, often [in] lower-income communities and communities of color."
Racist policy decisions of the past have also contributed to air pollution exposure inequities. For instance, the Federal Aid Highway Act of 1956 led to highways being put through Black and Brown communities, both physically disrupting them and contributing to pollution exposure.
"These highways were built through Black and Brown communities, which really devastated they can be built through basically a divider between the haves and the have nots," Francis said.
When looking for local solutions, Francis recommends that agencies and other entities work with people who live in the communities who are the most affected by air pollution.
"One of the things that we often say those who are closest to the problem are also closest to the solution," Francis said. "So that's why it's really critically important to have those authentic engagement opportunities with communities and really let them drive the strategies."
In addition to contributing to the development of chronic health conditions, addressing air pollution now is also important due to climate change. According to the Environmental Protection Agency, climate change "can affect air quality, and certain air pollutants can affect climate change," making the two issues interlinked.
"The communities that are most impacted by air pollution are also going to be some of the most impacted by these effects of climate change," Barrett said.
Richmond has taken several steps to use more clean transportation locally. For example, in February, the Richmond City Council approved a bicycle and pedestrian plan that would lead to projects around the city that could help people get around the city on foot or via bicycle or another mobility device.
At a state level, all new vehicles sold in California by the year 2035 have to produce zero emissions, which includes battery electric vehicles, plug-in hybrid electric vehicles and fuel cell electric vehicles.
The State of the Air report can be read here on the American Lung Association's website.