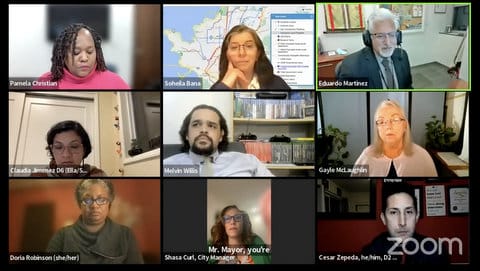 08 Feb

Richmond Approves Bicycle and Pedestrian Plan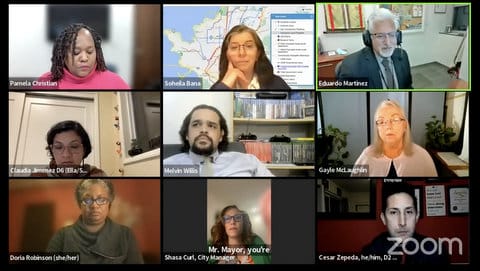 (Screenshot captured by Julia Métraux / Richmond Pulse)
By Julia Métraux
In the coming years, Richmond residents will see changes to the city that should make it easier to commute on foot or via bike.
The Richmond City Council unanimously approved Tuesday the Richmond Bicycle and Pedestrian Action Plan. The plan was a collaboration between city staff, Alta Planning + Design, Rich City Rides and transportation consulting firm Fehr & Peers, with funding from the Caltrans Sustainable Transportation Planning Grant. This group found 181 potential bicycle projects and 111 potential pedestrian projects for the city of Richmond to address. In approving the plan, the city will not necessarily address every single project immediately, instead focusing on issues in high-priority areas.
Council member Soheila Bana asked that an amendment be added to the measure to make it so that people from Richmond would be able to access El Sobrante, an unincorporated area that she represents, via foot or bike and vice versa.
"The plan is excellent except that it doesn't look at all those disconnects," Bana said.
Other council members agreed to the addition to make sure El Sobrante residents are fairly represented when considering changes.
In addition, while not amending the resolution, council member Cesar Zepeda asked that in the creation of these projects, they be mindful of disabled residents. The city of Richmond, like all cities across the United States, is supposed to follow guidelines from the Americans with Disabilities Act in its projects.
"I'm hoping that as we're putting in sidewalks, we're also continuing to think about ADA access," Zepeda said.
One aspect that makes sidewalks accessible is curb cuts, which allow people with wheelchairs to safely go up and down from a sidewalk. While they were originally made for the disability community, curb cuts can also be helpful for parents with strollers.
Zepeda also asked the city to stay in contact with local neighborhood councils and local businesses on when projects would be taking place in their neighborhoods.
Council member Doria Robinson expressed some reservations that not all projects help create routes to destinations, like a library or grocery store, which could potentially replace the need for a car.
"I feel like if we want bike lanes to really serve the people in the community and get people an alternative to using their car, they really have to lead to destinations," she said.
Numerous members of the public spoke in support of the plan.
"This plan will, through an extensive process and public input, make it safer and more attractive for those of all abilities and ages to bicycle and walk," said Bruce Beyaert, the chair of Trails for Richmond Action Committee.
>>>Read: Rich City Rides to Loan Free E-Bikes
Robert Prinz, the advocacy director of Bike East Bay, thanked everyone involved in the creation of the Richmond Bicycle and Pedestrian Action Plan.
"I especially want to thank staff members, both current and former, as well as the consultants and especially Rich City Rides, who was engaged as an outreach partner on this plan," he said.
The next regular City Council meeting will take place Feb. 21.