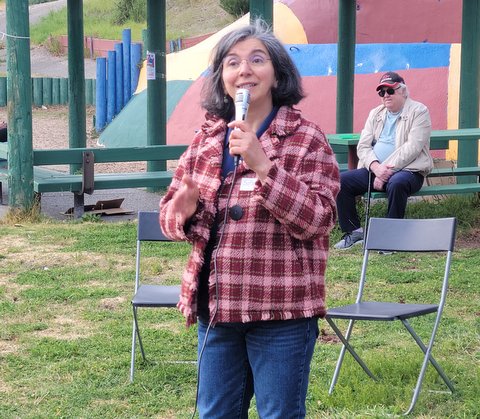 20 Dec

Q&A: New Council Member Soheila Bana Stays Focused on Public Safety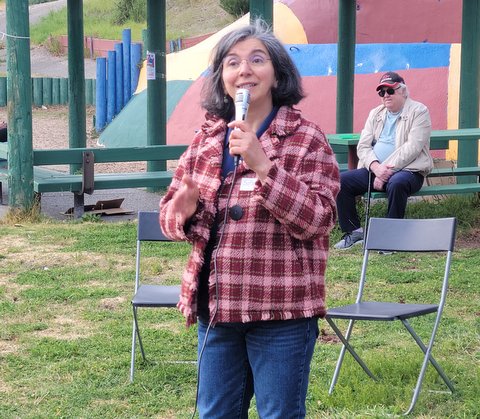 Soheila Bana at La Moine Park on March 12, launching her campaign to represent District 4 on the Richmond City Council. (Richard Tzul / Richmond Pulse file)
Interview, Michael J. Fitzgerald
Editor's note: An El Sobrante resident has not been on Richmond City Council in around 20 years. That will change next month following the election of Soheila Bana, a retired engineer turned public safety activist. Bana spoke with the Pulse recently about fire, traffic dangers and other safety and city issues. This conversation has been lightly edited.
Richmond Pulse: What do you think about being the first Richmond City Council member in 20 years from the El Sobrante region?
Soheila Bana: We are very excited to have a voice on the City Council. We are happy about district voting too. It was the community members who asked me to run because our issues are not usually reflected in City Council discussions.
RP: What are some of the biggest challenges facing the city and your district?
SB: One of the major issues is wildfire safety. And we have the homeless issue too. Homelessness is related to wildfire safety because 80% of the fires are started by the homeless people who live in the wooded areas. It's a major challenge. Illegal dumping all around the city is a big issue also.
RP: What are your priorities as you begin your term?
SB: Homelessness you cannot solve immediately, though I plan to tackle it along with other council members. I hope we can find some solutions to illegal dumping. But another issue is traffic safety. Our elementary school is on a major street with four lanes. There is no pedestrian signal or stoplight. Speeding is a major issue, so are sideshows. People are asking for speed bumps.
RP: What about crime prevention?
SB: Crime is a major issue. One of the steps in crime prevention is to keep youths busy and active and healthy through recreation and sports. There is a large Latinx population in the city, and their children want to play soccer. But we do not have enough soccer fields. We need to provide more soccer fields for the thousands of students who want to play. That was a major complaint by some parents when I was canvassing.
RP: What will you do as a council member to support small businesses?
SB: The city of Richmond has budgetary issues and needs economic revitalization to bring more businesses to the city to generate more taxes to provide better services.
One of the things I hope to introduce would be performance measures for expenditures to the culture of the city of Richmond. It's important to define the goals and objectives and state what you expect to get out of it. Then, measure the performance of the project and all the money you spend on it.
The city now spends millions on homelessness, and people are frustrated. Where is the money going?
RP: The city council has garnered a reputation for having divisive meetings and less-than-professional clashes among members. How will you work with the new council?
SB: During my campaign, I learned people are tired of divisive politics. I think our new mayor, Eduardo Martinez, is aware of that. In a text, he told me he was hopeful to put divisive politics behind us.
I've been reaching out to council members, and some reached out to congratulate me on my win. I hope we will have a working relationship to improve the city of Richmond and its budget. I am very hopeful.
I will be working for the people of Richmond. I will do my best to work with everyone. That's the type of person I am. I get along with everybody. Especially when it comes to politics, there is nothing personal.
As an engineer, I am very pragmatic. I look forward to getting results. And in engineering, defining the problem is 50 percent of the solution.