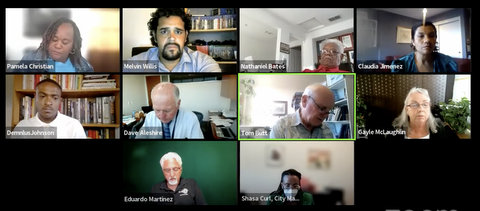 22 Jun

City Council Passes New Richmond Budget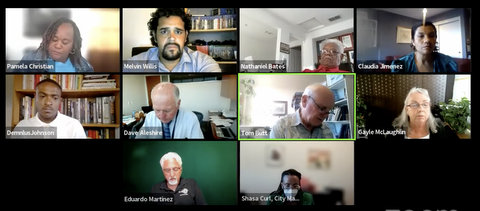 (Screenshot captured by Julia Métraux / Richmond Pulse)
By Julia Métraux
The Richmond City Council voted Tuesday to adopt the fiscal year 2022-23 proposed operating budget. The vote was 5-2, with Mayor Tom Butt and council member Nathaniel Bates voting against it.
The city of Richmond's estimated budget for the upcoming fiscal year is $206 million. Within that, there is $7.6 million in funding that Richmond City Manager Shasa Curl said could be used to support directives from the City Council and also help with inflation.
"In addition, we're trying to ensure that we address issues with our risks and general liability," Curl said. "These costs are increasing at an increasing rate, so we need to work together proactively to develop a strategy to bring them under control."
Council member Gayle McLaughlin asked that the $750,000 designated for the public bank be taken from American Rescue Plan Act funding and not the general fund.
She suggested that $750,000 from the general fund instead be used "for street safety initiatives."
Curl said the city would have to confirm that the public bank could be funded with ARPA dollars but would move forward with this directive from the City Council.
Bates criticized the decision to allocate over $3 million for Reimagining Public Safety initiatives, including $1.3 million to help unhoused people and $1.9 million for YouthWorks.
"What oversight do we have to make sure money is appropriately spent?" he asked.
LaShonda White, the interim director of city services, said that most of the YouthWorks funding goes to paying young people in the city for their service.
"A lot of that funding goes to support the income that is paid to young people for doing work during the summer and throughout the year," she said. "And with regards to the unhoused, that was a contract for the funding that was allocated through for the unhoused."
When this item opened to public comment, Amanda Jenkins, a resident of Rydin Road encampment, said that unhoused people in her encampment have not benefited from any funds designated for the unhoused population.
>>>Read: 'It's Scary': Unhoused Richmond Women on Life in the Pandemic
"I'm on every committee known to man for the homeless out here advocating for them, and I can tell you, we haven't seen any of this money," Jenkins said. "I don't know where the money's going, but it ain't going to us."
After public comment closed, Butt congratulated Curl for putting together a balanced budget but said he refuses to support it.
"This is an RPA budget and because of that, I'm not going to support it," Butt said, referring to the Richmond Progressive Alliance. "Instead of addressing the things that the people of Richmond really care about, like public safety, like the condition of our roads and streets, what they've done is they filled it up with a lot of frivolous items."
Council member Melvin Willis said he supports the budget "despite the propaganda comments that came from the mayor," and council member Demnlus Johnson said he saw "a lot of things I fought for in this budget, and city manager did a great job." 
Where Point Molate Stands
 The Richmond City Council did not share any updates on the ownership of Point Molate at Tuesday's meeting. During closed session, the City Council members met with their lawyers to discuss existing litigation with Winehaven Legacy. The firm had previously tried to buy the land, but the deal fell through.
McLaughlin asked the mayor to table a motion that would "prepare a request for proposal to be circulated as widely as possible soliciting proposals to manage the Point Molate Open Space for public use" due to legal concerns.
A motion was made to table the item, which passed, with Butt and council members Bates and Johnson voting against it.