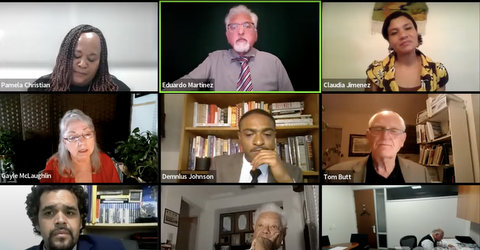 06 Apr

City Moves Forward With Redistricting and Public Bank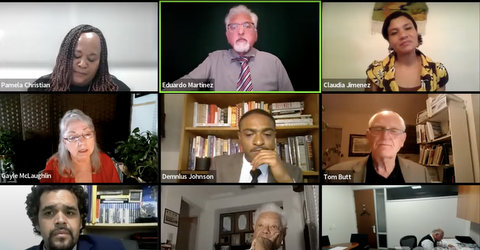 By Julia Métraux
At the last Richmond City Council meeting, council members indicated their support for Map 201 in the city's redistricting process. That support was formalized Tuesday as the council voted to approve that map, though Mayor Tom Butt and council members Nathaniel Bates and Demnlus Johnson voted against it.
Redistricting was a necessary step after the results of the 2020 census to correct population imbalances.
Despite numerous study sessions, the conflict between people who support Map 201 and Map 102c was high, with callers from the community saying that choosing the map they did not support would be harmful.
Bates argued that the city council should value the map created by a coalition of neighborhood councils, which was Map 102c.
"I cannot help but respect their leadership, their involvement and dedication, and I think that they represent the community far more so than maybe the council members," Bates said.
Map 201 does not disenfranchise any voters. Map 102c would reunite the Iron Triangle but disenfranchise over 6,000 voters.
"When we were at-large, we did not have this divisiveness," Martinez said, about the city's prior council member election process. "It's really sad to see us arguing over something that shouldn't be argued about."
Public Bank Will Offer Financial Alternative
The City Council also approved a motion recognizing the city of Richmond as a founding member of Public Bank East Bay, which is set to open in 2023.
According to its website, Public Bank East Bay's initial loan policies would support affordable housing development and small businesses. The only existing public bank in the United States is the Bank of North Dakota, which is over a hundred years old.
"This will be great for our community, in contrast to Wall Street banks that seek short-term profits for their private shareholders by investing in stocks, derivatives, credit default swaps…that have harmed our community," said council member Gayle McLaughlin, who brought this motion forward with council members Claudia Jimenez and Eduardo Martinez.
The creation of Public Bank East Bay is largely being run by volunteers right now. Benjamin Streim, one of these volunteers who sits on the board of the Friends of the Public Bank East Bay, a nonprofit 501(c)(3) corporation, said this bank will adhere to both state and federal regulations.
"These regulations will make sure that the bank is safe," Streim said. "It will be governed by an independent board of directors, and they will be city and county representatives, but in our proposal, there will be a majority of community representatives."
The city of Richmond would be asked to contribute $750,000 to $1.5 million when the bank opens. Some members of the community and council member Johnson raised concerns that this project has not been well advertised to Richmond residents.
Johnson and Butt also expressed concerns about who will be appointed to the bank's board and which projects the bank will support.
"Because we have individuals on the board who are completely shut off to other parts of the community because they don't agree with them ideologically, politically or philosophically, then this becomes a much larger issue," Johnson said.
Butt and Johnson abstained from this motion, and Bates voted against it. The cities of Berkeley and Oakland will also vote on whether to be founding members of the Public Bank East Bay at later dates.
People with questions on how the Public Bank East Bay will operate or are interested in being on the board can reach out to volunteers at Friends of the Public Bank East Bay on its website.