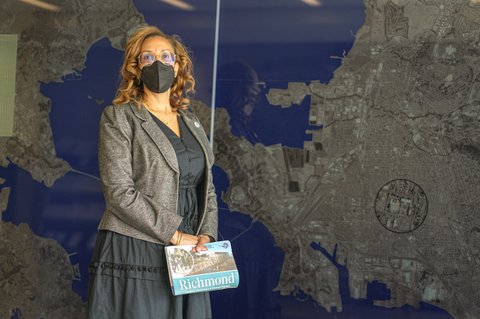 26 Apr

Q&A: New City Manager Shasa Curl on What 'Makes Richmond Unique and Special'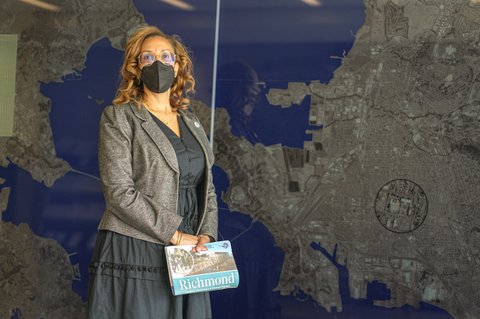 New city manager Shasa Curl has worked for the city of Richmond since 2003. (Denis Perez-Bravo / Richmond Pulse)
Interview, Julia Métraux
At its April 5 meeting, the Richmond City Council voted unanimously to install then-interim city manager Shasa Curl in the position for a three-year contract. Curl has worked in various capacities for the city of Richmond since 2003 and joined the city manager's office in 2011.
Curl spoke to Richmond Pulse by phone Monday about the work she hopes to continue in her new official position. Curl also highlighted the importance of working with local small and medium nonprofits and other businesses to help them support the city. She also wants to help make it so that young people who grew up in Richmond are proud to return to and support the city.
This interview has been lightly edited for clarity.
Richmond Pulse: Could you speak about any changes between your new official position as city manager and your former interim city manager role? Have your duties changed?
Shasa Curl: It provides an opportunity for me to make, in collaboration with the City Council, a long-term commitment to the community that we serve.
RP: How do you hope to work with local nonprofits and other businesses to help serve the Richmond community?
SC: I hope to continue to work with local nonprofits and other businesses very closely. I've had the opportunity to work closely with many nonprofits and businesses for my entire career in Richmond, and they have been pivotal in the city success. It's been extremely evident to me, especially during us trying to combat and confront the impacts of COVID, that our relationships with our local nonprofits and businesses are extremely important. They're an asset, and they enabled us to organize and deal with COVID the best we can.
Especially given our framework around Health in All Policies and health equity that we've worked on for over a decade with Professor [Jason] Coburn at UC Berkeley, and with funding from the California Endowment and Robert Wood Johnson Foundation and others. I think that work really led to us being, relatively speaking, all things considered, in a good position.
RP: Why is staff retention an important focus of your new official position to better serve Richmond residents?
SC: I think what's been very clear to me throughout my career here in Richmond is that relationships matter, and part of what I think makes Richmond unique and special is the relationships that staff have with the community — the library and community services, code enforcement, planning, employment and training. It's really the relationships between staff and the residents, businesses … that makes the work happen. I really want to make sure that Richmond continues to be a place where people want to have a public service career, and to help improve health outcomes in our community.
RP: Could you talk about how grants from Clean California Local Grant Projects will help you and your team help revitalize parts of Richmond? 
SC: These grants are a great symbol of the work that's been happening over 10 years, starting with a pilot community health and wellness element of our general plan, then on to the Richmond health equity partnership, and then on to Health in All Policies.
I think Richmond has done so well using those plans to make improvements to the built environment. From my perspective, this is how the community measures our success. Like, how does the built environment look. Implementing infrastructure improvement projects, designing and building new parks locally with residents has been critical to the success of our partnerships with Urban Tilth and a number of other great organizations.
RP: You have worked for Richmond's city manager office since 2011. Could you tell us about positive changes that you have seen over time? 
SC: The most positive thing I've seen is the increase in capacity of our city staff and resident leaders and community-based organizations. We just have such a great and talented pool of people. And then we also have a great artisan community, as well as really a great thriving network of small and medium-sized businesses. 
RP: What are some of the biggest challenges you foresee for Richmond in the future?
SC: I think for Richmond and all local municipalities, being significantly impacted by inflation and an extremely tight labor markets are two of the things that we will be grappling with.
RP: What are you looking to accomplish during your first year as the official city manager in Richmond?
SC: The primary thing that we're working on at this juncture is to clean up the city through the I Heart Richmond campaign. We're working on increasing hiring, and we're working on [Measure U] implementation. So the new gross receipts tax that was approved by the voters in November of 2020, it became effective on Jan. 1, 2022.
RP: Is there anything else you would like to add or emphasize?
SC: We've been working really closely with Contra Costa Health Services throughout this pandemic, and we want to continue to improve access to health services for residents, especially those that are residually uninsured, and focus on job training. Ensuring all local residents who need assistance developing additional skills to have a career, that the Employment and Training Department is here to support them.