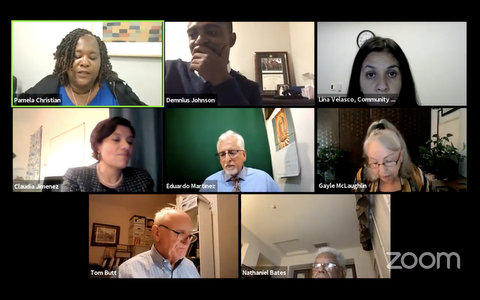 17 Sep

City Council Approves Three-Year Extension for Task Force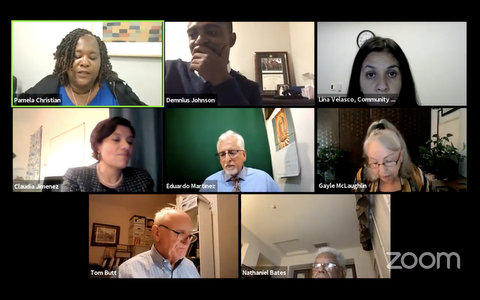 Richmond City Council returned from hiatus Tuesday. (Screenshot captured by Mathew Miranda / Richmond Pulse)
By Mathew Miranda
Richmond City Council on Tuesday extended the term of the Reimagining Public Safety Task Force until June 2024.
The nearly three-year extension was approved for the task force to help with the full implementation and ongoing reviews of recently passed public safety initiatives. The motion passed 5-2 with Mayor Tom Butt and Council member Nat Bates voting against.
Tuesday's vote follows a previous three-month extension that the council approved May 18. That extension, set to end Sept. 30, allowed the task force to finalize its recommendations and continue receiving community engagement.
Council members Gayle McLaughlin and Melvin Willis, who co-sponsored Tuesday's motion, said multi-year approaches are vital to ensuring new initiatives are fully implemented and running smoothly. Willis added that the task force must continue reaching out to experts, neighborhood council groups and community members if the city expects to "reimagine public safety."
"If we're pushing for this and really dedicated to public safety, then that task force that pushed these recommendations also needs to be part of the implementation stage to make sure these communities feel invested in and safe," Willis said.
McLaughlin encouraged the council to continue the same format of replacing task force members in the cases of resignations. At the time of the task force's creation in September 2020, Butt recommended that each council member nominate three members of the public, thus appointing 21 individuals. Since then, the council has debated whether certain task force members should have been appointed given they are not Richmond residents.
McLaughlin said replacements should be decided by the council member who made the original appointment or, if a former council member made the appointment, a new council member should decide. Berkeley and Oakland use similar approaches for their task forces, according to the staff report.
Butt and Bates pushed back on that notion and stated that the city charter only provides the mayor with the power to appoint members. City Attorney Teresa Stricker confirmed appointments are exclusively determined by the mayor. Bates raised a hypothetical question to city staff about what would occur if the mayor chose to not appoint any task force members. Neither city staff or Butt responded to the question.
McLaughlin agreed that appointments are the mayor's prerogative but said there is precedent of changing the process to include council members.
"For certain bodies, it makes sense for a mayor to allow that process to happen and Mayor Butt allowed it to happen in 2020, and I would like to see it continue," McLaughlin said.
Redistricting
In other news, the council held its second of four public hearings to reestablish district boundaries based on 2020 census data. The new district boundaries must be adopted by April 17, 2022.
Tuesday's hearing, "by design," repeated similar information from the first hearing, said Shalice Tilton, a senior consultant for National Demographics Corporation. The corporation was contracted to lead the mapping process.
Without any draft maps yet to present, Tilton gave a general overview of the redistricting process and continued to encourage public input on geographic and neighborhood boundaries. She anticipates drafting maps by November or December after the California Statewide Database releases official prisoner-adjusted 2020 redistricting data. The state released its census data Aug. 12.
The next two public hearings are scheduled for Jan. 18 and Feb. 1, 2022. At these hearings, draft maps will be presented to the council and discussed.
Tilton also reminded residents of the available mapping tools for drafting their own maps. Three of the four mapping tools are accessible in English and Spanish. The final mapping tool is available in six languages: English, Spanish, Portuguese, Vietnamese, Mandarin and Korean. Mapping tools vary from paper sheets and Excel-based tools to a paint brush mapping tool and a detailed, data-based online mapping resource.
The tools and other information on the redistricting can be found on the city website.