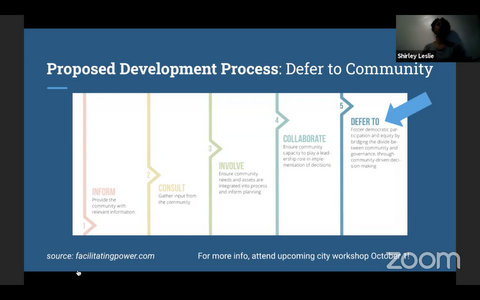 24 Sep

Community Group Tells City Council How to Re-imagine Police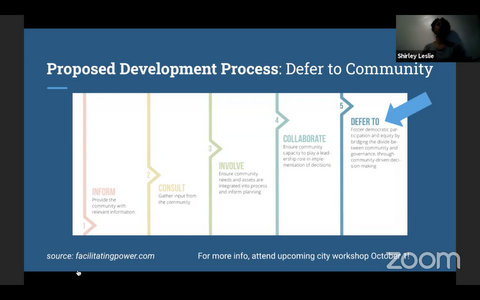 (Screenshot captured by Edward Booth / Richmond Pulse)
By Edward Booth
The Richmond City Council on Tuesday heard from a group of community members who suggested policy changes for re-imagining public safety as the city's official task force has yet to be formed.
The community group presented a slew of short-term and long-term action items for the council to consider centered around reforming policing in the city.
The short-term items largely consist of increasing the investigative powers of the city's Community Police Review Commission and firing officers with records of misconduct. They also include not increasing the RPD budget until the reimagining process is completed; empowering the commission to carry out sexual abuse investigations, independent investigations of misconduct and whistleblower allegations and have some involvement in RPD hiring; banning previously fired officers, violent officers, and those who are part of hate groups; establishing penalties for turning off body cameras and regulations for open carrying of weapons; banning pretextual stops, as well as establishing a moratorium on traffic fines and fees; and requiring written consent for vehicle searches. Pretextual traffic stops are those in which an officer pulls someone over for an alleged traffic violation and then takes the opportunity to investigate some other suspected offense.
In the long-term, the group suggests the city hold budget transparency education sessions, carry out a mid-year budget review where changes can be made, analyze the RPD's use of overtime and spending, and hold a participatory budgeting process for next year. The group also suggested that new RPD officers be trained in Richmond history and culture and that there be development of a non-police response to behavioral health crises.
Council member Jael Myrick introduced the group. He said that when the council passed the budget in June, it also established a task force made up of members of the public to help explore alternative policing models and advise city staff. The task force was supposed to have been formed by now and give a report to the council this month, but for administrative reasons none of that has happened, Myrick said.
Mayor Tom Butt said the task force will still be formed, and it will consist of three appointees from each council member. But in the meantime, the group has been meeting to discuss re-imagining public safety.
The group is made up of citizens and representatives from community organizations — such as RYSE, Urban Tilth and Healthy Richmond — and from city groups including the CPRC and the city's community services department.
According to Randy Joseph, a member of the group and CPRC, the group's mission is to improve public safety in Richmond by employing a holistic approach that's "grounded in human rights, responsive to human needs, and guided by the best available evidence." He said the group has been working on issues of public safety since before June.
Council members mostly responded positively to the group's presentation. Butt said it was impressive and encouraged the group to continue participating in the reimagining process. But the mayor said he didn't see how mental health care could fit into the current budget, particularly because the county doesn't intend to pay for it.
Council member Nat Bates said the group should look to assess the Richmond Police Department and work with the department in that assessment. He said Richmond shouldn't be compared to other cities, as it would be like comparing "apples, oranges and bananas."
Ben Therriault, president of the Richmond Police Officers Association, said the department has been held up as the gold standard of progressive, 21st century policing every year and issues with policing across the nation don't apply to this department. Additionally, he said, mental health is a county function, so the city should receive money from the county to increase mental health services.
"The No. 1 job of government is safety," Therriault said. "There is nothing else."
Joseph said the group's progress was an ongoing process, and they'd made it clear in their presentation that they were looking at data to see what the RPD are doing well and not well and making decisions on facts, not emotion.
"There's been a lot of cracks in that [gold standard] over the last couple of years, and I don't have to sit here and talk about all the stuff that's been going on," he said.
Mike Parker, another member of the re-imagining group, said he believes RPD is far better than many police departments across the country, largely because the community has made efforts to improve relations with police and change policing policies over the past decade.
What Therriault is missing, Parker said, is that public safety doesn't equate simply, or primarily, to policing.
"The idea is to figure out the things that will make the community safer for people so that the police are not required," Parker said. "The police are the bandages on a sickness. They are not the cure of the sickness."