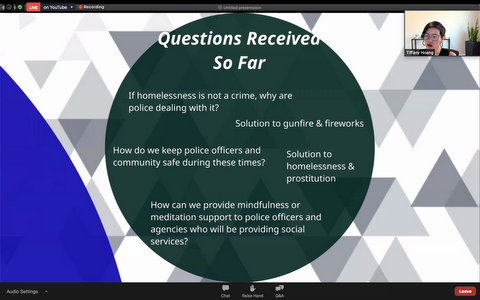 28 Aug

Town Hall Begins Reimagining of Policing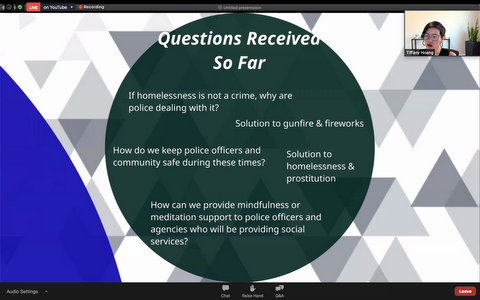 (Screenshot captured by Edward Booth / Richmond Pulse)
By Edward Booth
Richmond residents said they'd like to see the police focus more on crime, and to let other professionals handle calls involving mental health and homelessness, during a town hall meeting Thursday about reimagining public safety.
The meeting was the first in a series of community conversations about public safety. It was moderated by Tiffany Hoang, co-founder and "executive synergist" of Circle-Up Education, a company that attempts to cultivate "happy, thriving, and stress free cities," according to a mission statement on its website.
The panelists — Richmond Mayor Tom Butt, council member Nat Bates, city manager Laura Snideman and police chief Bisa French — briefly commented on policing in Richmond. Then, French gave a presentation on the current state of the Richmond Police Department, talking mostly about impacts caused by understaffing.
Residents were able to share their thoughts about policing in Richmond, but none of their questions were answered. Most public commenters called for a redistribution of police resources in areas they said would be better covered by other professionals, such as mental health calls, responding to people experiencing homelessness, and traffic violations. Some attendees criticized the meeting itself, saying the format — with questions and concerns shared but not answered —served as a way of not seriously considering their concerns.
Butt said the meeting was convened to jumpstart a conversation around the role of policing in Richmond. He said that though the City Council voted in June to create a task force to focus on issues around policing, it wouldn't be until September or shortly thereafter that the task force is convened or has members appointed. The town hall panelists wanted "to get ahead of the game," Butt said, while the council is on vacation during August.
"What this is about tonight is listening to people," Butt said. "We want to hear from the people of Richmond what they want and what they don't want from their police force."
Bates called the police shooting of Jacob Blake in Kenosha, Wis., on Sunday a "sad commentary." However, Bates said, what's occurring around the nation isn't happening in Richmond, thanks to the police chief, city staff and City Council.
"We just want to make sure we can continue to be effective and respectful to our community," Bates said.
>>>Read: Changing the Police Means Changing the Culture, Activists Say
Snideman said the conversation about policing was part of a bigger conversation about addressing systemic racism. She said the panel wanted to hear everyone's ideas and see what models of policing are out there.
Snideman added that, for anyone upset with how the meeting was structured, it represented only the first of many conversations around policing.
"The more voices we hear, the better the entire process and ultimate outcome is going to be for everybody," Snideman said.
French said staff reductions had limited the ability of the police to carry out their duties. She said the department had lost about 100 employees over the last ten years, going from 301 staff members to 204. The department has 147 sworn officers, French said, but 14 of them are on long-term injury leave or light duty, meaning that, effectively, 133 officers are available for work. Additionally, the city council voted in June to reduce the overtime budget this year, which the police have historically relied on, French said.
"We just aren't able to provide the level of service we had with 200 officers," she said.
French gave a few examples of the impacts this loss of staffing has caused. Four detectives are now on property crimes, instead of eight, meaning they have to pick and choose which crimes to follow up on. The traffic unit has been reduced to four officers, French said. The department's CCTV program has been eliminated, which could lead to reduced police attention paid to crimes such as illegal dumping, French said.
>>>Read: Q&A Richmond Police Chief Talks Defunding, Community Policing, COVID-19
Additionally, a long-term problem solving unit, which had been working on solving prostitution-related crimes on 23rd Street, was eliminated, French said. The department's School Resource Officer program was eliminated when the West Contra Costa school board chose not to renew its contract with the police in June.
Though some members of the public raised concerns about police staffing, most talked about areas where police could be less involved, such as mental health response.
Richmond resident Elsa Stevens said she didn't mind the police being out of schools, and referred to former Richmond police Officer Jerred Tong who, along with more than 30 other officers across the Bay Area, was involved in sexually exploiting a teen known as Celeste Guap. Tong met Guap while working as a school resource officer at De Anza High School, which Guap attended at the time, and was later fired for making false statements to internal affairs investigators, according to the Mercury News.
Stevens said the schools needed more counselors, nurses, librarians and extracurricular teachers instead of police officers. Other commenters echoed and expanded upon Stevens' comments.
Richmond resident John Gonder said he thinks the Richmond Police Department has done an admirable job over the past few years. He said the term "defunding" was unfortunate because it engendered opposition before any understanding had begun and suggested sending mental health professionals alongside police officers when responding to mental health calls.
Eddy Chacon, a youth justice coordinator for the RYSE Center, said he was shot at while growing up in Richmond. Chacon said although the person who tried to harm him wasn't arrested, he didn't believe arresting him would've fixed his trauma.
Chacon said counselors, librarians, mentors, role models and mental health specialists do more to help than the police, and so do organizations like Urban Tilth, the RYSE Center, the Asian Pacific Environmental Network, Communities for a Better Environment, Rich City Rides and the Safe Return Project.
"I don't think police officers fix problems. They don't fix trauma that is happening or is going through people's lives. They do not heal our community," Chacon said.
Phillip Rosenthal said that many areas the police are involved in — traffic enforcement, issues relating to homelessness, mental health — could be handled less expensively if they weren't officers' responsibility. The police would then have more capacity to focus on crime, he said.
"That is meant to respect the police officers' time, not to cut into their budgets," Rosenthal said.
Other commenters criticized the meeting itself.
Randy Joseph, who sits on the Richmond Community Police Review Commission, said he emailed the city manager Aug. 12 to have a conversation about policing and didn't receive an answer. He said he'd been trying to get the task force going since it was enacted by the City Council. Council member Jael Myrick, Joseph said, had been trying to assist with getting the group going, but he found the city manager was working on setting up the Thursday town hall meeting and not the task force. This is disturbing, Joseph said, because the yet-to-be formed task force is supposed to have a presentation ready by Sept. 15.
Joseph said he heard the Dallas police chief speak a couple of years ago, and one of the things he said is that the police do too much. Joseph said he thinks the police need to focus on solving crimes and not on things other organizations exist for — such as the pound for loose dogs, social workers for homelessness and crisis workers for mental health issues.
"When there's a loose dog, the police are called,"Joseph said. "When there's an argument outside, the police are called. When somebody can't get in their house, the police are called. The police can't do all those things. That's not the police's job. That's not what they're here to do."
Donnell Jones, a lifelong Richmond resident, said the meeting reminded him of when he'd served on the working group committee for the UC Berkeley Global Campus in Richmond, a project that was suspended by the university in 2016.
He said he was similarly told to ask questions without dialogue, not knowing when those questions would be answered. The Richmond Police Department has done a stellar job at community policing, Jones said, but national criticism of policing isn't intended to specifically pick on the Richmond police chief or department.
Jones added that the community needed to have a voice at the table.
"Even on this Zoom, we are silenced," he said. "Mayor Butt, I wish I could look you in the eye."