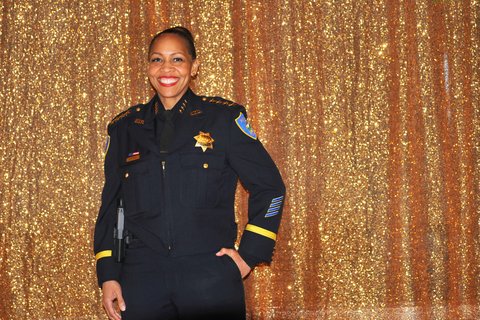 24 Jul

Q&A: Richmond Police Chief Talks Defunding, Community Policing, COVID-19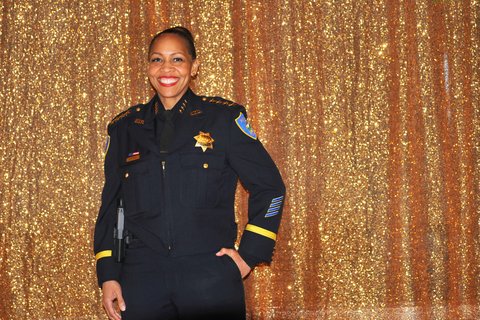 Richmond Police Chief Bisa French said she believes police need to "connect with young people on a positive level and engage them early on." (Denis Perez-Bravo / Richmond Pulse)
Interview, Richmond Pulse
Editor's Note: After 10 months as interim chief, Bisa French will become the official Richmond chief of police Aug. 1. At 45, she is the youngest chief in the department's history. French, who is Black and Latina, is also Richmond Police's first leader who is a woman and first who is a woman of color.
Richmond Pulse interviewed French about her plans for the department, community engagement and defunding the police. Her comments have been condensed and lightly edited.
Richmond Pulse: What are your top priorities?
Bisa French: Doing a thorough evaluation of the department coupled with this push to defund the police and do things differently, as well as the budget deficit the city is facing. We've already lost a lot of positions, so we have to see where we are in terms of resources and how we're able to proceed in a community policing model. Also taking into consideration what the community wants to see in terms of defunding.
My second priority has been a passion for me for a long time, and that's how do we connect with our community, especially the young people. I truly believe that if we really connect with young people on a positive level and engage them early on, that we're not going to be involved with them on the law enforcement level down the road. I don't think our young people receive the resources they need and deserve. That's how they end up involved in crime. I want to figure out how we can better support young people. A lot of people might say that's not the role of the police, but very few resources provide the services they need. So I feel it is our job to fill that gap.
RP: How will you deal with the big budget shortfall in the department?
BF: Just within the last 10 years, we've gone from having a high of 200 officers or so to now having 150. We cannot provide the level of service that we did with 200 officers, now with 150 officers.
There's this push to defund and have other people respond, so we're trying to evaluate which of these calls will be best handled by other providers. A lot of things we were able to do over the last 10 years to become a model agency for community policing was because we had the resources. We had the people to go out and connect in non-enforcement capacities.
Even when the state reopens and COVID is kind of in the past, we're still going to be challenged to go back to the way we were, at every community event, in every community meeting, at neighborhood council meetings. That's going to have a huge effect on our relationships and partnerships.
RP: With Black Lives Matter and calls to defund the police, a lot of people want to see fewer duties on officers' shoulders and more accountability. What is your response to that and what kinds of change will you work toward?
BF: When I first heard the word "defund," I was concerned because this is my livelihood. But when I actually hear what that means — moving resources to provide a level of service to our community — I completely understand and agree. There are better service providers to respond to some of the calls we've been tasked with. Over the years, cuts to mental health programs, drug abuse programs —when you don't have those resources in place, things tend to get really bad.
We're at the bare minimum of how we can respond to violent calls. We have nine officers working across the city at any given time. The entire Hilltop area from Parchester Village to Carriage Hills — there's two officers working. If you live there, I don't think you would think that's sufficient service. There is just no way we could cut additional officers. We have fewer officers than when I started 22 years ago. The issue I have with defunding is that we don't have anywhere else to cut. The city is facing a major budget deficit.
RP: How does the department search for officers that fit a community policing model or screen for problematic tendencies in the recruitment process?
BF: I don't think we've done ourselves any favors or done a good job in how we bring in recruits, especially when those new people aren't from this community and don't know anything about our community. There's interview panels to ask questions specifically about our community. Then there's a final chief's interview where I look for answers relevant to what I want to see in an officer here.
For example, I ask why somebody wants to work specifically in Richmond. Some people will say I know Richmond has a lot going on. It's fast paced, and I want to work in environments where there's a lot to do. That piques my interest. What do you mean there's a lot to do there? There's a lot of people to arrest?
That's not the officer I want. I'm looking more for answers like, I've seen what you have put into community policing. I like that you're engaged with the community and that you have a lot of interactions that are not enforcement-based where we can actually help people and solve problems.
We do a thorough background [check] and we look at all the complaints they have from different agencies. We want to include people from the community, evaluating candidates, and have a separate board, possibly our police commission, have an oral interview with people we're looking to hire so that we can get a fresh set of eyes and questions and feedback that isn't law enforcement-based.
Additionally, I want to integrate people into the community a lot better. We bring people in that are not from this area and don't know our community. Then we respond to calls and we meet people, a lot of time on their worst days. When we have people come into communities they don't know, especially communities of color, and you see somebody on the worst day and that's all you see on a day to day basis, you tend to think this entire group of people here might be this way. So I want to have more positive interactions, like making sure they have a week to bring people in and talk about their experiences here in Richmond. Talk about the history here and how this was once a booming community in so many ways
Learning the history of Richmond and learning about "the cowboys." We need to start teaching people about the cowboys because our community still feels the effects of that. We need to start talking about why the community feels the way they do about law enforcement. It's because of the actions of law enforcement throughout history. We have to start teaching that, starting with our new recruits, then putting everybody in our department through historical training and then ongoing interactions with our community. Making them volunteer at GRIP or do things throughout the community that are positive. Having somebody go sit in a barbershop and talk to people and answer questions and have those difficult conversations.
RP: What do you plan to do to build trust with Black people and other minorities who have negative opinions of the police?
BF: We have to start having critical conversations. That means meeting people where they are and inviting them in and sitting down and hearing their experiences. That's going to be uncomfortable for a lot of people, especially many of my officers. But we have to start somewhere. That's going to help people understand perspectives they haven't considered. Besides that, getting more involved in everyday kind of life stuff, being out of uniform, volunteering and integrating feedback from the community about this defunding movement and what they want to see us respond to and not respond to.
RP: How have officers adapted to COVID-19? Are any officers or other RPD staff out sick with the virus?
BF: COVID-19 has really changed the way we do a lot of things — not responding to certain calls, calling people as opposed to responding in person. Officers are adjusting well. Some hate wearing masks. But that's the mandate. Just this week, an officer tested positive. However, that officer hadn't been at work. So we didn't have a whole team affected. We have to work closely together in a way that we can social distance during an entire shift. We're being careful and hoping for the best.