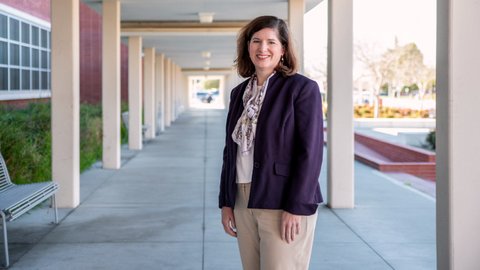 25 Feb

First Woman To Serve as Richmond's City Manager Sees Opportunity Ahead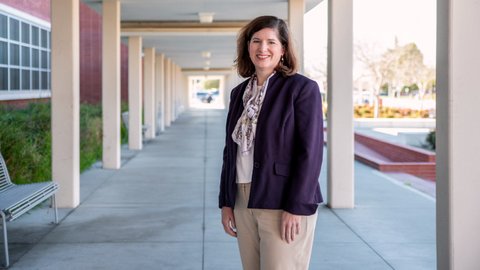 By Edward Booth | Photos by David Meza
When Laura Snideman, the first woman appointed as city manager of Richmond, gave a report to the city council on Jan 28, she donned a navy-blue baseball cap emblazoned with the city logo.
"I have my city hat already," Snideman said. "That was waiting for me."
At the next meeting, Snideman talked glowingly about her first eight days working for the city. She praised programs such as the LEAP literacy program and RichmondBUILD – which helps people from underserved communities develop skills in the construction and renewable energy fields – and said she hoped to see further expansion and innovation. She said she was proud to be working in Richmond, and that the council should be proud of the city as well.
"This is called the honeymoon," joked Mayor Tom Butt.
"I know," Snideman replied. "And I'm enjoying it."
The city manager is the top administrator of Richmond, in charge of city affairs. They receive direction from the city council and help the council achieve its broader goals while overseeing the day-to-day operations of all city departments. Snideman's contract is for three years, paying approximately $342,868 in total compensation each year.
Snideman served previously as assistant city manager for Fairfield for about five years and as city manager for Half Moon Bay for roughly four years prior to that. She said her first foray into a city role came after a decade of working in unrelated positions, when she was asked to apply for a position overseeing housing and economic development in the city of San Carlos. Snideman applied, despite some initial hesitancy, and got the job. During her second day at the office, she realized that she wanted to be a city manager.
"I realized I absolutely loved cities," Snideman said. "They're where you can do so much good for so many people."
Snideman arrived in Richmond during a tumultuous time for city managers. Her term began in January, following a span of six months covered by interim city manager Steven Falk. The city hired Falk after it terminated its contract with former city manager Carlos Martinez in July, less than a year after hiring him. At the time, the city's unions pushed for Martinez's removal over his alleged lack of communication while he attempted to grapple with a $7-million budget deficit.
Butt, who has been on the council since 1995, said a good city manager has to be knowledgeable and experienced in running every aspect of a city. He said that in Richmond there are a lot of expectations for a city manager that don't exist for other cities, including that they engage with the community and are available to take care of specific councilmember issues.
"More than anything else I just want someone who makes the trains run on time. I'm using that as a metaphor," Butt said. "If they don't do that well, then they're not going to work out."
Butt said Snideman had great experience, and he appreciated the way she seemed willing to take on long-standing issues.
One of these issues is related to employee pay. Snideman was directed by the council on Feb. 4 to gather a list of all employees receiving differential pay — additional temporary money for doing tasks outside of a job description, in theory — authorized by previous city managers but not approved by the council. The differentials add up to an estimated $500,000; some instances of additional pay had persisted after the extra work had finished, according to Falk at a November meeting.He said there was a perception among city employees that the differentials were being awarded unfairly.
The council drilled down on the issue at its Feb. 4 meeting. Councilmember Nat Bates said it was creating a morale problem among city staff. Councilmember Eduardo Martinez said the differential pay averaged just below the threshold of $10,000 dollars before it's needed to be brought before the council. This likely means that several pay increases should've been brought before the council but weren't, he said.
Martinez also criticized the idea of differential pay, of saddling people with additional tasks for more pay but not more time to work on those tasks. He said that as a school teacher he once had a supervisor who was fantastic at first, but became the worst administrator Martinez ever worked under as he was given more schools to oversee, as well as more pay.
"We're paying people more money to do a worse job," Martinez said.
Snideman said some differential pay increases had been done without traditional authority. That, she said, is what the staff would be looking to correct. She also said the city was in the process of addressing situations where the differentials continued after the additional work had been completed.
"I can safely say my honeymoon lasted eight days and is now over," Snideman said, to laughter.
Still, Snideman is optimistic. She said even if the city isn't as fully equipped as it should be in some areas, the staff works extremely hard. On Richmond itself, she praised the passion of the community. She talked about the profusion of Richmond-specific features: the ferry, the port, the miles of coastline, the arts and cultural opportunities, the boards and commissions, the high level of engagement at council meetings.
"There's an incredible amount of diversity here," Snideman said. "Richmond really offers everything in one microcosm."
Snideman said she's looking to bring support to economic development. She said the city needed to come up with a strategy to increase revenues, and to support long-term financial sustainability. Maintaining infrastructure is a part of that, she said, and the city has significant maintenance needs in several areas including fire stations and information technology.
But all the great aspects of Richmond, Snideman said, need to be broadcast to the world.
"I think we need to do a better job branding and explaining all the opportunities in Richmond and all it has to offer," Snideman said.
Butt said economic development is important because it's the most effective way of growing the tax base and increasing city revenue. He said the city has dropped the ball on economic development in the past – a situation made worse by the 2008 recession – but he welcomed a city manager with enthusiasm and experience in the area
"It's all part of the recipe of making this place," Snideman said. "I think it's already started, but I'd like to continue with the renaissance of Richmond."