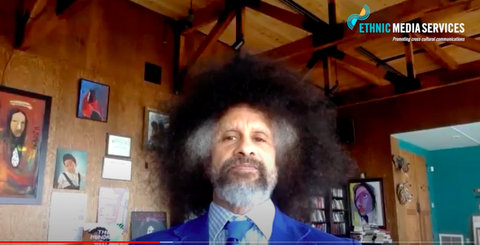 08 Jun

Funding Cutbacks Touted As Solution to Police Abuse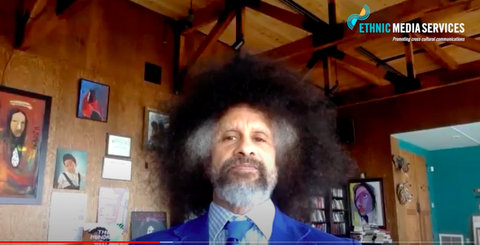 Above: Jody Armour, professor of law at the University of Southern California
By Michael J. Fitzgerald
Redirecting funds from police department budgets to invest in solutions to social problems — as well as forcing police to focus on more serious crime — has been suggested as the most efficient way to reform law enforcement and end police abuse and brutality.
"The solution isn't the technological ones … or the policy tweaks," Jody Armour, a professor of law at the University of Southern California said Friday. "We have to cut back on the police departments."
Armour made his comments as part of an Ethnic Media Services national media teleconference: "In the Grips of a Triple Crisis."
"We have to make deep slashes in the budgets of police departments and reallocate those resources to the things that address homelessness, health care, education, income disparity. We can do a lot of things if we have the resources to do them."
Armour said the problem is that far too much of public resources are being siphoned off for law enforcement.
"Here in L.A., we are looking at about a $5.5 billion annual budget in the coming year. Nearly 54% of that, in the mayor's budget, was to go to the LAPD," he said.
Similar percentages and allocations can be found in police departments around the nation, he added.
Reallocation could lower the level of violence against black citizens because of a change in enforcement priorities.
"The violence is often driven by the enforcement of low-level, non-violent offenses. When they cut down on enforcement of 'stop and frisk' in New York, the crime rate didn't go up, it went down," he said.
Armour also told the reporters that telling people that they simply need to vote — and not protest — is false.
"Minneapolis had a Democratic mayor, Democratic governor, everybody in the political structure was Democratic," he said. "Thirteen Democratic city council people — and the other one was from the Green Party. The vote isn't the answer by itself."
The teleconference also looked at the health effects of COVID-19 and the economic collapse that has naturally followed stay-at-home, shelter-in-place orders and the closure of many businesses not deemed "essential."
Thomas Saenz, president and general counsel of the Mexican American Legal Defense and Educational Fund told reporters that a detailed look at the underlying culture of the U.S. is needed.
"The culture in law enforcement has to change through structural reform," Saenz said. "But at a deeper level, we have to look at a culture that continues to accept ongoing, significant disparities, discriminatory race-linked disparities, in every walk of life."
Saenz said those disparities are apparent in how minorities are being treated relative to the pandemic and related economic fallout. He said that disparity is apparent at the federal level. He cited the federal exclusion of giving stimulus checks to anyone who files taxes using an individual taxpayer identification number.
"Folks who file with these are by and large undocumented. But they are taxpayers."
And that has a particularly strong impact on the Asian and Latino communities, he said.
Medical researcher Dr. Tung Nguyen of UC San Francisco also gave a brief statistical update on the coronavirus.
Nguyen said the Centers for Disease Control estimates that by June 27, the U.S. will have had between 118,000 to 143,000 deaths related to COVID-19.
"The numbers of cases are rising in 17 states," he said, "including California, Texas, Florida and North Carolina."
Nguyen also said a number of medical researchers contend that the use of tear gas — prevalent in police efforts to quell protests in recent weeks — would likely increase the risk of COVID-19 transmission because the gas makes people cough and have teary eyes.
"We would recommend that the police not use tear gas," he said.