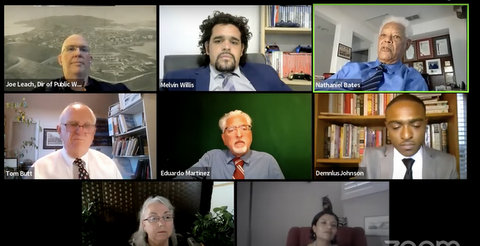 07 Jul

Richmond Will Try to Make Streets Safer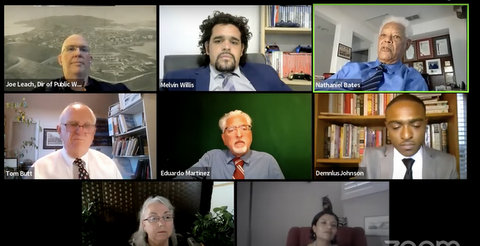 Mayor Tom Butt was the lone dissenting vote Tuesday on a motion aimed at improving street safety in Richmond. (Screenshot captured by Julia Métraux / Richmond Pulse)
By Julia Métraux
The Richmond City Council voted 6-1 Tuesday to approve measures to improve street safety. Mayor Tom Butt voted against this motion.
Council members Gayle McLaughlin, Claudia Jimenez and Vice Mayor Eduardo Martinez said they brought this motion forward to address the concerns of parents and other Richmond residents before the Local Road Safety Plan is finalized and funded.
McLaughlin said that one of the areas that should be addressed is Carlson Boulevard "as well as various sideshow locations."
"Carlson, in general, has just speeding cars up and down, but that's right where cars get on to I-80," McLaughlin said. "Parents are crossing with their kids to school and [have] lots of safety concerns, such that they have emailed me constantly."
The City Council voted June 21 to allocate $750,000 to street safety initiatives, which would help support projects under this motion. Interim safety ideas could include traffic circles.
"We thought we would move it forward to give staff direction to get moving on some of these things, so our streets could be safer," McLaughlin said.
Despite his usual disagreements with the council members bringing this motion forward, council member Nathaniel Bates said he would support the motion if issues in all districts are addressed.
"As long as the entire city is involved and will be entitled to these various alternatives to stopping this speeding and car shows and so forth, I'm very much supportive," he said.
Butt said that he did not support the motion because he does not think physical improvements would reduce unsafe behaviors by some drivers.
"A lot of the issues in there that result in death or injuries … are things that involve DUIs, running red lights, failure to yield at intersections, things like that," Butt said.
Jimenez said this motion to implement interim solutions is important because it came out of community advocacy.
"Right now, what we are going to focus is on the infrastructure solutions and engineering solutions that the community has been asking us [for]," Jimenez said.
Bates brought up the issue of how the Richmond Police Department addresses sideshows.
"When it comes to taking individual action against specific participants in the sideshows, it becomes a much greater challenge because there are officers' safety concerns, [and] there are concerns when it comes to uses of force when it comes to the severity of the crimes," acting Richmond Police Chief Louie Tirona told the council.
After Tirona's response, Bates said he would put a motion on the agenda to give more directions on how the RPD should respond to sideshows.
The City Council passed the motion, with an additional direction that the city staff should make recommendations about which locations in the city should be prioritized when it comes to interim safety solutions.
Weighing in on ARPA Funds 
The city of Richmond received $27.7 million in relief funds from the American Rescue Plan Act 'in 2021, and that money must be spent by the end of 2026. City Manager Shasa Curl invited the community to give input on how a majority of the funds will be spent.
"We know that lots of you all are interested in providing input on how to help invest the additional 17.2 million and American Rescue Act funds in our community," Curl said.
The virtual community forum on this topic will take place July 11 from 5:30-7:30 p.m. Curl also said that people can call (510) 307-8016 for more information.