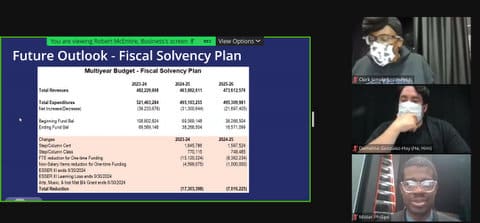 08 Jun

WCCUSD Faces Tough Calls to Maintain Financial Control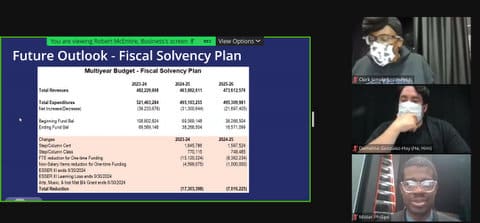 If the West Contra Costa school district can't reduce spending enough, it could face a takeover. (Screenshot captured by Samantha Kennedy / Richmond Pulse)
By Samantha Kennedy
The West Contra Costa School Board knows just how close danger is ahead.
At its Wednesday meeting, the WCCUSD School Board received an overview of next year's proposed budget that requires significant cuts — or it risks losing control of its finances.
"As much as we want to do more," associate superintendent of WCCUSD's business services Robert McEntire said, "we can't do any more."
The WCCUSD has had a "lingering problem" of spending money it does not have. McEntire said that a fiscal solvency plan, which would allow the district to meet financial obligations and keep control of its finances, would need to be followed to begin to combat this problem. If nothing is done, the district will be operating at a deficit of $39 million.
But, for the plan to work, cuts to staffing must happen.
In the next year alone, nearly 150 full-time employees could be cut to reduce $15 million in expenses. The recommendation includes cuts to over 50 teacher-level and 80 teamster employees.
According to McEntire, cuts that substantial in one year wouldn't necessarily be a bad thing.
"If it's just this looming cut out there, it's horrific," McEntire said. "It's all people are going to talk about — why would I apply for a job? What's the environment, culture going to feel like?"
>>>Read: School Board Votes to Allow Cutting Some Staff Hours, Not Jobs
McEntire says every staff member is important but refocusing on what the district can feasibly provide to students during cuts is also necessary to support them.
School board President Demetrio Gonzalez-Hoy said the fiscal solvency plan is a step in the right direction and is a priority to him but cutting even one teacher has a big impact on schools.
"I go to every school, and every school tells me that they don't have enough." Gonzalez-Hoy said. "If anyone here says to do it faster, you don't understand what's happening in our schools."
Ultimately, Gonzalez-Hoy says substantial cuts are inevitable to keep the county and state out of the district.
If the school board fails to make cuts and reduce costs to manageable levels, it would force a takeover by a county-assigned administrator. Board members would no longer receive benefits or stipends and act only in an advisory capacity. The plan says the administrator could "take whatever steps are allowed under law" to reduce debt.
A takeover could include school closures and bringing hiring to a stop.
Trustee Mister Phillips asked if the cuts to the budget made any difference to the district's situation when the budget would still be in a less-than-ideal position.
"Our goal has been to turn this district around," Phillips said. "Staff isn't satisfied, and we don't have any money. So how are we going to pull this off?"
Superintendent Kenneth Hurst responded to Phillips, saying the situation is difficult, but following the strategic plan and getting outside help would help the district meet its goals.
The next West Contra Costa School Board meeting is June 14.