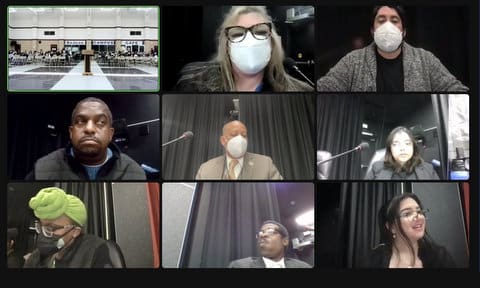 16 Mar

School Board Votes to Allow Cutting Some Staff Hours, Not Jobs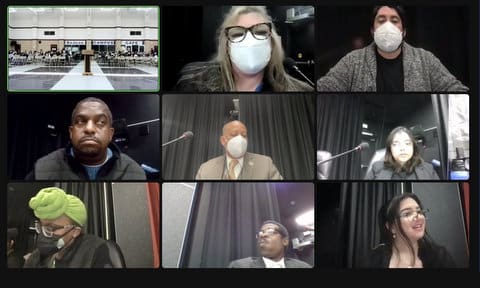 If the WCCUSD does not get its budget woes under control, the school board risks losing financial decision-making ability. (Screenshot captured by Julia Métraux / Richmond Pulse)
By Julia Métraux
Around a year after a contentious vote diverting layoffs, the West Contra Costa Board of Education voted on three measures that would reduce some staffers' hours or eliminate positions all together.
Due to budgetary issues, the board risks losing financial decision-making abilities if it does not prove to the county it is willing to make sacrifices, according to Board President Demetrio Gonzalez-Hoy.
"My biggest priority is that we retain our local decision-making in our finances," Gonzalez-Hoy said at Wednesday's meeting, "and that means that we're going to have to be making some difficult decisions in the next couple years."
The threat of the West Contra Costa Board of Education losing its power to the state has been looming since 2021. During public comment — which now happens for 30 minutes at the start of the meeting and after each action item — union representatives, WCCUSD employees and some students asked the board to "cut from the top," including some salaries from the central office, instead of cutting positions like playground supervisors and reducing the time some counselors work.
The first resolution addressed reducing hours for some counselors and instructional support specialists. The list of potentially affected positions can be found here. Clerk Jamela Smith-Folds asked if "any positions are getting cut under this resolution."
Interim human resources associate superintendent Dr. Sylvia Greenwood said there will be just reductions in this resolution, and "because of some of the vacancies, we'll be able to move people around into vacant positions."
Gonzalez-Hoy, Smith-Folds, trustees Otheree Christian and Mister Phillips voted yes, with the resolution passing. Trustee Leslie Reckler abstained, as did the two student trustees. For action items, student trustees' votes are honorary.
After the second resolution was raised to cut some elementary school playground supervisors, the Board of Education spoke against cutting any of these positions.
"They also… are usually parents from those schools," Gonzalez-Hoy. "They are committing their time. Also, they are our lowest-paid employees in the district."
The board voted unanimously to reject the resolution to cut elementary school playground supervisors.
On the issue of playground supervisors, the third resolution also considered reducing the hours of some of these positions. Greenwood also said that the district would meet with people whose positions would potentially be eliminated "to show them the vacancies that we currently have so that we can ensure that they still can be employed within the district."
Phillips said some fiscal decisions by the board, such as some salary increases for members of United Teachers of Richmond and other unions being two times the recommended cost of living adjustment by the state, are not "sustainable."
"I know people may not like what I'm saying," Phillips said. "The board is not as fiscally responsible as it should be."
Smith-Folds disagreed, also saying the board acted correctly last year by not passing a resolution that could have led to teachers being laid off.
"We did the right thing last year, and I hope that we continue to do the right thing," she said.
Gonzalez-Hoy, Smith-Folds and Christian voted no on the resolution, and the rest of the trustees abstained. The resolution failed.
The next regular Board of Education meeting is scheduled for April 12.