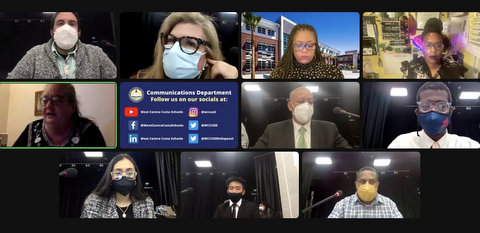 10 Mar

Votes That Could Have Led to Staff Cuts Don't Pass School Board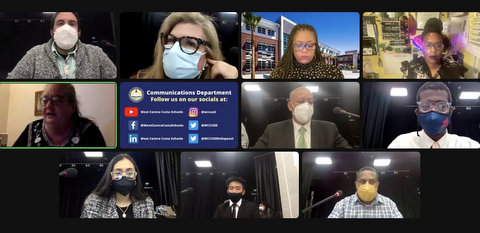 As the West Contra Costa school district grapples with budgetary concerns, the school board voted against two measures that could have led to teacher and staff layoffs. (Screenshot captured by Julia Métraux / Richmond Pulse)
By Julia Métraux
The West Contra Costa Board of Education narrowly avoided passing two motions Wednesday that would have given the district leeway to consider letting go of teachers and other site support staff due to budgetary concerns. The contentious special meeting lasted until the early hours of Thursday morning.
Interim associate superintendent of business services Robert McEntire said that WCCUSD needs to reduce $34.8 million in funding, and gave a presentation on fiscal issues the district faces.
Mike Fine, CEO of Fiscal Crisis & Management Assistance Team, who McEntire brought to speak after his presentation, said the district risks intervention by the Contra Costa County Office of Education superintendent Lynn Mackey if the district does not have its affairs in order.
"I would not expect the county superintendent to delay interventions beyond next week," Fine said.
During the two public comment sessions, many teachers, labor organizers and parents spoke about how they are against cutting teachers and other support staff, especially when there have been vacancies that have needed to be filled throughout the school year.
Many spoke in favor of cutting funding from the central office and outside contracts instead of teachers in schools. McEntire later clarified that cutting all central office staff would not recoup the money needed the district.
"Focus on your priorities," Asedo Wilson, a Richmond High School teacher and United Teachers of Richmond treasurer, said. "The folks that actually make the district go around and work from day to day, [and] that includes our entire staff in the district and the teachers to the custodians to security to groundskeepers."
>>>Read: 'We Can Reimagine How We Teach': How Four WCCUSD Teachers Adapted to Distance Learning
Veronica Diaz, the Teamsters 856 representative, criticized the district for considering a motion that would fire workers whose essential services would need to be outsourced.
"You are voting to cut the only copy repair technicians in the entire district tonight," Diaz said. "The district has blatantly told us that they intend to outsource those jobs with service agreements."
Zelon Harrison, a parent of a Richmond High student, also spoke about concerns she had about how staffing cuts affect Black students, who already face inequities within the WCCUSD schools.
"While we're dealing with [it] right now, this can affect our Black children the rest of their lifetime," Harrison said. "If you take care of the Black kids how you can take care of all the kids, I think we can get a solution here."
>>>Read: Black Education Is Key Focus of School Board Meeting
WCCUSD Superintendent Kenneth "Chris" Hurst said that the motions Wednesday would not necessarily mean people would be laid off, but it would be an option.
"Statutorily, the board is precluded from making a decision to reduce staffing until after [a] hearing before the Office of Administrative Hearings has recommended that reductions are legally permissible," Hurst said.
Before voting started, student trustee Angelica Flores, who attends Richmond High, reminded her colleagues on the board how layoffs would impact students like her.
"I just want to say that I will remember you guys' vote, and I want you guys to keep in mind that I will be affected by it," Flores said.
Trustees Demetrio Gonzalez-Hoy, Jamela Smith-Folds and Otheree Christian voted against two motions that could result in educators and classified support staff being laid off, which trustees Mister Phillips and Leslie Reckler voted in favor of. Due to this, both motions failed.
Student trustees Flores and Martin Leung also voted against those two resolutions, but student trustees' votes do not count. Two resolutions about the possibility of laying off certificated administrators and probationary certificated employees did pass.
The next regular board meeting will be held March 16.