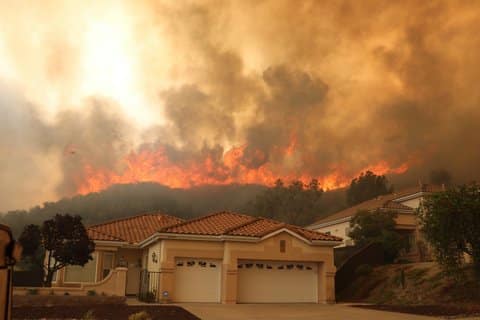 17 Jun

Human-Caused Climate Change Is to Blame for Uptick in California Wildfires, Study Finds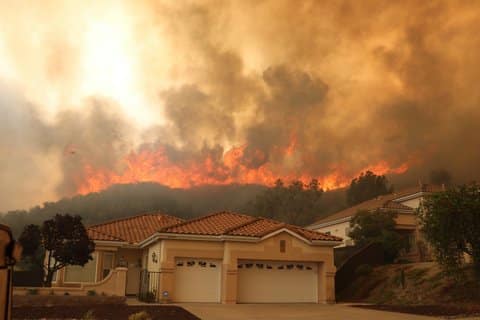 Fire burns behind a home during the August 2020 California lightning wildfires (also referred to as the August lightning siege or August wildfire siege). A series of 650 wildfires that ignited across Northern California in mid-August 2020, due to a siege of dry lightning from rare, massive summer thunderstorms. (Photo courtesy of CAL FIRE)
By Olivia Wynkoop
Bay City News
Human-caused climate change may be playing a significant role in fueling the surge of devastating wildfires in California, according to a new study from a Lawrence Livermore National Laboratory scientist and other collaborators.
The research, published in the Proceedings of the National Academy of Sciences, determined that nearly all recent increases in wildfire burned areas is attributed to anthropogenic climate change — caused or influenced by humans, either directly or indirectly — rather than to natural climate variation.
California's summer wildfire seasons have only increased in intensity in recent years. The average burn area for northern and central forests have increased five times between 1996 and 2021 compared to 1971 and 1995, said the Livermore-based research center.
California's rising temperatures, dryness and water levels are certainly factors in wildfire activity, though pinpointing the contributions of human-caused climate change versus natural climate variations has remained uncertain.
But findings from this most recent study led researchers to believe that since at least 2001, most drivers of the severity and extent of wildfires are anthropogenic.
"We show that nearly all of the observed increase in burned area in California over the past half-century is attributable to human-caused climate change," said LLNL scientist Don Lucas, co-author of the study.
This also means that as human-caused climate change continues, the average burn area for wildfires could increase up to 52% between 2031 and 2050. Along with higher burn area averages comes potentially higher rates of harm on human health and the surrounding environment.
Modeling simulations that accounted for both natural climate variation and the effects of anthropogenic climate change, the research team, led by Marco Turco from the University of Murcia in Spain, discovered that anthropogenic simulations resulted in burn areas averaging 172% higher than those derived from natural variation simulations.
"The results show the role of human-caused climate change in driving fire activity and highlight the need for protective adaptations against summer wildfire seasons," Lucas said.
Researchers also noted other, non-climatic factors that can influence a wildfire's characteristics, like land management, more development in fire-prone areas and the vulnerability of the state's power grid amid extreme weather.
"Beneath these 'external' factors, natural climate variability also influences the occurrence and severity of forest wildfires, creating a noise that can mask the signal of human-caused impacts on wildfire changes," Lucas said.
Copyright © 2023 Bay City News, Inc. All rights reserved. Republication, rebroadcast or redistribution without the express written consent of Bay City News, Inc. is prohibited. Bay City News is a 24/7 news service covering the greater Bay Area.