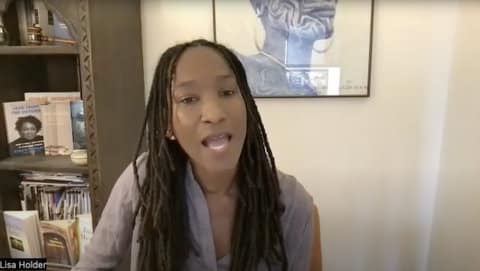 23 Jun

What a Supreme Court Overturn of Affirmative Action at Two Universities Could Mean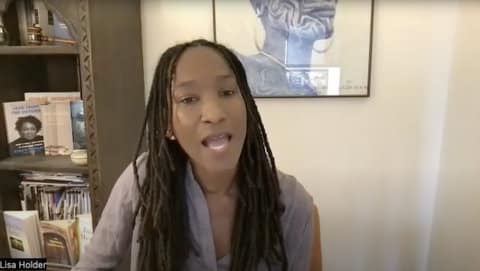 "We're looking at apartheid schools where children of color and kids are not getting access to opportunity. That is un-American," said Lisa Holder of Equal Justice Society during a webinar hosted May 26 by Ethnic Media Studies. (Screenshot captured by Kelsey Oliver / Richmond Pulse)
By Kelsey Oliver
By the end of June, the U.S. Supreme Court is set to rule on two cases of affirmative action in college admissions at Harvard University and the University of North Carolina. Though seemingly unlikely that a 40-year-old legal precedent that supports the consideration of race in college admissions could be overturned, some cite the recent ruling on Roe v. Wade as an example of what can happen with a conservative majority court.
Four legal experts weighed in during a webinar hosted May 26 by Ethnic Media Studies to discuss the potential impact of the impending ruling. The panelists clarified what the law means for achieving diversity in higher education and what it does not imply.
Lisa Holder, an award-winning trial attorney and president of the Oakland-based Equal Justice Society, weighed in on what an affirmative action ban could mean for college admissions.
Holder said school districts with primarily Black and Brown students are "often majorly underfunded" compared with predominantly white districts.
"We're looking at apartheid schools where children of color and kids are not getting access to opportunity. That is un-American," Holder said of school systems without affirmative action.
Thomas A. Saenz, who has fought legal battles to promote the civil rights of Latinos in the U.S. as president and general counsel member of the Mexican American Legal Defense and Educational Fund, tried to clear up some misconceptions about the case and the definition of race-conscious affirmative action.
Saenz said that the Supreme Court case does not affect employment or contracts, only education; that policymakers in education cannot be ignorant of race and racial disparity; and that it has nothing to do with curriculum development, thus it would not affect ethnic studies.
"Those are all falsehoods that will be perpetrated by those who seek to take unfair advantage from a misinterpretation" of the court's decision on race-conscious admissions practices, Saenz said.
In October 2022, the Supreme Court considered these affirmative action cases from Harvard and UNC, appearing ready to overturn decades-old precedents of affirmative action programs. Though the court took on the affirmative action argument last year, it will not issue its decision until the end of this month.
One relevant decades-old precedent is Bakke v. the University of California Regents. The 1978 decision upheld affirmative action and allowed race to be considered as a factor in college admissions. The court also ruled that specific racial quotas would not be allowed.
However, with the 1996 Proposition 209, California became the first state to eliminate race-conscious and gender-conscious affirmative action in education, employment and contracting.
"We saw firsthand in California how Prop. 209 was overinterpreted, actually misinterpreted by those from the right and by others who are misinformed so that its impact was greater than it should have been," Saenz said, reiterating his concern that the same misinterpretation could happen again with this upcoming ruling. "The myth about what Prop. 209 meant overcame the reality of its proper interpretation."
"Equal opportunity for all and an inclusive democracy is a universal value. And we will keep advocating for inclusion and access for all communities in higher education, regardless of the Supreme Court's decision," said Michele Siqueiros, president of the Campaign for College Opportunity, a California-based nonprofit organization committed to students' access to college and success.
Siqueiros has drawn from her experience as the first in her family to go to college, working on policy and budget reforms to improve access to students to go to college and graduate.
"We're focused on making sure that any negative ruling is not an excuse or permission for universities and colleges to backslide on recent progress and return to an era of unchecked exclusion and segregation, which shuts out generations of Black, Latinx, Indigenous and Asian American Pacific Islander students from higher education," she said.
John C. Yang, attorney, president and executive director of Asian Americans Advancing Justice, said diversity benefits everyone. He has worked to address discrimination and marginalization at the systemic level to help Asian and Pacific Islander Americans and other minority communities.
"Diversity lends itself to new perspectives, empathy, better mental health, innovation and economic growth," Yang said.
He said that the majority of Asian Americans support affirmative action and race-conscious admissions policies. "That means that Asian Americans likewise recognize the benefits of affirmative action not only for our own communities but for all communities," Yang said.
Regardless of how the conservative majority court rules, panelists reiterated their commitment to achieving diversity in higher education, while also highlighting what others can do.
"One of the things that progressives can do is to organize and to mobilize and to vote," Holder said.
Saenz alluded to the trickle-down effects that overturning affirmative action could have not just on higher education but also for Black and Brown students at the pre-K-12 levels.
"We should be very concerned if this sends a message that somehow you will not have the ability to pursue advancement in education as far as your potential takes you," Saenz said. "It can have devastating effects."
Video of the webinar is available in English on Facebook and here. It can also be viewed in Spanish, Korean and Mandarin.