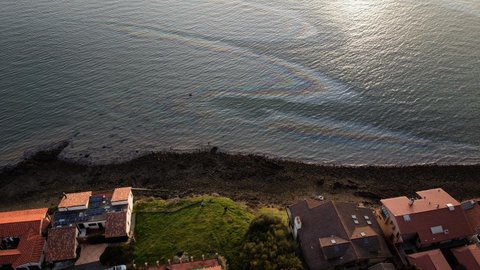 17 Jul

County Health Department Holding Meeting Monday on 2021 Chevron Richmond Oil Spill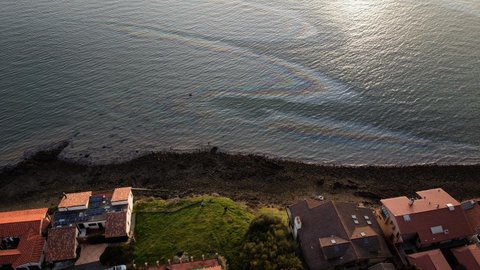 Oil from a pipeline leak that bled more than 500 gallons of petroleum product into the San Francisco Bay washes onto the shore of the Point Richmond neighborhood on Feb. 9, 2021. (Denis Perez-Bravo / Richmond Pulse file)
By Bay City News
Contra Costa Health is holding a meeting Monday to discuss an independent report on a spill at Chevron's Richmond Refinery Marine Terminal in 2021.
The spill sent up to 757 gallons of a diesel water mixture into the Bay south of the Richmond Long Wharf on Feb. 9, 2021. No oiled wildlife or public health impacts were reported at the time, but an oil sheen could be seen from Point Molate to Brooks Island along the city's waterfront.
Contra Costa Health, the county's health department, commissioned a third-party review of the spill that can be found at https://cchealth.org/hazmat/pdf/chevron-incident-2021-0209-AcuTech-Investigation-Report.pdf.
Monday's meeting on the report is planned at the Bermuda Room at the Richmond Convention Center at 403 Civic Center Plaza from 6:30-8:30 p.m., and will also be available via Zoom at https://zoom.us/j/97221089379.
The report by the firm AcuTech, which was hired by the county, concluded that a cement-lined carbon steel pipe failed due to internal corrosion.
The report found that "this event was a failure to follow good engineering and industry practices for mechanical integrity for piping systems handling hydrocarbons," though noted, "It is believed Chevron identified these issues adequately with critical introspection and has committed to improved methods for inspection and maintenance."
A 45-day comment period for the report opened Thursday and will close on Aug. 28.
Copyright © 2023 Bay City News, Inc. All rights reserved. Republication, rebroadcast or redistribution without the express written consent of Bay City News, Inc. is prohibited. Bay City News is a 24/7 news service covering the greater Bay Area.