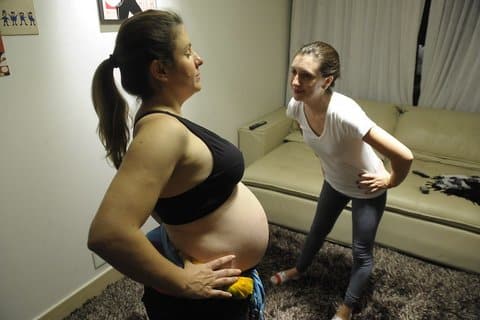 19 Jul

Benefits of Medi-Cal Coverage Uncertain for Doulas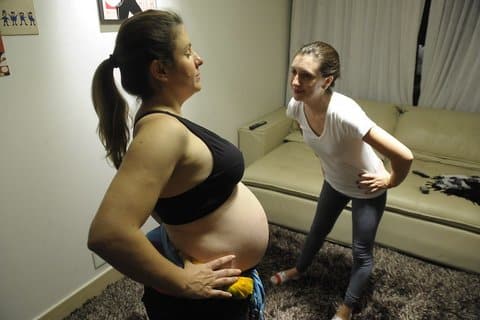 Doula Jessica Macêdo teaches Luciana Rodovalho positions and exercises that could lessen discomfort during the end of her pregnancy and labor. ("Doula" by Jefferson Rudy for Agência Senado via Flickr / CC BY 2.0 license)
By Selen Ozturk, Ethnic Media Services
While policymakers have championed the Medi-Cal Doula Services Benefit, the benefits of inclusion for doulas are ambiguous.
The program, which went into effect on Jan. 1, 2023, provides families enrolled in the state's Medicaid program with the services of a doula, a trained non-medical professional who provides physical, emotional and informational support to clients before, during and after childbirth.
Doulas throughout California — the vast majority of which work independently for uninsured pay — are mixed, however, as to whether and how much participation in the low-income health insurance program helps them provide this support.
Juliana Birnbaum, a Marin County doula who has practiced since 2012, said that this systemic inclusion of birthwork eases the central challenge that her clients face: accessibility.
"Up until this Medi-Cal change," she said, "people had no choice, unless there was a volunteer program available at the time of labor, but to pay doulas out-of-pocket. This is made harder by the fact that doula relationships start ideally before labor, in the second trimester. Because hospital care is based on shifts, you rarely have someone with you from the beginning through the end."
Though fees are often out-of-pocket, doula care saves $58.4 million from the $26.2 billion ($51,600 per baby) spent on preterm delivery in the U.S., and prevents 3,288 preterm births annually.
When a hospital system does not prioritize the birthing patient through continuity of care, Birnbaum continued, "it can be in the interest of care providers to suggest interventions to make a profit. But in a costly intervention like a C-section too, there can also be risky outcomes, especially when it's left to whoever happens to be on-call when a woman gives birth, rather than to an advocate for their interests."
Rising maternal mortality rates
This neglect can often be fatal: California Department of Public Health data shows that California's 2020 maternal mortality rate was 18.6 deaths per 100,000 live births — a 45% increase from a rate of 12.8 in 2019, while the rate for Black mothers was three times higher than the rate for white, Asian, and Hispanic mothers.
Black Infant Health Helps Black Moms 'Give Birth the Way She Wants'
Although Medi-Cal funds over half of California births and nearly 5% of all U.S. births, the mortality rate for those with Medi-Cal in 2021 was 2.8 times higher than for those with private health insurance.
In light of this, the benefits of doula care are well-supported: the American College of Obstetricians and Gynecologists and the Society for Maternal-Fetal Medicine report that "one of the most effective tools to improve labor and delivery outcomes" — including reductions in pain, Caesarean deliveries, and labor length — "is the continuous presence of support personnel, such as a doula."
Lack of training
Nevertheless, the incorporation of this support in Medi-Cal may hinder it, says Neri Life Choma, who operates San Jose-based birth support center Birth Coach Method and has been practicing since 1999.
For one, no universal doula training system exists. California does not require doulas to earn a certificate; Choma estimates that most work without one. In place of a certificate, Medi-Cal allows doulas to enroll through five years of experience and three letters of recommendation from licensed providers, community-based organizations, or enrolled doulas.
This lack of a requirement for hospital-adjacent training may oppose doulas — and their clients — to the system intended to aid them.
Q&A: At Black Infant Health, 'There's Something We Can Do to Support That Family'
"In Israel, where I trained, you worked for a year, 100 hours of hospital shifts. Here, you can be done in a few weekends, maybe online. At the hospital, there's no culture of teamwork in place, you may be intimidated from the start," Choma said.
"I see the result often in recently trained doulas," she added. "They position themselves as the resistance to the medical system, and their job is to rescue their clients from it. But this instills fear, not empowerment. I don't tell a mother that her providers don't have her best interests at heart but examine how her providers are contributing to her wishes and values.
"Patient-centered advocacy is not done through resistance but collaboration," she continued. "If a client wants something, I ask: 'How comfortable do you feel going back to the clinic and sharing it with your doctor? If I see hesitation, then we need to discuss it."
Low pay for doulas
Although institutional standards of care for doulas may position them away from what Choma deems "fight-or-flight thinking," enrollment in Medi-Cal may not help this.
For one, coverage would lower doula pay. Gov. Gavin Newsom's 2021-2022 budget originally set reimbursement to $450 per birth; practically minimum wage, given the extensive prenatal support involved.
Even the $1,154 per birth set by the 2022-2023 budget is lower than the market rate for doula work in most regions of California, which can run between $1,500 and $3,500 (and as much as $5,000 for very experienced doulas). The highest rate statewide is $1,500, currently provided through Medicaid in Oregon and Rhode Island.
Accordingly, participation in the program is low. In Los Angeles County, which is roughly three times larger than any other in California by population (currently about 10 million), 10 doulas had enrolled out of a total 25 applications as of April 2023.
Patient centered trust
Lower pay, said Choma, not only limits doula services but the relationship of trust which these services build: "The heart of doula work is prenatal. The message is that birth does not begin with the experience of delivery, but with physical, mental, and emotional preparation for it. Medical providers want this too, but the health system is often short-sighted in connecting the dots."
Per example she cites the ARRIVE trial, a 2018 study published in the New England Journal of Medicine, which concluded that inducing labor electively (i.e. with no medical reason) before 39 weeks would reduce caesarean rates to 19% from 22%, but wouldn't reduce baby deaths or complications.
"Based on this, providers started inducing mothers early, despite the risks involved," Choma explained. "But what's the goal, to reduce caesareans to zero or to reduce maternal and baby deaths and interventions in general?"
"Doulas reduce caesarean rates too" — anywhere from 28% to 56%, research shows — "but the relationship we have with our clients lets us see holistically how we get there. If Medi-Cal is involved, it must support this relationship," she concluded.